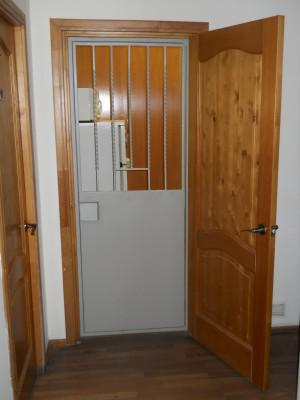 A typical Russian cash vault. (Photo: Staff)
By Yulia Rostovikova and Natalia Titova.
For years, the small business owners and entrepreneurs of the Russian port city of Novorossiysk had been working to overturn an obscure but odious regulation from the Central Bank of Russia. The regulation, called Letter Number 18, required all businesses to maintain a vault for the storage of cash. The vault had to be the size of a walk-in closet, with reinforced walls and an alarm system. The regulation didn't distinguish between a large factory or retail outlet and a shoe repair shop or convenience store. As a result, small shop owners faced construction and permitting costs that could exceed $3,000 and result in a loss of significant floor space. Failure to comply with Letter Number 18 could result in a fine of up to $1,600 – every month. The regulation had been in place since 1993. In Novorossiysk enforcement was especially intense. Some businesses closed. Others saw profit margins squeezed. Inspectors' discretion in enforcing the regulation represented fertile ground for corruption.
Representing local businesses, the Novorossiysk Chamber of Commerce and Industry (CCI) began working in 2009 behind the scenes for some relief from Letter Number 18. The Central Bank said it was studying the matter. The Federal Tax Service maintained its right to fine those businesses out of compliance. The Finance Ministry said it had no jurisdiction. The Ministry of Economic Development threatened to make things worse by expanding Letter Number 18 to require all businesses, down to one-person kiosks, to maintain a walk-in vault.
The leaders of the Novorossiysk CCI, a long-time CIPE partner in Russia, had reached a dead-end. They decided in September 2011 to launch a public event on the city's center square to draw attention to the absurdity of Letter Number 18's requirements. Traditionally, Russian chambers and business associations are reluctant to take such a populist approach. But the leadership of the Novorossiysk CCI had a track record or representing their members' interests with humor and creativity, by, for example, producing with CIPE support and USAID funds a comic book-style guide on coping with inspectors. For October 4, they planned to stage a 60-minute show complete with a full-scale mock-up of a vault, testimonials by shop owners who had suffered under Letter Number 18, a speech by a member of the regional legislative assembly and the performance of a lively song about how a store's toilet is often the only suitable space to serve as a vault.
Victory came 10 days before the public event was scheduled to take place. Central Bank officials in Moscow learned of the Novorossiysk CCI's plans through media accounts and issued an order rescinding Letter Number 18 throughout Russia as of January 1, 2012.
The triumph illustrates the effectiveness of a methodology developed over the course of the CIPE-administered SME Policy Advocacy Program funded by USAID between 2002 and 2011. The methodology is rooted in a painstaking member-based approach that identifies problems and seeks solutions through government institutions, public-private dialog and, as in the case of Novorossiysk, public appeals. The successful campaign against Letter Number 18 took place after the USAID program ended but using the skills developed by CIPE staff and leaders of the 18 regional coalitions of business associations developed under the project. The Novorossiysk case was used by the authors in late 2011 as they trained nascent Ukrainian coalitions of business associations in one-day workshops in Donetsk and Crimea