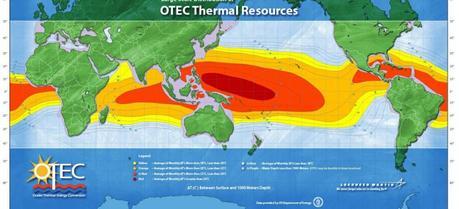 The temperature difference between deep and shallow ocean waters offers enormous potential for producing energy. On an average day, 60 million square kilometers of tropical seas absorb an amount of solar radiation equivalent to the energy produced by approximately 250 billion barrels of oil. (Credit: Lockheed Martin)
Lockheed Martin and Reignwood Group have signed a contract to start design of a 10 MW Ocean Thermal Energy Conversion (OTEC) power plant, which, when complete, will be the largest ocean thermal energy conversion plant to date.
Ocean thermal energy conversion (OTEC) uses the temperature difference between cooler deep and warmer shallow or surface ocean waters to run a heat engine and produce useful work, usually in the form of electricity. OTEC is a base load technology that allows for production of electricity on a constant basis. (Unlike solar and wind power, which are intermittent and may require large-scale energy storage solutions.) However, the temperature differential is small and this impacts the economic feasibility of ocean thermal energy for electricity generation.
Lockheed Martin first announced its intention to build a 10 MW OTEC pilot power plant off the coast of southern China this April. The company is the industry leader in the development of OTEC technology, holding 19 related patents. The Lockheed Martin-Reignwood 10 MW plant is considered to be a crucial step in the full commercialization of OTEC.
"The ocean holds enormous potential for terrawatts of clean, baseload energy," said Dan Heller, vice president of new ventures for Lockheed Martin Mission Systems and Training. "Capturing this energy through a system like OTEC means we have the opportunity to produce reliable and sustainable power, supporting global security, a strong economic future and climate protection for future generations."
Under this initial contract, Lockheed Martin will provide project management, design and systems engineering services.
"The signing of this contract reflects both companies' passion for green energy projects, and our willingness as a team to bring forth an exciting new renewable energy source that directly benefits people of all nations," said Shaohua Liu, senior vice president for Reignwood Group.
In addition to the contract signing, Lockheed Martin also joined Reignwood Group in celebrating the ribbon cutting of Reignwood's new Innovative Technology Center, located at their corporate Beijing headquarters. The Innovative Technology Center is designed after Lockheed Martin's Energy Solutions Center in Arlington, Va., which showcases new ideas for alternative energy generation and energy infrastructure.
"This OTEC agreement and the establishment of a joint Innovative Technology Center between Reignwood Group and Lockheed Martin represents an important milestone that brings our advanced technologies to bear on the important global issues of climate change and renewable energy," said Dr. Ray O Johnson, senior vice president and chief technology officer for Lockheed Martin.
Lockheed Martin takes a comprehensive approach to solving global energy and climate challenges, delivering solutions in the areas of energy efficiency, smart energy management, alternative power generation and climate monitoring. The company brings high-level capabilities in complex systems integration, project management, information technology, cyber security, and advanced manufacturing techniques to help address these challenges. Today, Lockheed Martin is partnering with customers and investing talent in clean, secure, and smart energy—enabling global security, a strong economic future, and climate protection for future generations.