Takeaways & Delivery Food in Glasgow
To survive the Corona/COVID-19 lockdown many businesses are now offering takeaways and deliveries.
Without our continuous support, many of our favourite restaurants will not survive the next months.
A list of takeaway and delivery options of the Glasgow restaurants and cafes which serve delish food.
There are a lot of fantastic places on this list – why not give them a try.  Information is changing hourly at the moment. So please let me know if the list needs amended

Bilson Eleven
Meals for 2 including main, side, dessert and bread. Delivered with instructions on how to reheat. Dennistoun delivery only and pick up available to all between 2-5pm on designated day
We will also be running videos from our social media channels and website. These will feature a wide range of food and cooking topics such as how to use what is left in your cupboard or the supermarkets shelves to making your own pasta or bread. Meal details are as follows:
• Set meal for 2 comprising a main, side, bread and dessert. The meal will be prepared that day and ready to reheat with complete instructions. They will be available Wednesday – Saturday. Pick up/delivery only on the designated day.
• Pick up will be available to all. Delivery will be for free within the Dennistoun area between 2-5pm. We will have a phone call/kerbside collection for pickups at the restaurant and employ a knock, drop and greet method for deliveries to minimise contact.
• We are highly aware of the environmental impact of takeaway containers and will use recycled/compostable methods where possible. Hence there will be no disposable cutlery or napkins. Some meals may need a bit of optional olive oil or cream to finish but we hope customers understand we will not be sending out lots of tiny plastic sauce pots. We will provide instructions for alternatives. Also, if picking up please bring a box or container to minimise packaging.
• Meals for the week ahead will be announced on Sunday on Social media and available to pre-order from the Monday
The produce we use is, we believe second to none and will be using that same quality produce throughout our meals. Whether that is going to be artisan cheese, truffles or aged and grass reared beef. The suppliers we use will all be suffering the same as everybody else at this time and we will continue to support them as much as possible.
Bilson Eleven Website
Wild Fig
Food delivered to your home and work (Glasgow and immediate surrounding areas only).
To order first click on the delivery icon to choose your delivery date – you will have the opportunity to enter your address at checkout. DELIVERY IS £3.60 per order.
This coming Friday (20th March) will be our first run to see how things go – with a limited menu. We also have our bakes and a small number of pantry items on there too. We will amend and add to the menu over the coming weeks so please do keep an eye out on the website.
This will be a no-contact delivery service. For the safety of our driver we will ring the bell and leave the food on the doorstep, we will of course wait until you collect the food before driving away. However there are people who have contacted us working in hospitals and other places of work and we will do our best to deliver to you at your preferred time – please just message us at checkout with details (make sure to click on the shipping address box) .
As this is an ever changing situation we are mindful that things might change last minute but we will do our very, very best.
website
Dhabba and Dhakin
The North and South Indian restaurants have menus on their websites and have also teamed up with Deliveroo and UberEats to offer special discounts.
On Deliveroo they are offering 20 per cent off orders over £15 and on Uber Eats £3 off orders over £15.
La Lanterna West End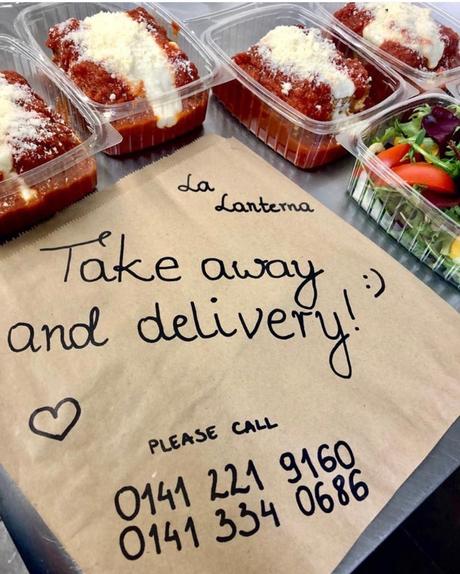 Bombay Blues
An update from all at Bombay Blues… Takeaway service and delivery service look  online www.bombaybluesglasgow.co.uk and phone 01412210817
Greenhouse CIC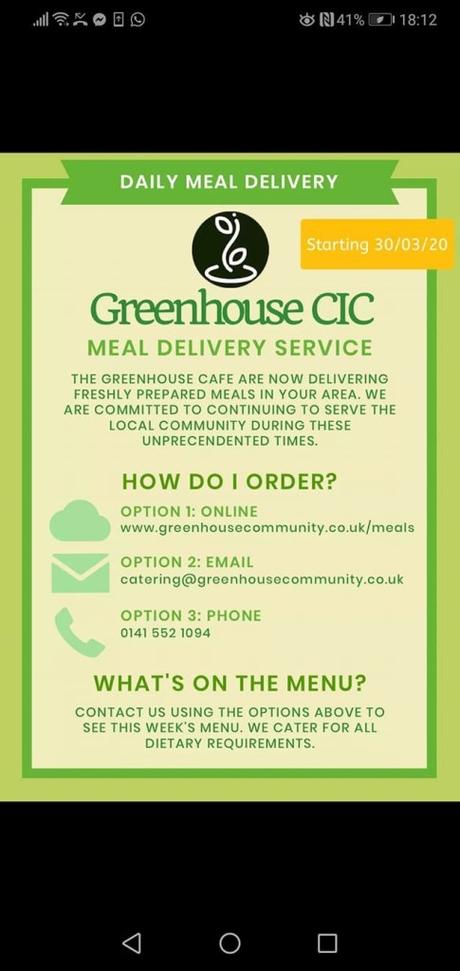 The Bell Jar
Call 0141 423 3989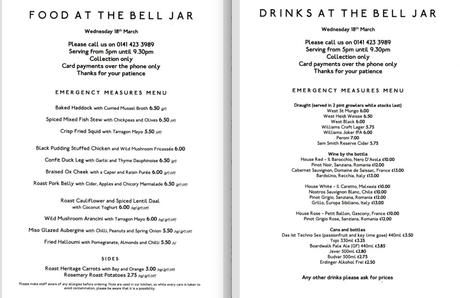 Buongiourno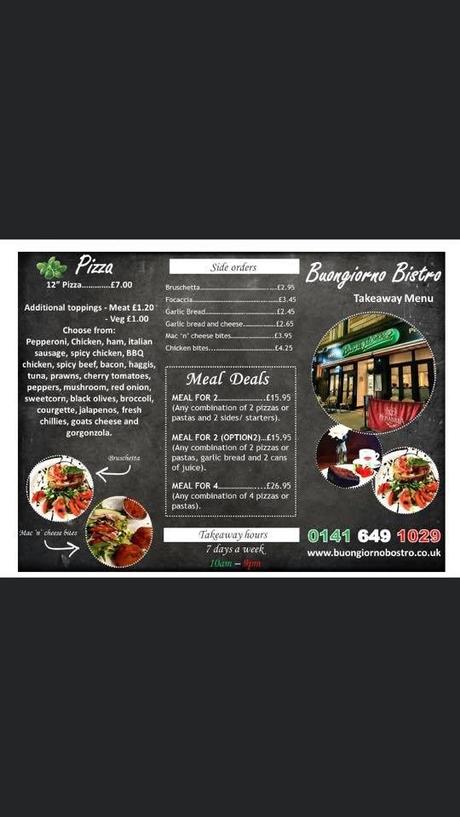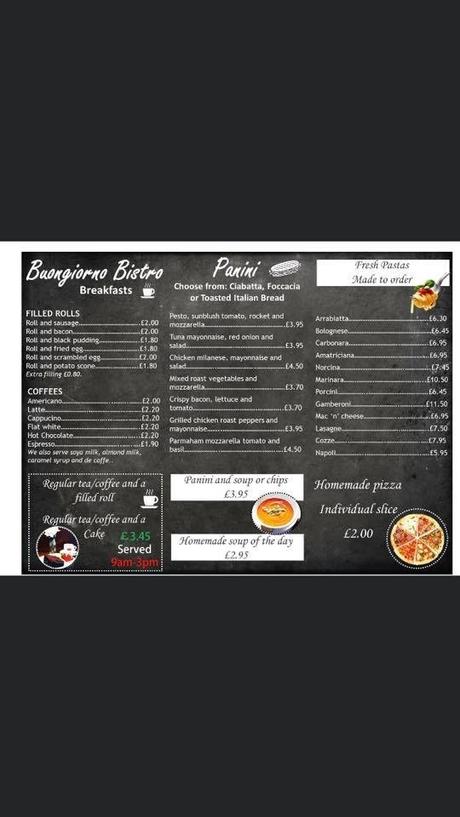 The Hug and Pint
The Hug and Pint will now offer a new home delivery service – The Hug at Home – serving freshly prepared classics from The Hug and Pint menu, along with quality beers, wines, cider and soft drinks for delivery across Glasgow, from their award-winning West End kitchen on Great Western Road.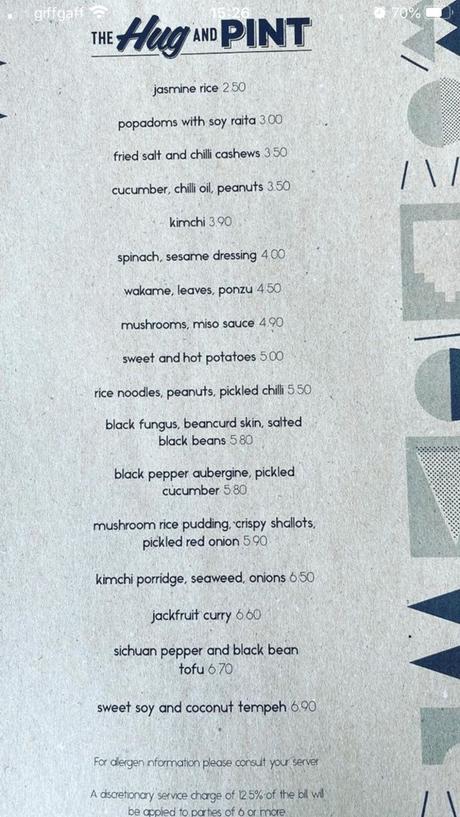 This new service has been set up in order to raise money to directly financially support Hug and Pint (and related) staff who are out of work during the venue's current closure.
The announcement follows the creation of a crowdfunded Hardship Fund for Hug and Pint staff which has received incredible support from the local community and wider music industry, raising over 20% of its maximum target in less than 24 hours!
Continuing this forward momentum, The Hug at Home delivery service will officially begin operating from 5PM TODAY (Tuesday 17 March) onwards, delivering daily from 12-10pm, 7 days a week.
The Hug at Home will serve a selection of delicious popular dishes from the regular Hug and Pint menu, including: szechuan tofu, black pepper aubergine, sweet soy and coconut tempeh, and many more!
Orders from The Hug at Home can be made online via http://www.thehugathome.co.uk/ or via phone at: 0141 331 1901
Please remember you can still donate to The Hug and Pint Hardship Fund at: https://www.crowdfunder.co.uk/help-the-hug-pint-survive-the-corona-crisis
***Please note: Challenge 25 rules apply for all alcohol sales. Valid ID must be provided in the form of a passport or EU driving license. The Hug at Home will operate in line with government guidance and in the best interests of public health. ALL staff – from kitchen to couriers – are healthy and will be observing very stringent health and hygiene practises to ensure no contamination of food. Orders will be delivered and dropped at the door to limit contact and ensure all possible safety. Our couriers/driver are all washing their hands regularly so there should be no danger of contamination of containers/bags for the food. However, please get in touch should you have any additional questions, concerns or requirements. Postcodes served: G1, G2, G3, G4, G5, G41, G51, G31, G40, G12, G11, G42, G9, G20, G21, G22.
Nanika
Takeaway only. Will update the menu accordingly (sadly removing all noodle things but happily returning the banh mi to its place of glory). Hours will remain the same.
Black Sheep Bistro
A special menu of food available to pick up and take home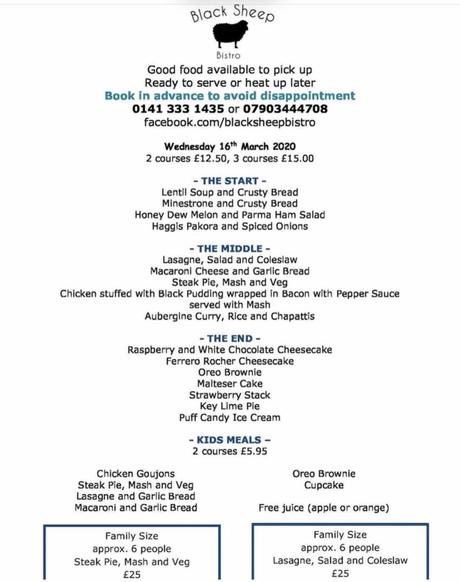 You can pick up your food either ready to serve or heat up later.
They do hope to be very busy so please order in advance so they can be prepared.
01413331435 or  [email protected]
Gloriosa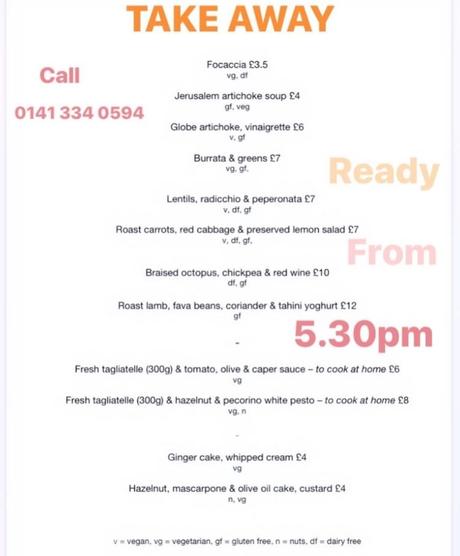 To place an order, please call 0141 334 0594 between these times.
All orders are collection only,
#SUPPORTGLASGOWRESTAURANTS
Come say hello on Instagram, Facebook and Twitter

This site contains affiliate links to products. We may receive a commission for purchases made through these links.