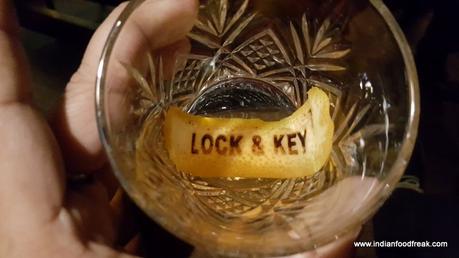 Hush! Ssh! There is a new Speakeasy style bar in town and (whisper, whisper) it's Lock and Key in Crosspoint Mall. But no matter all the hushing and sshing, this place should definitely not be kept a secret ! Or, at the very least, it should be a well known secret !
Huh ? How did secret come into the picture ??!! Well, that's because the Speakeasy style illegal bars had opened in the USA during the times of prohibition in the 1920s. They were so called because of the practice of speaking quietly about such a place in public or when inside it so as not to alert the public or the police. Speakeasy largely disappeared after prohibition and the term is now used to describe some retro style bars.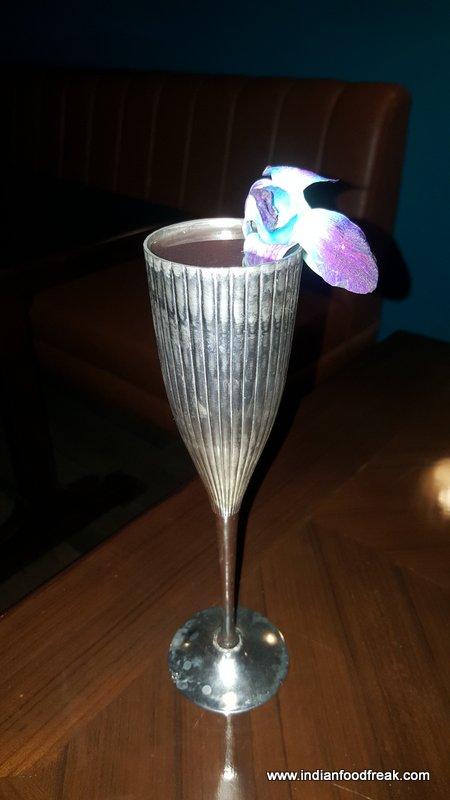 So why should Lock & Key (L&K) not be kept a secret ?
Because….
It is deliciously dipped in mystery as standing outside it, it is difficult to say that it is a bar. The name L&K itself has been chosen to create that aura of suspense attached with Speakeasy bars. Quaint things are displayed outside in a show window which could make someone mistake the place for an antique shop or what not. In fact, the owner Rituu K Memani is quite amused by the fact that she has had to attend to calls from people asking if L&K are locksmiths.
Because….
The décor inside is a fine blend of rugged finishes with high luxury elements. Customized brass lighting, velvet settees, lamp shades with tassels, tainted mirrors, collectables, plush upholstery on furniture, mirror panelling…….all transporting you to the opulent times of yester years. Every little element including the unique installation of knobs on the bathroom wall create an aura of glamour and mystery.
Because….
The bartender or the owner personally attends to each table to help you order your poison customizing it for you according to your taste. The cocktails are so well made that they leave you asking for more. The presentation is also equally unique. Each cocktail is served differently – either a smoked one in a spherical ball or another poured from a tea set…..or in a conical glass…..or in a metallic stem glass…… old school glassware is indulgently used.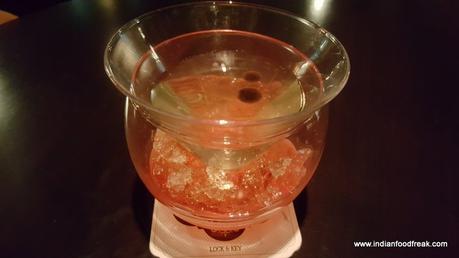 Because .. of the food….
My friend and I started with the Pesto Flatbread which was full of a cheesy pesto flavor, topped with sun dried tomatoes, olives, jalapeno and crisp onions and generously sprinkled with cheese – very akin to a thin crust pizza.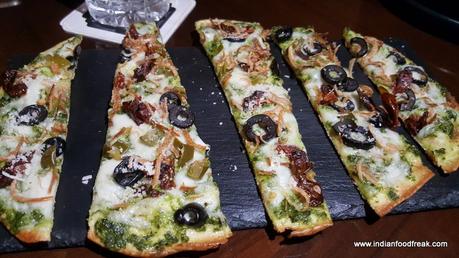 Crispy Bhel Salad with pomegranate seeds, olives and sun dried tomatoes was nice but a bit too dry. It needed more chutneys to bring this street food together.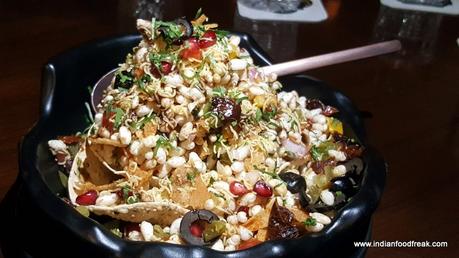 Bengali Crab Cakes and Rum and Coke Chicken Wings were simply awesome. Cutlets were loaded with the sweetness of crabmeat and subtly flavored with spices with a crisp panko crusted exterior. The wings were soft and juicy and tossed in a finger licking good sauce.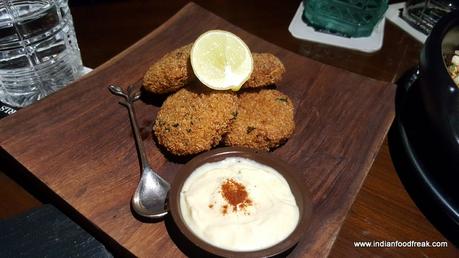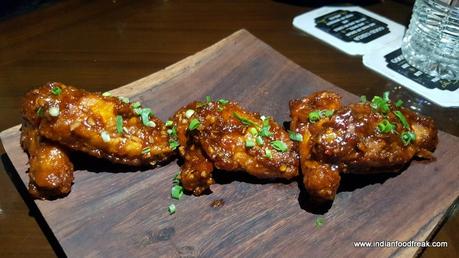 Pulled Pork Samosa served with a spicy mayo had everything going right for it but the encasing of the samosa was on the thicker side making me eat more crispy dough than the pork.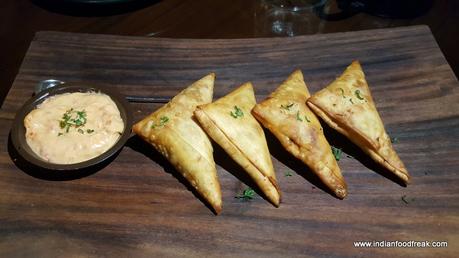 Burnt Onion Prawns were a prawn lover's delight. Soft and succulent from inside, wok tossed in a slightly sweet sauce and finished off with a contrasting textural icing on the cake of caramelised crisp onions.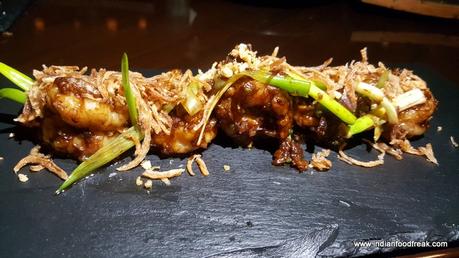 Bhuna Gosht Quesadilla was a lovely marriage between Mexican and Indian cuisine – a thin, crisp tortilla stuffed with boneless bhuna gosht accompanied with sour cream and a tomato relish.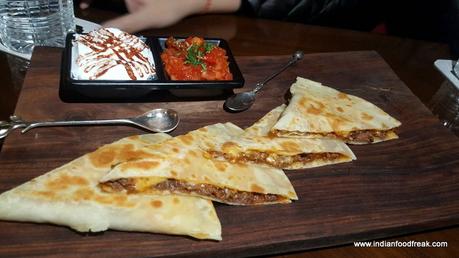 Hickory Kathal Taco would be a vegetarian's delight but the kathal needs to have a slight crisp texture. It was a soft taco and so was the kathal, making me crave for one of the two being crisp – either hard taco soft filling or soft taco crispy filling.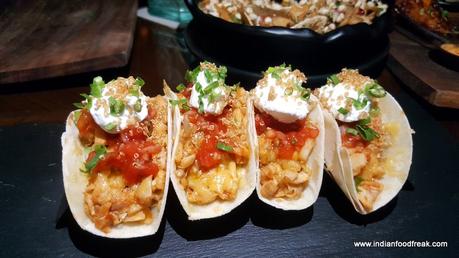 Kung Pao Pork was a well made dish except for the pork being slightly chewy and the sunny side egg perched on the fried rice not having a runny yolk.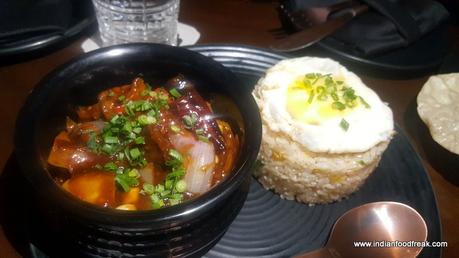 Prawn Moilee and Kokum Curry are served with a choice between Malabar parantha or rice, papad and gongura pickle.  Both the curries were way too thick but I was told that since they were serving it with a parantha, people couldn't handle thin gravies with it. While I enjoyed the subtle moilee, Kokum curry lacked the tangy punch and blushing pink color of kokum.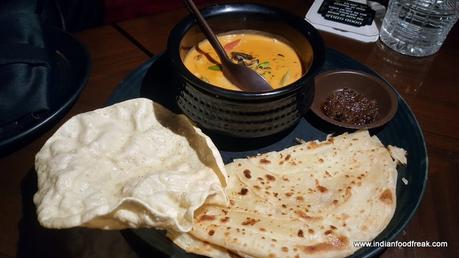 Chicken Kiev on a bed of paprika mash potatoes came loaded with a butter center and was really delightful. Minor changes like flattening the chicken a bit more and using herbed butter and cheese for the filling could take it to the next level though.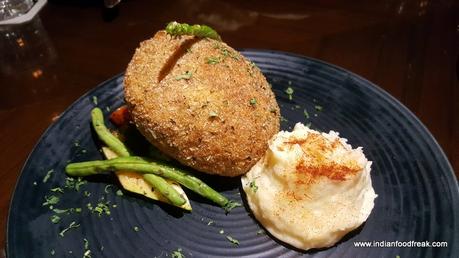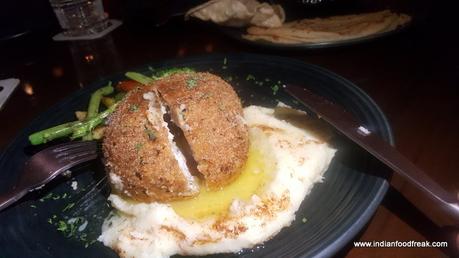 Because .. if music be the food of love, play on….
The music is just loud enough for one to enjoy English retro, jazz, blues and rock being played and not having to shout above the music while having a conversation with companions on your table. That apart, L&K has live bands playing thrice a week on Wednesdays (Retro/Jazz/Blue music), Fridays (Jazz music) and Saturdays (Retro music) – nothing better than live music.
From the mystical aura the place has, the plush interiors, music that I could relate to, customized perfect cocktails to the lovely menu with intriguing dishes, Lock and Key did leave an impact on me.
Ratings (Out of 5)
Food: 3.5 | Ambience: 4.0 | Service: 4.0 | Overall: 4.0
Meal for Two: Rs 1800 ++ | Wheel Chair Friendly: Yes | Credit Card: Yes | Alcohol: Yes | Set lunch menu weeklong with mocktail @ 799/ and with cocktail @ 999/
Address: Lock & Key, Shop 105-107, First floor, Crosspoint Mall, DLF Phase 4, Gurgaon.
Disclaimer: This review was done on an invitation from the restaurant. Due judgement and care has been applied by the author to remain objective and unbiased in the review, but readers need to consider this review keeping this fact in mind.