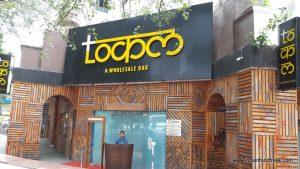 Connaught place is probably the oldest markets of Delhi and a very popular place with the local crowd whether it comes to shopping, eateries or just hanging out. What better location for Local (a restro bar) to open at. Serving North Indian and Continental cuisine Local is located at Atmaram Mansion, Scindia House which makes it easily accessible and it also provides for valet parking. As i am walking towards it my first thoughts are when the exterior of a place looks impressive you start looking forward to the interior. The brand name is nicely designed and names of various streets and roads in Connaught place can be read all over the wooden planks. I walk in and the spaciousness of the place impresses me further and not only that the placement of the seating is just correct for the vast area it is. It has been well planned with everyone getting a good view of the entire place.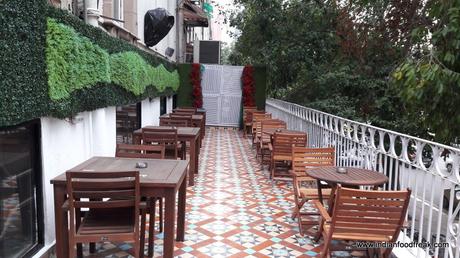 The restaurant has two levels ground and first with outdoor sitting too. Though no food and drinks are being served in the outdoor section but it is certainly worth it to spend some time experiencing the outdoor beauty with gothic style flooring and the greenery. The restaurant has a seating capacity of 480 and could go upto 600 guests (this includes the outdoor seating too) . Their DJ console placed in the center of the ground level is interesting with revolving screens. The restaurant also has an ample seating section for smokers.
As the name itself suggests Local, beautiful hand made pictures of local monuments such as Red Fort, Humanyun Tomb, Lotus temple etc adorn the walls.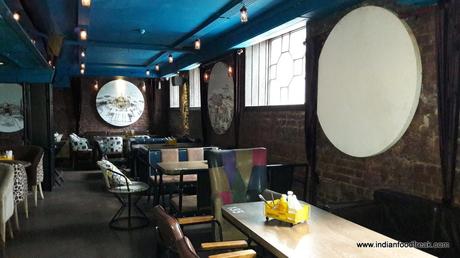 When u are at a restaurant named Local the first thing on your mind is to try the most locally liked dishes popularity wise or personally. Plus looking at the menu some things caught my eye which i was certain we had to try. While on the menu the names of the dishes and drinks are not to be missed, makes for an interesting read.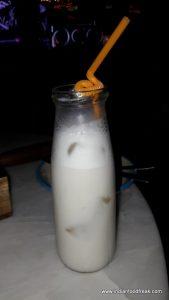 The afternoon started with Gulkand doodh which is basically a vodka based drink combined with gulkand, vanilla syrup and milk. I would never have imagined such a combination sitting so well and have to admit that i have never enjoyed drinking milk as much as i did having this drink. Strongly recommend this one. For my friend we ordered a Ganna gaad ke drink consisting of sugarcane juice , mint, amla juice, elderflower n rock salt. While the drink was an interesting mix of ingredients they are currently outsourcing the sugar cane juice which is why the drink took a while to come. However i was told they would be making arrangements for the juice to be freshly made inhouse only.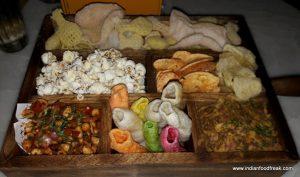 Something that I found extremely interesting on their menu was their Chakhna platter and was more than pleased to see it when it came onto the table. The platter has everthing one enjoys with or without drinks, popcorn, masala peanuts, channa jor garam, three kinds of fried papad and color fingers. A unique platter this is definitely going to be a success with people enjoying their drinks with so many things to nibble on.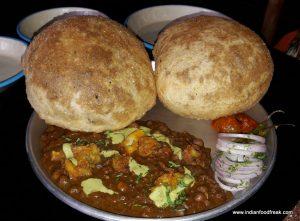 When we talk about local Indian food chole bhature tops the list and i had to have it here. The first look at it and i liked the way it was served on an aluminum plate. When a restaurant is theme based attention to small details is important and wouldnt go unnoticed by guests. While on this each table has mention of one or the other street / road of Connaught place reminding you of all the local surroundings. Coming back to the chole bhature , the bhature were excellent, crisp yet soft and even. Good in size too however the chole could have been slightly spiced up or more masala added to give it that local zing.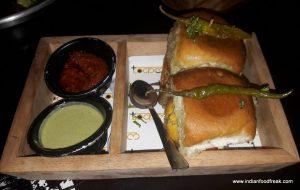 From North we move to west and Amchi Mumbaiya pav follows next. The vada pav was tasty and and quite close to what we get in Mumbai. I liked the freshness of the pav , the flavours of the chutneys served along with just the right texture made it an overall nice dish to order. When we talk of locally liked dishes how can we leave fish fry out. I tried Sardarji ki fish masala fry which had an excellent tasty batter, the coating was nice and crisp too.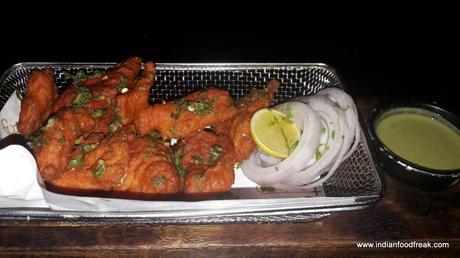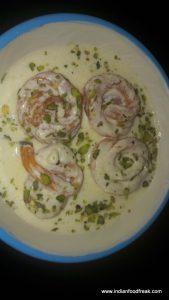 To end the meal a sweet is mandatory and I would like to use the local word Mithai here rather than dessert. I left this part to Chef Abhinav Raj Tyagi and went by his recommendation of rabri with mini paneer jalebi. I simply loved every bite of it. The mini paneer jalebis were soft and melting in the mouth. Frankly i am not a rabri person but enjoyed the same. When a mithai has just the right amount of sweet and is not heavy on the stomach it makes it perfect to enjoy. A must try. A special mention for the service by the staff here which added to the sweetness of the afternoon.
I love being an Indian and enjoy all things local and having visited Local CP i came away having enjoyed everything local yet again.
Ratings (Out of 5)
Food: 4.0 | Ambience: 3.5 | Service: 4.0 | Overall: 4.0
Meal for two: Rs 1500 | Wheelchair Friendly: Yes | Credit Card: Yes | Alcohol: Yes
Address: Ground Floor, 11 , KG Marg, Atmaram Mansion, Scindia House, Connaught place, New Delhi
Disclaimer: This review was done on an invitation from the restaurant. Due judgment and care has been applied by the author to remain objective and unbiased in the review, but readers need to consider this review keeping this fact in mind.