From the 4th – 5th June LKXA Barcelona Extreme 2011 is at the Parc del Fòrum where you have a chance to see the best in Skateboard, Scooter, BMX, FMX, Inline and Longboard.
Barcelona Extreme 2011 Activities
The LKXA Barcelona Extreme 2011 action sports festival has been busy preparing many activities that all the participants can enjoy directly. Anyone who has been to other editions of this great action sports festival will know what they are letting themselves in for. apart from all the action that can be enjoyed hands on there is also a marketplace with lots of shops with all the top brands in extreme sports gear.
You'll also be able to take in refreshments and shop for clothing, too. There will also be activities for the kids which they are sure to love. What are you waiting for, get on down to the Parc del Fòrum on Saturday and Sunday as it's going to be awesome!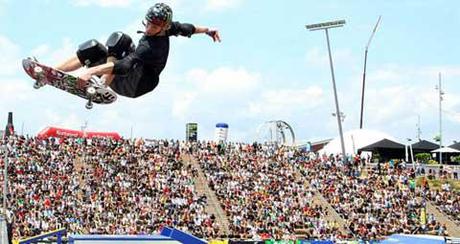 This 4th edition has some new things on offer namely:
3 street areas open to all bikers, skaters, skates and scooters.
1 public park laid out with mini ramps and 2 more modules.
Fixed Zone.
1 kids park.
Skimboard, the new Freestyle sensation on the beach!
Barcelona Extreme 2011 Marketplace
There will be an area full of shops with all your fav brands such as:
Twenty13
Madd
District
Mad Powder
Voodoo
Barcelona Extreme 2011 Competition Sports
In this edition of the Barcelona Extreme 2011 action sports games will be the following sports:
SKATE (park and vertical)
BMX (park, dirt and flatland)
INLINE
FMX
LONGBOARD
SCOOTER
Categories
Pro: Designed for riders who are sponsored.
Open: Designed for riders without sponsors.
Timetable:
Saturday 4th June – 10.00 to 20.30
Sunday 5th June – 10.00 to 20.30
Tickets cost 12€ and under 8′s go free!
Website for more information – Barcelona Extreme 2011