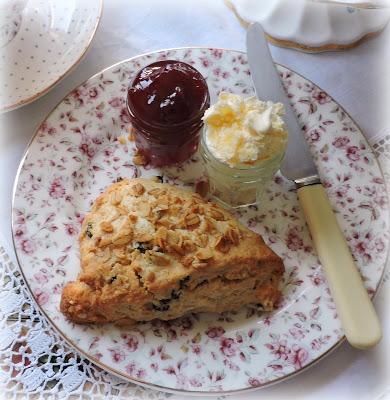 This coming Monday will be Saint George's Day.  All of the beautiful countries in the United Kingdom have a Patron Saint and the Patron Saint of England (where I live) is Saint George! St George's Day was a major feast and national holiday in England on a par with Christmas from the early 15th century. The tradition of celebration St George's day had waned by the end of the 18th century after the union of England and Scotland. These days it barely gets a nod, except in certain circles, but I, for one, think that it is the perfect day to celebrate our "Englishness," and what better way to do that than by baking up some lovely scones.   There are not many more things English than a warm scone smothered with jam and cream!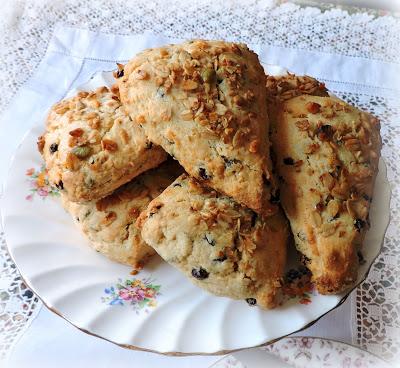 These scones are particularly lovely, with lots of wholesome nuggets of granola throughout, along with a healthy studding of dried black currants. (Oh we do love our black currants here in the UK!)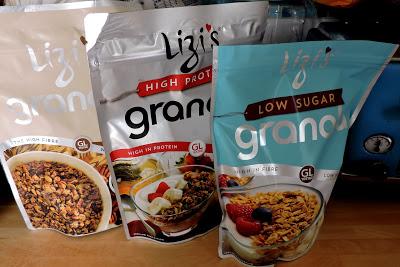 The Granola I chose to use today was Lizi's award winnig Granola. Lizi's products supply wholesome food that deliver sustained energy and protein throughout the day.
They are GL tested to give you confidence not only on the nutritional benefits but also the effect on your body.  With continual development they have launched Granola in convenience packs to help with busy lifestyles but always with a conscience that has driven us to develop varieties such as our low sugar.
All Lizi's Granolas are:
100% Natural Ingredietnts
No GMO's
No added salt
Dairy-free, wheat-free recipes*
Suitable for vegetarians and vegans (no honey)
Low glycaemic – GL labelled – good for blood sugar control
(*with the exception of on-the-go which includes lactose free milk powder.)
Its available in a variety of flavours such as the Original, Passionfruit & Pistachio,  Treacle & Pecan, Mango & Macadamia, Belgian Chocolate, Pink Apple & Cinnamon, Low Sugar, High Protein, Gluten Free and Organic.  The Original and Low Sugar are also available in portion packs of 10.  To find out more be sure to check out
their page
. I love them!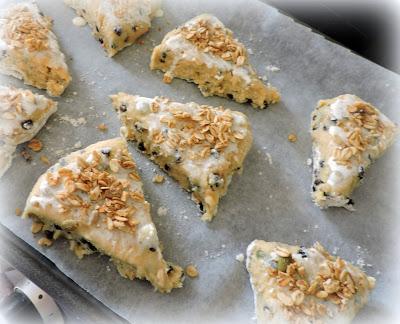 Today I used their low sugar variety, as I figured with the sugar and honey in the recipe, they didn't need a whole lot more sugar, and it was the perfect choice!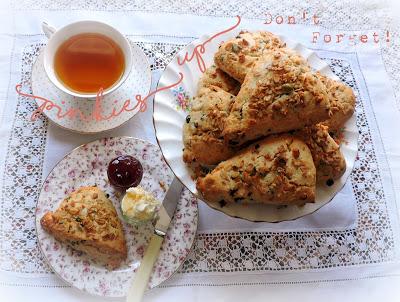 I decided to pull out all the stops today and got out my best tea cloth  . . . my Katie Lizzie cups and saucers, tea plates and my pedestal cake stand . . .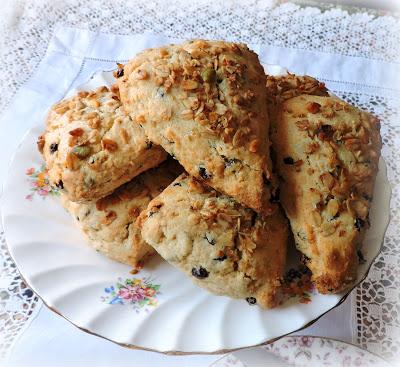 Nothing but the best for these beautiful scones, which you are sure to love  . . .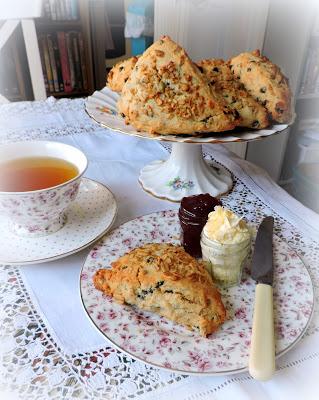 Not too sweet, but lovely, buttery and short, almost like a pastry  . . .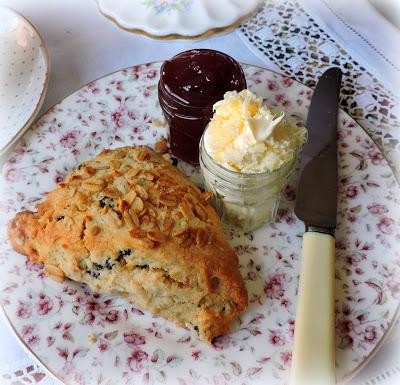 Studded with lovely dried black currants, and the granola . . .  make sure you use a free flowing type of granola.  You don't want one which has huge nuggets in it.  Lizi's is perfect for this.  It is filled with lots of seeds like sunflower and pumpkin as well, adding even more interest . . .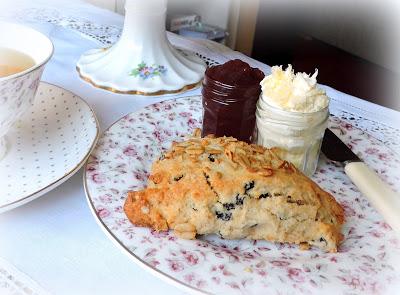 Fruity jam and clotted cream are a must!  (If you can't get the clotted cream, you can use softly whipped cream.) I favour berry jam . . .  strawberry or raspberry  . . .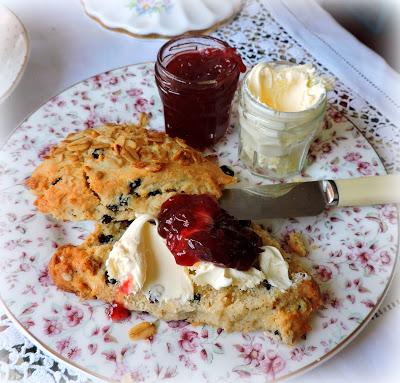 I like to spread the cream on first . . .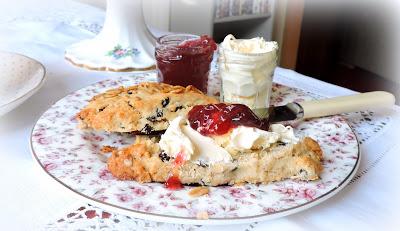 topping it with the jam . . .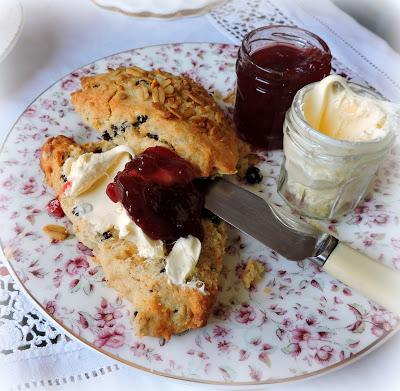 Wars have broken out over which is the proper way  . . .  cream or jam first  . . .  to me it doesn't matter.  Just so long as there
is
cream
and
jam!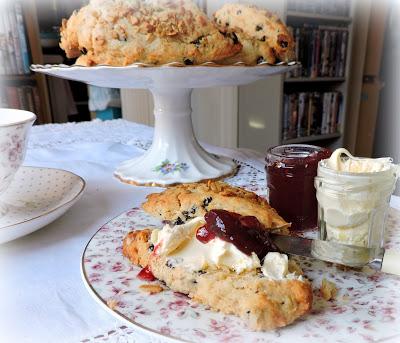 *Lizi's Granola Scones*
Makes 8
Printable Recipe  
There is nothing more English than a warm scone smothered in jam and clotted cream. 
280g plain flour (2 cups)1 tsp baking powderpinch salt50g caster sugar (1/4 cup, fine sugar)115g fridge cold butter (1/2 cup)1 large free range egg120ml double cream (1/2 cup)2 TBS honey1 tsp vanilla extract75g dried currants (1/2 cup)125g granola (1/2 cup)1 TBS double cream for brushing 
To serve:
Clotted cream or whipped creamjam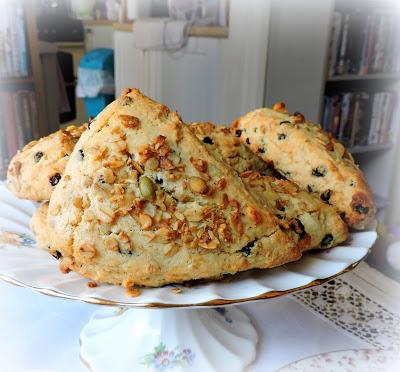 Preheat the oven to 200*C/400*F/ gas mark 6. (180*fan)  Line a baking sheet with baking paper and set aside. 
Sift the flour into a bowl along with the baking powder, salt and sugar. Cut the butter into small bits and drop into the flour mixture.  Rub the butter into the flour mixture with your fingertips until you have a mixture resembling bread crumbs. (althernately you can do this in the food processor.) Stir in 2/3 of the granola and the currants.  Mix together the cream, egg, honey and vanilla.  Add all at once to the dry mixture and mix together to make a soft craggy dough.  
Tip out onto a lightly floured surface and shape into a round about 8 inches in diameter and 1 inch thick. Using a sharp knife, carefully cut into 8 wedges.  Transfer each wedge to the prepared baking sheet, leaving some space in between each. Brush the top of each lightly with cream and sprinkle with some of the remaing granola. 
Bake for 15 to 20 minutes in the preheated oven, until well risen and golden brown. 
To serve split in half and serve with clotted cream and jam.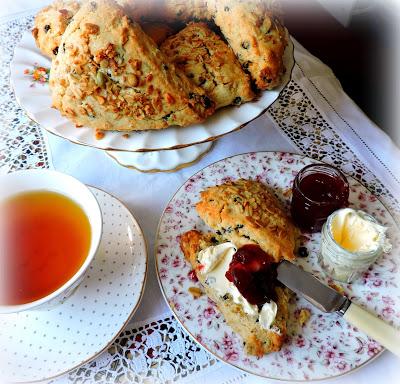 I think one of the flavours I love most about England are the scones and jam and cream.  Almost every town will have a tea room or cafe offering a "Cream Tea."  Hot pots of tea, served with scones, jam and clotted cream . . .  and butter.  We forgo the butter here as the cream is quite rich enough.  Today I had some of my favorite licorace & mint tea! Yum!  Bon Appetit and Happy Saint George's Day!