Liz and Drew came to us after Evie and Jamie at Chapter Photography recommended us so we he had our fingers crossed for another 'Love Gets Sweeter/ Chapter Photography' collaboration! They seem to find the nicest couples so we were super excited to meet them, and we weren't disappointed!! It was great keeping up to date with their plans and we even snuck in a quick catch up just before the wedding in Manchester-turns out my Husband and Drew have both worked in the CIS tower so chatted about boring bank stuff for some of it!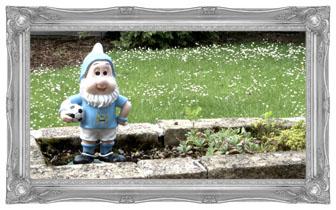 The wedding day arrived so quickly and when I arrived in the morning I was welcomed by lots of laughter and bridesmaids trying to get their make-up on before the cameras started rolling! Peaches and Cream were in charge of the gorgeous make-overs, Penny did the hair and the girls were looking gorgeous in no time! The boys were busy getting ready in a hurry so they could get to the pub which just happened to be on route to the church…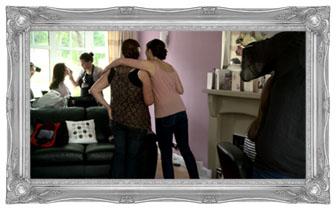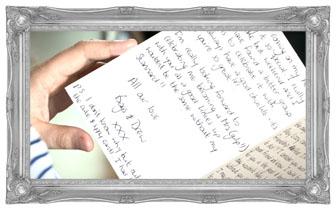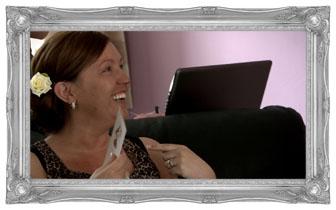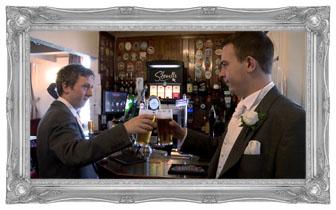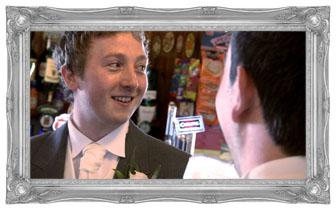 I just love this sneaky moment I captured of the Father of the Bride reading through his speech…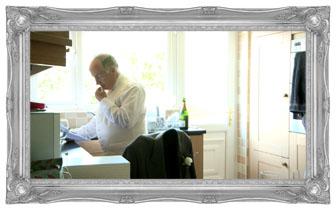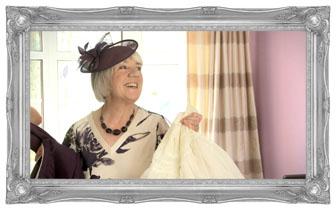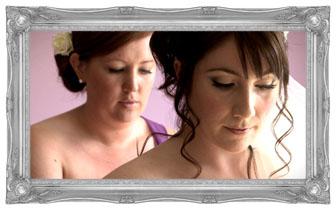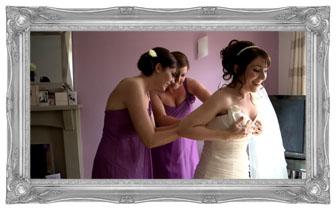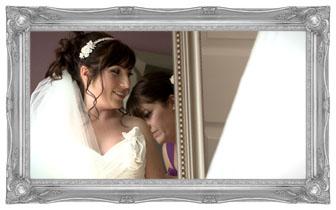 The blue skies appeared as we arrived at the church and the sun streamed through the beautiful stained glass windows as the guests made their way to their seats. Then I stood back to film one of my favorite moments, the ceremony. I just love watching the happy couple say their vows to each other in front of smiling guests…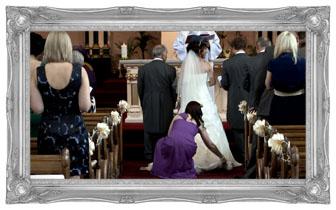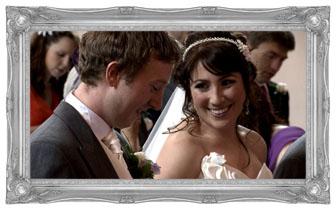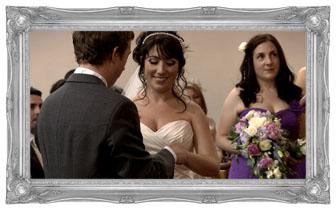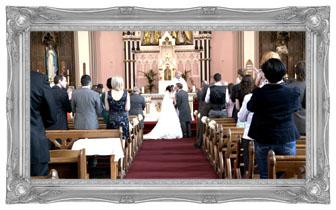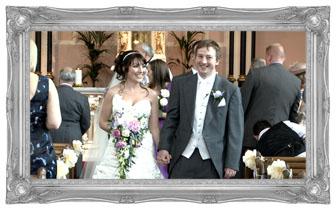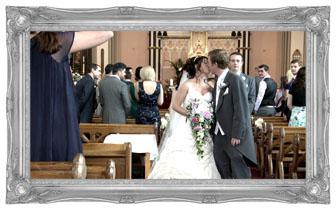 Just before the end of the wedding ceremony the heavens opened and we could hear the wind and rain battering the church doors as they signed the register. They made the decision to head straight to the reception venue, The Deanwater Hotel, in the hope it would clear for some photos and thankfully it did…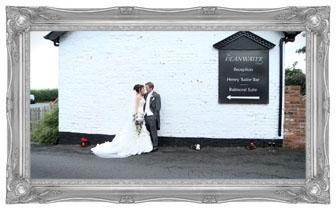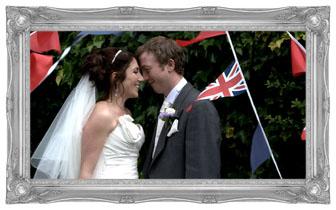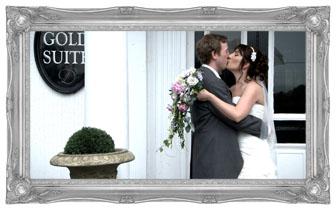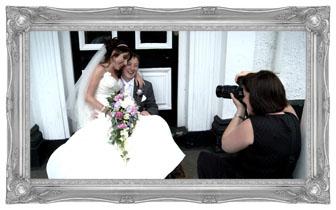 We were treated to every type of weather we could think of and after torrential rain we were treated to glorious sunshine, just in time for some photos in the fabulous grounds of The Deanwater…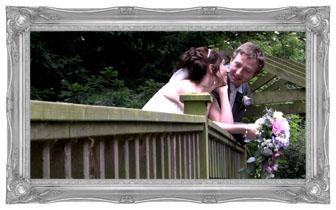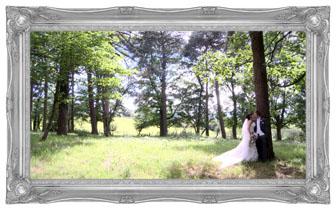 And I love this shot of Drew helping Evie and Jamie get the perfect shot of Liz and her dramatic veil…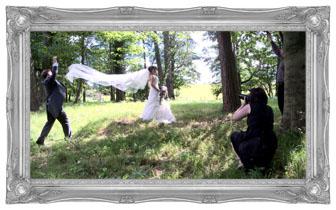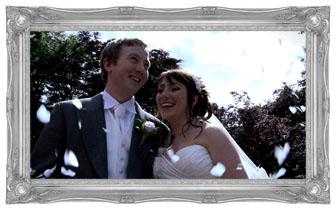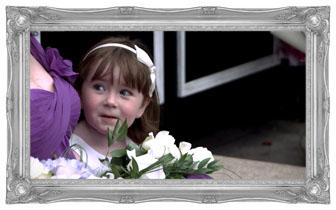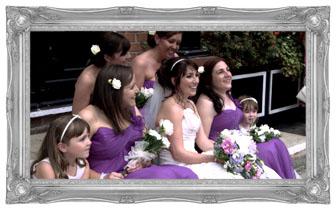 Guests chatted away while their guitarist, Neil Ryan, entertained them with some great tracks (Liz and Drew actually found him after hearing him busking in Manchester City Centre). We were then treated to some heart-warming speeches by the Father of the Bride, Groom and Best Man…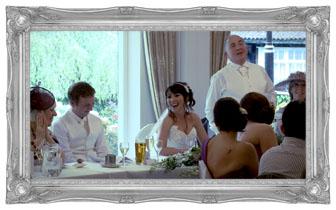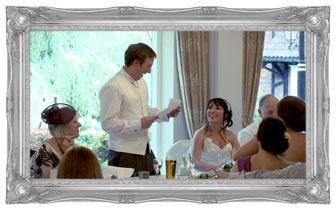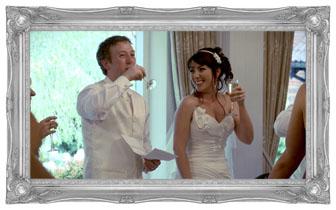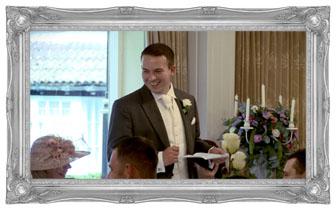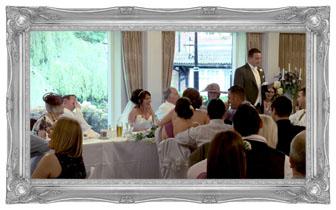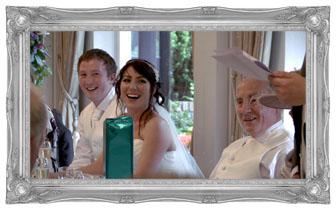 And then for the cutting of the cake but instead of cutting Liz decided Drew would like a taste…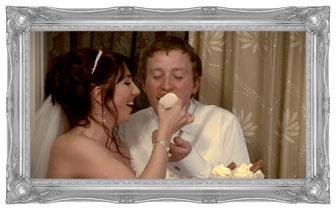 …before sneaking off for some more photographs with the dramatic sky as the back drop and then on to the first dance…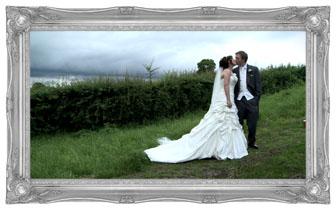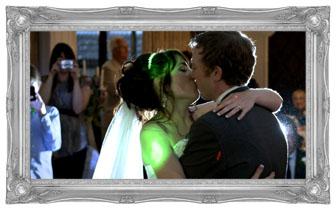 You can see the photographs captured by Chapter photography here: http://www.chapterphotographyblog.com/liz-and-drews-deanwater-hotel-wedding/
Liz and Drew's Wedding Highlights Film
Click here to view the embedded video.
Wedding Church Ceremony – St Peter's Church, Stalybridge
Wedding Reception – The Deanwater Hotel, Stockport
Wedding Photographers – Evie and Jamie at Chapter Photography, Sale, Manchester
Wedding Flowers – Cheshire Flowers, Stockport
Wedding Dress – Bridal Couture Italia, Bolton
Make up – Peaches and Cream, Liverpool
Guitarist – Neil Ryan