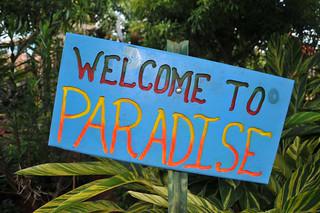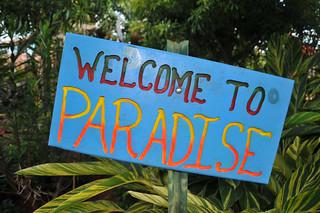 Are you like me and want to live in paradise? How greedy we are. Not to speak of unrealistic. There is no paradise. I know this, but when my man and I started looking for where to live abroad after retirement, I started searching for it anyway.
I wanted to live in a place where I never had to shovel snow again, a place where the food and wine are yummy, the natives are friendly, and the sun shines a lot. This was a partial wish list. As the saying goes in my native Dutch tongue: Ik heb heel wat noten op mijn zang. Which translates into: My song has quite a lot of notes. If you catch my drift.
My American prince and I were (are) serial expats, with no real home base in either the US or my native Holland, so we wanted to find a place abroad to plant ourselves once we retired. We might not be able to grow roots, but we could try.
I hope you know that no matter what you see on TV the world is a fabulous place, stunning, miraculous, fascinating. So where to go? So many places to choose from.
How to find paradise?
We spent some time in Costa Rica. Unless you've lived in a cave, you must have heard how beautiful and bio-diverse this country is. I was gobsmacked by the scenic splendor. I saw my first bubbling volcano there. I know it's just a picture to you, but you shoulda been there!
Costa Rica is also a country now overrun with American and Canadian retirees ensconced in gated communities, and not all are blessed with cultural sensitivity, or have any desire to learn about and engage in the local life. So I've heard. So I've read. Is it true? I don't know. You tell me. However, clearly many retirees find that living abroad in Costa Rica is to live in Paradise. Yet, for various reasons we decided to look elsewhere.
We were in Italy half a dozen times, mostly in the south of the country and loved it there. The food and wine? Well I don't need to tell you. We met some lovely people who invited us in their home, fed us, lent us their car, and took us shopping. I mean, when does that ever happen when you're a stranger some place? "Take the car," she said. "Be back by one for lunch." We'd only met her a few days earlier. Next thing we knew we're at her dining room table with the extended family celebrating a birthday.
But somehow it didn't all add up for root-growing.
Venturing forth, we vacationed a bit in Portugal, on two occasions. Portugal has its charms, but it did not seduce us. I know, we should be ashamed of ourselves. How picky can you be? What does it take to satisfy us?
Peace and serenity
How about the Indonesian island of Bali? We were there years ago, and were enthralled. Island of peace and harmony, of temples and festivals, of smiling people and taste-titillating food. Such seduction of the senses!
I could learn to meditate, finally, and do yoga and get in touch with my Higher Self. Yes, I could live there, in the mountains, not near the tourist beaches. I'd go in a red hot second, if only . . . Well, you knew that was coming, didn't you? If only Bali wasn't so far away from family and friends, most of whom hang out in Europe and the US. I'm afraid I'd never see them again. So it was a no for Bali, with an ache in my spoiled little expat heart.
Almost Paradise!
We scouted out Ecuador, much advertised as a cheap expat heaven, but also rather out of the way for our purposes. The country is gorgeous. Lots of culture, great bio-diversity. The many different climates - from tropical to cool and rainy - make it possible to grow fruits from strawberries to coconuts, all fresh in stunning markets overflowing with the bounties of nature. They grow fruit there I never knew existed, and I've been around.
And of course there's fresh seafood, since the country is located right on the Pacific Ocean. And the wine? Sadly, only imported. Local cheese? Not so exciting. The coastal areas are tropical and I am so done with the steamy tropics, having spent years inelegantly sweating in Africa and Indonesia. BUT: The mountainous areas of Ecuador are fabulous! Great climate! Except that by sundown at around 6 pm it's too cool to sit outside and there's no outdoor life on terraces and cafés. You can read about our experience right here:
Ecuador: Almost Paradise
Back to my expat paradise wish list
Somewhere there's a place for us.
So what did I really want? I wanted a slower pace of life. Slower than what, you ask? Slower than in the US. It doesn't matter if you say you'll slow down and take it easy, savor the small joys of life; somehow the rat race culture sucks you in. It's in the air, on TV, in the shops, in the lifestyle of the people you meet. You can't escape it.
I craved a leisurely sidewalk café culture. I love eating outside, or lingering over a cup of coffee or a glass of wine while watching the people go by. They're good at that in Southern Europe. People in my native Holland love it too. They'll sit outside with their coats on if that's what it takes. In February. Did I want to settle in Holland? Forget it. The climate is lousy and the rat race culture is fully established, even with sidewalk cafés everywhere.
So where did we finally end up?
The South of France, in a small village near a lovely town full of terraces and cafés and restaurants. Cultural activities and interesting social events aplenty. It ticks off a lot of things on my list including the sidewalk café culture. Do I have to mention food and wine? I think not. The countryside is fabulous, vineyards everywhere, and great walking routes for our morning hikes. The people, you ask? I don't know what you've heard about French people, but we've found them friendly and helpful, if not as outgoing and cheery as their Latin neighbors.
S0 is this Paradise?

No. The weather is good if not perfect - there's still a winter requiring warms coats, and the winds can be fierce at times. Yes, I know, your heart bleeds for me. The language? Oh, my, I had not expected it to be so difficult, me being a Dutchie and all, having studied French in school, and already being fluent in another foreign language (that being English in case that escaped you).
But we like it here and we've made new friends, expats as well as French ones, so we'll stay here and give our globetrotting spirits a bit of a rest. Old friends and family are not impossibly far away and all of Europe's splendor is at our door step.
Where is paradise? What is paradise? It's not just a particular place full of goodies, is it? Really, how shallow do you think I am? Okay, pretty shallow, but I do know that what matters most is not the location but the people you surround yourself with, the ones you live with, the friends you laugh with. The ones who help you in case of crisis.
And the ones you dance with.
That, and a glass of wine on a terrace in the sun.
Have you found your paradise yet? Where will you live in your dotage?