After a day of rain and dismally gray skies, Liverpool brought the sunshine in abundance during my second day in Liverpool! Following a path with a 'Beatles' theme had to be done, I had not paid them any attention throughout previous visits, that needed to be changed! Not being a fan didn't deter me because the 'Beatles' will forever be British Music Icons! Come on, the 'Fab 4!'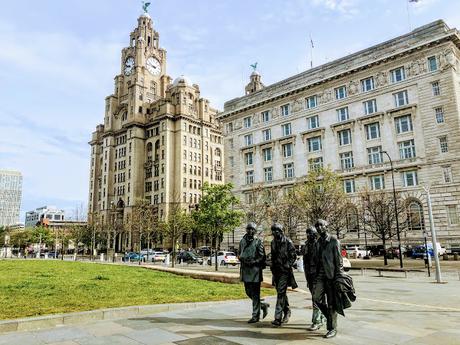 Liverpool wasn't the town where I was born but it had been for the 'Fab 4' otherwise known as the 'Beatles'. Standing next to the statue of the walking 'four' who were part of the most famous band in the world, I did not see any 'Yellow Submarine' bobbing past me on the River Mersey! Previous trips to Liverpool had saw me abuse that prime 'Pier Head' location, I had countlessly messed up the opportunity to take a stellar photo of the 'Port of Liverpool' building. 2022 had me focussed and waking up before the birds, I had things to do, a plan to execute! Allowing the few tourists to take their photos with the 'Beatles' statue that overlooked the 'Liver Birds', I knew nothing good would come from displaying my impatience openly. I was feeling content with my winning 'Liverpool' statement photo with no need to make anything better. 'Jude', I am no fool! So, why did those 'hop on, hop off' bus workers thought that I would part with my cash, I had own public transport mapped out for the day! For the moment, I took in those Mersey views, L! 
Formed in 1960, Liverpool's Beatles went on to rock the world with their catchy and revolutionary musical hits! Made up of four members, 'John Lennon', Paul McCartney', 'Ringo Starr' and 'George Harrison', the 'Fab 4' went on to tour the world to be greeted with mass hysteria. From 1963 until 1970, the 'Beatles' went on to release 13 studio albums. But 'Anyone Who Had A Heart' had to know that the 'Beatles' weren't the only musical powerhouse to have come from Liverpool! A 'lorra, lorra' fools! Of course, a young budding singer known as 'Cilla Black' hailed from the 'City of Liverpool'. Black also rose to fame after being signed to the same record label as the Beatles were. I cannot think about the Beatles without Cilla Black being part of that 'Scouse' musical association. Without a doubt, my musical crusade of a day out in Liverpool definitely served 'Cilla Black' vibes with a few 'Surprise, Surprise' situations! Liverpool brought the unexpected to me, hitting me straight between my eyes! Yes, a lorra things to see!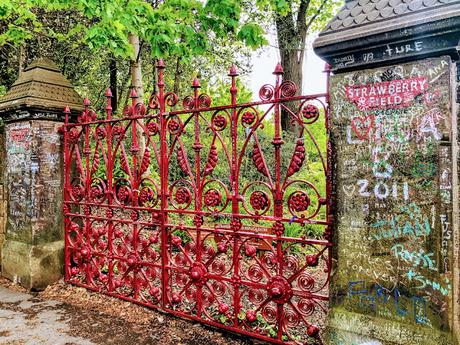 'Sir Paul McCartney's' childhood home appeared to be shut, fearing not I hatched my original plan into action. After shrugging off the 'tourist bus', I boarded the 76 Arriva bus towards 'Halewood' because that 18 quid saved would be spent on a bevvy! With an extended period on the cards for me in the United Kingdom, I had my sights set on Liverpool for something quintessentially 'Beatles', encouraging me to delve further into such landmarks that were far from the 'Beatles Experience' at the 'Docks'. A former children's home had been directed to me during those pre-trip research periods, I wanted to know more about 'Strawberry Field' because what a fabulous name that sounded to me! The 76 bus saw me leaving the city centre, passing through some interesting neighbourhoods, that was all part of the experience. Passing by 'Penny Lane' had me almost arriving at those famous 'strawberry red' gates! So, 'Strawberry Field' was a former children's home, it was where John and Paul played in the large Victorian gardens. OK!  
For me, I was all about taking an uninterrupted photo of the famous 'red' gates outside 'Strawberry Field'. The area that surrounding the now 'Salvation Army' owned part-exhibition had me looking at some pretty leafy settings, things were looking really fancy indeed! Apparently, according to the song 'Strawberry Fields Forever' nothing was real but was that reference John Lennon was making to his experience tripping on LSD, the well known 'hallucinogenic drug?' Regardless, I loved getting my quiet photo of the those gates and to experience another part of Liverpool during that gloriously sunny Thursday afternoon. I loved getting to know a part of the Beatles's early years, much better being away from the droves of tourists had me appreciating my own sense of direction. Halfway through my 'self-guided tour' of all things Beatles had me feeling accomplished. A very famous 'lane' would soon be in my grip, Liverpool had me learning to love the city all over again without a seconds thought! Boss, lad! 
As the Beatles classic goes 'Penny Lane is in my ears and in my eyes' and in every sense of those lyrics it was all true for me! First and foremost, it was amazing to see that 'Penny Lane' was still commanding a certain level of 'coinage', making that Beatles money forevermore! Released in 1967, some 55 years ago still 'Penny Lane' continues to put Liverpool firmly on the map, for that I saw many trendy looking eateries and of course some were named after such Beatles songs. I wanted nothing more than a photo of the 'Penny Lane, L18' street sign, with some research done from at least two years ago, I subconsciously walked further away from the first initial sign. That subconscious thought had me winning at life, finding the second street sign had me snapping away with my iPhone respectfully! I absolutely didn't feel the need to take any photos of 'Penny Lane' as such, it was after all a normal street where people lived. I refrained respectfully from taking anymore photos. With sound advice from a local Liverpudlian source, lunch was sorted! 
'Wet beneath the blue suburban skies?' Those 'Penny Lane' suburban skies were most definitely blue but no sign of rain could be seen on the near 'Scouse' horizon! Yes, lunch was enjoyed at Penny Lane's own 'Dovedale Towers' as per recommended by that faithful Liverpudlian wealth of knowledge. 'Paul' knew that I greatly appreciated his help! Lunch was nice, I enjoyed my 'scran' whilst along Penny Lane without any complaints to lodge with the management! None! Making my way back to the bus, well that was my initial plan because that need for the toilet had me buying another 'bevvy!' The establishment on the corner of Penny Lane had me first attracted to the name 'The Penny Lane' for obvious reasons. That Thursday had Liverpool proclaiming 'Here comes the sun, here comes the sun!' Of course, with a drink in hand alongside the glorious weather, all was well in Liverpool! With the afternoon wearing on, I caught the same 76 Arriva bus back into the city center of Liverpool without any issues. The 'Cavern Club?' Yes!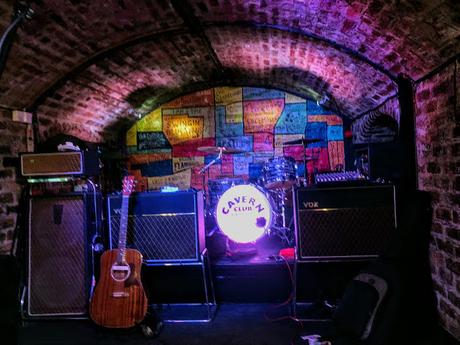 My previous trips to Liverpool either were day trips or I never made proper use of the evening, with a renewed perspective I had to make some stark changes to that Liverpool track record! Pardon the cheese but I was definitely expecting a 'Surprise, Surprise' as I stepped further down from street level into the world famous 'Cavern Club!' 'Something tells me, something's going to happen tonight?' Yes, those 'Cilla Black' lyrics definitely foresaw the energy within that Liverpool 'museum of music!' I could only describe the 'Cavern Club' as a love letter from the Liverpudlian music greats to the world, with people visiting from both faraway places and also home. It was definitely another location where the 'Fab 4' had kicked off their career as an unsigned rock band. Cilla had worked at the Cavern during the 1960's in the cloakroom, that was before she found her voice at the Cavern Club alongside her Beatles brothers. As the early evening live performers belted out a few Beatles classics, it was amazing to finally be at the Cavern Club in L! 
Let me pause for a second. 'The Vivienne' from 'RuPaul's Drag Race UK & AllStars 7' did a wickedly great impression of 'Cill' in 2019! Come on girl, bring her to life on the 'Snatch Game Of Love' because that would one heck of a 'Blind Date!' Apparently, Cilla used to do Ringo's hurr whilst she lived on the 'Scottie Road!?' Back to the 'Cavern', I really embraced that different entertainment venue because it holds such a place in the 'Hall Of Fame' as a well respected music venue that has been placed above others, giving Liverpool the floor to celebrate onwards! As we transition out of the Pandemic, in that moment at the Cavern Club it was so humbling to see people enjoying themselves with a drink and also having a dance! Liverpool had treated me so well that day, from the morning to the afternoon right into the nighttime, the whole experience had me wanting to know more! Done and dusted, Liverpool's Beatles and Cilla Black story didn't have me following the crowd, no! 100%, it was a full circle moment that Thursday! 
You're My World, You Are My Night And Day! 
Desperately Seeking Adventure