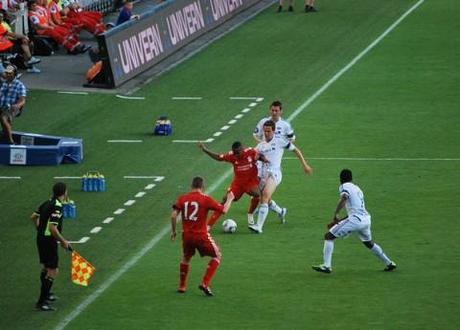 Raheem Sterling in action. Photo credit: Kong niffe
Liverpool Football Club suffered a humiliating loss to West Bromwich Albion in their first Premiership game. But new manager Brendan Rodgers' team improved considerably to draw 2-2 with reigning champions Manchester City in their second feature.
One of the undoubted stars of Liverpool's strong showing against City was 17-year-old Raheem Sterling, who was picked ahead of England international Stuart Downing and justified the selection. Hot prospect Sterling's performance wowed veteran observers but it seems he needed a real kick up the backside this summer to get him properly motivated. Here is Rodgers giving Sterling an old-fashioned dressing down during the Reds recent tour of the US. It's a clip from an upcoming Fox documentary entitled Being Liverpool.