During that twilight hour, Liverpool had me walking down the darkest alleys to find a true 18th Century gem! The Cavern Club served something popular but I had a sneaking suspicion that something researched would cross my path effortlessly! The morning after the night before, the Georgian Quarter saw me emerging from my Selina Liverpool property! Liverpool, you're boss!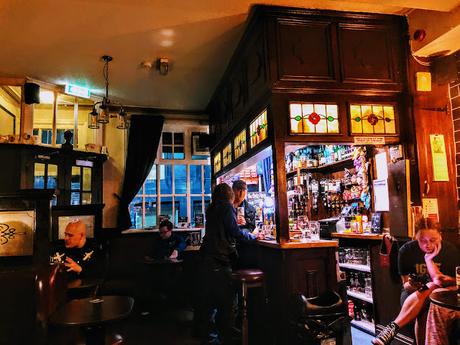 Upon my exit from Liverpool's Cavern Club I was hit by the 'tourist appropriate' Matthew Street, I respectfully didn't want to entertain any of 'Sgt. Pepper's' named establishments. Like a 'Bitch On Heels', I made my way towards an 18th Century gem without even realising that I was doing so! Liverpool, being a city like a 'box of chocolates' I didn't know which one I would get, I had to take the risk! As I gazed down a rather dimly lit 'Cumberland St', I saw an establishment that ended up being the 'Poste House'. Like countless other places, I had researched that 'pint-sized' nightspot well before that May 2022 trip up to Liverpool! Making mine a 'Cider', something told me that a story would be told to me, I kept my senses about me because I love to learn! Yes, the 'Poste House' definitely dated back to the 1820's with a rich past, serving many secrets, the formative landlady had annexed the first floor for a special audience! Affectionately known as one of the oldest 'Gay friendly' venues in Liverpool, possibly in the UK! I was all ears, I was! OK! 
Being a port city, Liverpool had many sailors and Navy men passing through the Empire rich docks. There's no secret that we're attracted to new places, even more to bolster the fact that Liverpool's 'Poste House' became a 'safe space' of sorts. Known as a 'tolerant venue', the landlady welcomed such 'gentlemen with style' to her venue. Locking the door when the need arose and confronting any force met by the authorities, she would keep the first floor guarded for her 'best Judie's' because they just wanted a bevvy like their 'straight' counterparts also did! For in that 2022 moment, there was a sense of appreciation for such a venue existing away from the usual 'Circuit Bars' we usually see on the 'scene'. I really liked the cosy vibe at the 'Post House', I definitely felt a sense of its past with the upstairs staircase almost shadowing the clientele who were having a drink. We must definitely protect such venues that have such legacies surrounding them, the story of that landlady deserves to live on into the future! I needed a Maccies and bed!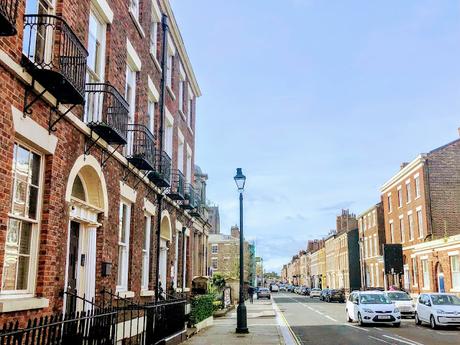 The next morning served up a sore head for me to deal with, being my day of departure back to the West Midlands, I had to keep it together! It was not cute! Checking out of my 'Selina' hostel saw me heading towards Liverpool's 'Georgian Quarter' but not for the first, as I took a second glance at the nearby 'Anglican Cathedral', it forced my mind to flashback to my 2013 visit because those very same streets had passed me by without me realising! I loved the regal style of the architecture, it was yet another stark contrast served up to me! I stopped to take one of my few photos on Rodney Street within Liverpool's Georgian Quarter, something about the high windows and perfect arches transported me back to a time in the past. Rubbing shoulders with Liverpool's Knowledge Quarter, I did see a fair few upscale eateries and some bars because we all know students love to have a good time. I definitely felt something special whilst I walked around Liverpool's Georgian Quarter, it was yet another first time moments in the city! Hungry?
As I made my way closer to Hope Street, I took my time to absorb the views in to their fullest potential. The weather had me thankful for those blue skies, finally on my day of departure it was typical that another day of sunny weather had been forecast! Not friends! Anyway, I had promised myself Brunch whilst in the Georgian Quarter because I had some money spare and it looked like that kind of area, yes it did! Moose Cafe had me thinking about iced coffee and pancakes because that hangover craved nothing but comfort food, I had no choice but to surrender to my 'worse for wear' state! Real talk, those iced coffees tasted like heaven, if money was no object then I would have ordered three more but two drinks kept me within a reasonable overall price. I ate some gorgeously stunning blueberry thickened buttermilk pancakes because yet again my hangover demanded rich food, plus their menu was limited so I had to chose one of the pancake combinations. In the end, I loved the Georgian Quarter and its boujee period vibe!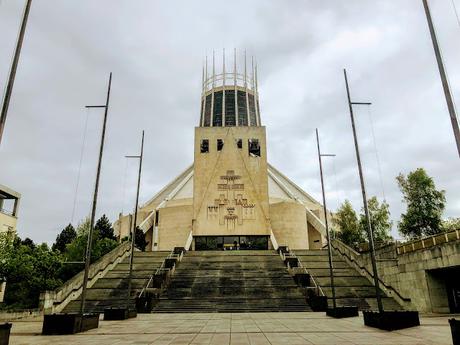 Heaven actually needed to help me, I was in a bad way but I needed to keep moving the 'Liverpool' on! There's no need to use expletives when you can use your words properly, well artistically! Hope Street had me 'chasing pavements', I had to go and thank 'Jesuscristo' because I needed the toilet and the Metropolitan Cathedral came to my actual living rescue! Ready for the next chapter of my day, I got talking to one of the cathedrals volunteers about the geopolitical struggles Merseyside is currently facing. It was interesting to speak with that person because she allowed me to realize how people can be precious about what 'county' they actually live. Sounds like Southport wants to run back to Lancashire real quick? Yes! Connected by Hope Street, both the Anglican and Metropolitan Cathedrals continue to work together as to relieve such issues regarding poverty. I expressed that it was staggering to think that Liverpool whilst gaining riches from the port, a large part of the city suffered in the worst living conditions. Why!
After that insightful chat, I stepped into the main cathedral space. The silence was so comforting, I'm not religious but maybe I felt moved by the 'arena' like and 'theatre' like vibes that were being served to me! Help! I didn't shrug off that feeling from above because I wanted to embrace that part of the city as it had done for so many others. Focussing on the 'theatre' of it all, the altar looked like a stage and the pews acted like those tiered seats that are present in any given arena around the world. I did light a candle because that's what I like to do, it's a universal thing and I like believe light comes from all facets of all religions. I had noticed Liverpool's 'arena' like cathedral from popular culture, I actually didn't realize how close I was from Moose Cafe to the Metropolitan Cathedral, maybe some divine intervention took place that day? Content with my 'Cathedral City' moment, I hatched the final stage of my day in Liverpool. With the Post House done, Georgian Quarter seen and the Cathedral observed, where would be next?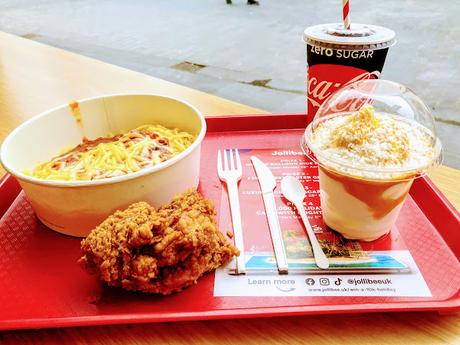 I had been a damn fool the previous day by not having had any tea, meaning my 'evening or teatime meal', that's depending on what you call it? On the Wednesday evening I dived right into my first ever meal experience at 'Jollibee' because I wanted to try that Filipino fast food chain! On the Wednesday I found myself trying one of the 'rice bowls' and mighty Manila was it spicy or not?! It was so spicy but I loved it! The Friday after visiting the Metropolitan Cathedral, I went in on that 'spaghetti bowl' with a piece of 'chicken joy' on the side. Because I was in need of something cold, I chose to enjoy the 'mango sundae' and a medium 'coke' because I was feeling very thirsty! I had a few bites of the spaghetti but due to that Cavern Club and Poste House hangover, I finished the coke and sundae with the other pieces wrapped up for later on. I would definitely return to Jollibee but lets save that fast-food trip for when I finally get to the Philippines! Yes, Miss Rona stopped that 2020 trip from happening! A Manila JB in 2023? Go!
100%, I had met my limit! I decided to make my way back to Liverpool Lime Street Station even though I had ages left before my train was scheduled to depart. I had enjoyed my trip to the fullest, I felt spent and the only thing to be done was wait for my train. That morning had been good, the night before was better but hangovers they are not my mood anymore! I loved the Poste House, it was amazing for those researched places to jump out right in front of me, quite like that public house did, there were no complaints! The Georgian Quarter had me looking at a whole different Liverpool, the city always has something new for me to see during each visit! The Metropolitan Cathedral has already had me thinking about a 'Like A Prayer' edition for Liverpool, that must happen! As mentioned before, I was able to eat some Jollibee foods in Liverpool twice! I don't know when I'll be returning to Liverpool but it will continually have a place in my heart, absolutely! Sure, the city on the Mersey will never stop me from loving it! Bye!
Liverpool, See You Soon! 
Desperately Seeking Adventure