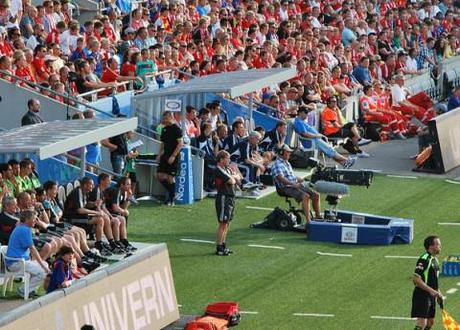 Kenny Dalglish watches on from the sidelines. Photo credit: Kong Niffe
Liverpool's humiliating April Fool's Day 3-1 loss at Newcastle has heaped the pressure on under-fire manager Kenny Dalglish. The latest reverse means Liverpool have now gained only eight points from their past 12 league games and trail leaders Manchester United by a whopping 31 points. It was the manner of the Newcastle defeat which is of particular concern to Liverpool's diehard fans. Usually composed goalkeeper Pepe Reina was sent off for violent conduct and Dalglish's marquee £35 million signing – Andy Carroll – launched a foul-mouthed tirade at his manager when he was subbed on his return to his hometown club. Newcastle fans reveled in Liverpool's misery – they aimed chants of "you're getting sacked in the morning" at Dalglish. Indeed, Dalglish is as short as 7/4 with some bookmakers to be the next manager to leave his post.
Just how bad is the crisis at Liverpool? Can Dalglish turn it around? Or is it time he shown the Anfield door? These are the just some of the questions occupying the sports commentariat, who rarely miss the opportunity to kick a man when he's down.
Spineless squad driven club to brink of implosion. At The Daily Mail, Dominic King argued that "loyal boss" Dalglish "needs foot soldiers, not fools, as Liverpool crisis deepens." King reminded that this season "has the potential, in terms of winning trophies at least, to be Liverpool's most successful since 2001 but, right now, it appears on the brink of implosion." King said that "the spineless manner in which they went under at The Sports Direct Arena" highlighted just how few "strong characters" the squad now has. King insisted that Reina's "ridiculous" red card could prove the final nail in Liverpool's coffin this season as it means he is now banned for the make-or-break FA Cup semi-final versus Everton: "Dalglish needed all his big players to tackle their neighbours, so for Reina to get himself banned was rank stupidity. He owes Dalglish an apology." Reina's deputy has not played a minute of competitive league football this season.
Liverpool have lost six of their last seven Premier League games. They are on their worst run of form since 1958 pointed out The Sun.  In fact, only bottom-placed Wolverhampton Wanderers – a club in real crisis – have a worse league record than Liverpool in 2012.
Andy Carroll is heading down a dark tunnel. At The Guardian's Sport blog, Sachin Nakrani said that, following Liverpool's dismal defeat at St James' Park on Sunday, "it is hard to escape the feeling" that Carroll "has now well and truly headed down a dark tunnel that can lead only to him being remembered by Kopites with a shake of the head and an almighty sigh. In years to come some may to find a space for him in their 'worst ever LFC XI', up front alongside Sean Dundee, Robbie Keane or Andrey Voronin to name three of the dud poachers that have walked through Anfield's hallowed doors in modern times. How else to look upon a player who was presented with a chance to prove all his doubters wrong in the grandest of fashions and blew it." Nakrani said Carroll is "drowning under the weight of expectation" and looks a "lost cause, an almighty mistake to go with all the rest."
Dalglish's big-money signings are letting him down. At his Liverpool Echo blog, ex-player Jan Molby argued that Dalglish's "cup successes can't hide Liverpool FC's deeper problems. Even if Liverpool FC go on to win the FA Cup this season there has to be lingering doubts about this team. Of course winning two trophies would be wonderful but there will still be a lot of memories from LFC's league campaign that we won't be able to forget." Molby pointed the finger of blame at the big-money signings made by Dalglish last summer: "Too many performances haven't been what we hoped for. To a man, all the new players we've bought probably played better at their previous clubs than they have since signing for us. Liverpool is a great club to play for. You are given a lot of time and support but you also have to deliver and it's time they took responsibility."
Can Liverpool finish above Everton in the league? Can they beat them in the FA Cup semi? Leave a comment and let us know your thoughts.
Defensive shambles. Writing at The Liverpool Echo, ex-Liverpool striker John 'Aldo' Aldridge blamed the club's defensive unit for the poor run of form: "Defensively we just haven't been good enough. The only clean sheet we've kept in the last nine games was in the derby. People may point to the absences of Daniel Agger and Glen Johnson as contributory factors, but I think the responsibility has to be collective. Our defending, in the last two games especially, has been ridiculous."Aldo urged Dalglish to use finishing above Everton as motivation for his team in the league: "That was an era when the intense rivalry between the clubs brought the best out of Everton and Liverpool. Now we have to use that rivalry to start producing better performances ourselves."