Monday, June 2, 2014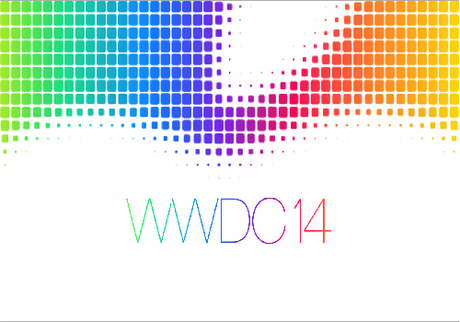 Finally all you tech savvy people can feast your eyes on all of the new gadgets and features as Apple announces all its new developments at this years WWDC event (Apples Worldwide Developer's Conference). Keep checking back below for new features for the New iPhone, the new iOS8 software for the iPhone, and OS X 10.10 for the Macbook. Watch it here live.
No word on the release date yet. AND THERE IS NO IPHONE 6, AT THIS TIME. UNBELIEVABLE.
Apple also unveiled Home Kit, a new platform that would enable people to control all the items in their homes with the iPad or iPhone. That means iOS 8 will let people manage their lights, cameras, door locks, switches, plugs, thermostats and other connected devices.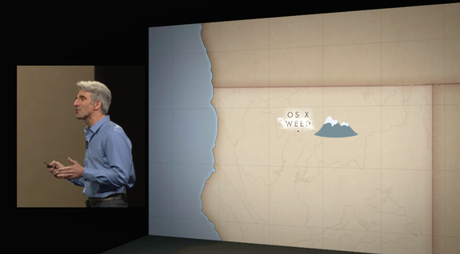 Updates in OS X (is called "Yosemite"):
Very Translucent, New iCons, great look, Yosemite!! A 'Dark Mode', new notification center!
Spotlight is right in your face now, launch an app asap!! New Widgets
iCloud Drive…Biting off Google Drive, but I'll take it!!
Mail Drop…DOPE!!
New Safari bar
Tab Stacking, and all new private browsing
sharing from Safari browser easier with 1 click!
Airdrop works between iOS and Mac!! 'Hand Off' Baby!!
Hotspot can be right from your phone
sms is Cross platform
Caller ID/use your mac as a speaker phone!!! Never Miss a call again!! Macs make phone calls now!!
Dr. Dre gets welcomed to Apple "I can't wait to get to work" -Dr. Dre
via CNN:
Apple also unveiled the new operating system for the Mac, dubbed Mac OS X Yosemite. It got a big design update, making the interface for Macs look much more iPhone- and iPad-like. Like iOS 8, it will be available as a free download to Mac users in the fall.

Mac OS X Yosemite features a revamped "spotlight" search feature that searches across the Mac and Microsoft Bing (not Google (GOOGL) interestingly). The new iCloud Drive feature syncs all Mac folders across every Mac, iPhone or Windows PC that a user owns. That feature is like cloud storage service Dropbox.

And a new "handoff" feature allows Mac users to place and receive calls and texts via their Mac, even to non-iPhone users.

Apple's software chief Craig Federighi showed off the feature by calling Dr. Dre — one of Apple's newest employees after the company purchased Beats Electronics for $3 billionlast week.

The new Mac OS has a Windows-like translucent look as well as a "dark mode." Speaking of Windows, Cook noted that 51% of Mac users are already using the latest version of Mac OS X, called Mavericks — a free update for Mac OS X customers. Just 14% ofMicrosoft (MSFT) Windows customers are on Windows 8, though users of previous Windows iterations have to pay to upgrade to the latest version.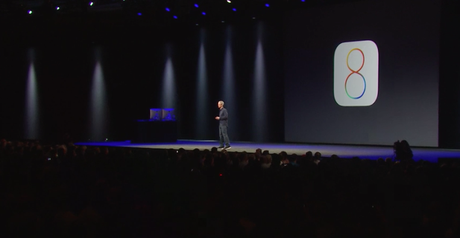 iOS 8 Features:
Reply without leaving app or lock screen!!
Birds eye view of all mobile safari tabs!
Composing messages is so easy now! Is mail better in iOS now??
Save and delete is super simple now!
Spotlight in iOS; way better now!!
'Quicktype' could revolutionize the typing game!! Autocorrectmay help(a little Androidish, but I'll take it!!)
Like in Yosemite, Continuity is dope in iOS!!
Tap to talk in messaging can save lives while driving!!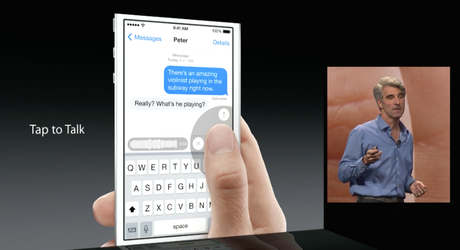 Do not disturb in iMessage thread is necessary!!
Enterprise better integration in iOS…iPhone here comes the White House!!
VIP Thread will bring accessibility to lock screens, really good!
Phone contacting your DR. by monitoring your health (Mayo Clinic to send health information to a user's app, which can in turn send that data to a user's primary physician. It also syncs with third-party fitness devices and apps.)
 'Family Sharing'!!
Photo search will help you find by location and time, I needed that!! IG Style photo editing right in the device!
New Photos coming to Yosemite at the top of the year, but in iOS 8 this fall
Better iCloud pricing, Important!!
Siri, will work in the car without touching it!!
1.2M apps in the app store! 7s Billion Apps downloaded
App Bundles coming soon, along with Ap previews, which contains short video's so you know it's the app you want!
Test flight will allow Dev's to invite users to see if you like!
Extensions;
Notifications center with Widgets!!
Apps communicate better with each other
3rd keyboard easier to use!
Touch ID;
3rd party apps can take advantage of Touch ID as well, so your iPhone is truly secure!
Homekit, Apple automation of your crib!!
CloudKit will help app dev's do the damn thing!!
Metal and 3D graphics…really technical, but great, Gaming just stepped up on iOS devices!
Zen Garden in App store for FREE
WHOA!!! Apple Introduces a New programming Language!! "Swift"
Via CNN:
With interactive notifications, iOS 8 will allow users to respond to texts or like something on Facebook (FB) directly from the notification — even on the lock screen. A double tap on the home button reveals several frequent contacts, allowing you to call, message or email those people with two quick taps. And a new predictive text feature allows you to type, and iOS 8 will suggest the next word based on your typing history.

For the first time, iOS will also feature widgets in the notification center. Widgets will allow users to view app information at a glance, including sports scores and weather data. Inter-app communication means that iOS 8 users will soon be able to install third-party keyboards and let translation apps automatically translate text in other apps.

The new iOS 8 also will include improved group messaging. Users can send audio and video messages and leave a group text with a new do not disturb feature. There also is a self-destruct feature similar to social media startup Snapchat.

A family sharing feature allows parents to track their kids' locations and seek approval on their iPhones or iPads before their kids can purchase new apps on their own devices. And the new photos app displays all photos on iCloud — even those that aren't stored on a user's device.