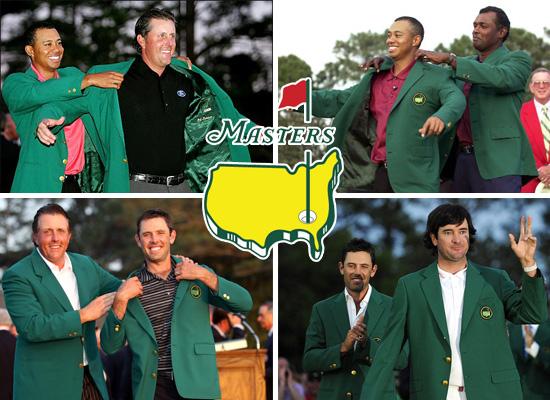 Masters week is upon us... A time that many of us have anxiously been awaiting.  As the first of golfs four major events, the Masters is one of the most prestigious and sought after tournaments in golf.  Crowds of people will be flocking to Augusta this week to catch a glimpse of the action and see who will raise above the rest to capture the green jacket.
The Golf Channel will be bringing you a plethora of coverage all week long.  Golfing legends and former masters champions (Palmer, Nicklaus, Player, Crenshaw, Floyd, Olazabal, Faldo, Watson, Lyle) will join the programming mix.  Coverage will also include several high-quality features including Michael Phelps, Cal Ripken Jr., and Emmitt Smith discussing the burden Tiger Woods carries while chasing Nichklaus' majors record; the science behind 'The Shot' that won Bubba Watson's 2012 Matsers; and what it's like to be a 54 hole leader at the Masters.
Here's a reminder of of last years action, where Bubba Watson hit a 'miracle' shot to become this years defending champion...
Here's a look at the full Golf Channel TV schedule for the week ahead:
Notable Masters Week Air Times (all times ET):
Monday, April 8
7-10 a.m. Morning Drive Live
3-5 p.m. Live From the Masters News Conferences
5-6 p.m. Masters Highlights 2012: Bubba Watson
6-7 p.m. The Golf Fix
7-8 p.m. Live From the Masters Live
Tuesday, April 9
7-9 a.m. Morning Drive Live
9 a.m.-5 p.m. Live From the Masters Live
(includes player news conferences)
7-9 p.m. Live From the Masters Live
Wednesday, April 10
7-9 a.m. Morning Drive Live
9 a.m.-3 p.m. Live From the Masters Live
(includes player news conferences)
7-9 p.m. Live From the Masters Live
Thursday, April 11 & Friday, April 12
6-8 a.m. Morning Drive Live
8 a.m.-3 p.m. Live From the Masters Live
7:30-9:30 p.m. Live From the Masters Live
Saturday, April 13
7-9:30 a.m. Morning Drive Live
9:30 a.m.-3 p.m. Live From the Masters Live
7-9 p.m. Live From the Masters Live
Sunday, April 14
7-9:30 a.m. Morning Drive Live
9:30 a.m.-2 p.m. Live From the Masters Live
7-9 p.m. Live From the Masters Live