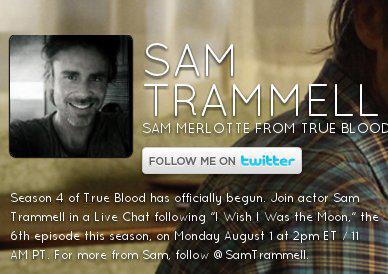 After True Blood's sixth episode airs, "I Wish I Was the Moon,", scheduled to air on Sunday, July 31, 2011, Sam Trammell will conduct a LIVE Chat!

Join actor Sam Trammell ("Sam" from True Blood) in a Live Chat at HBO Connect following "I Wish I Was the Moon," the 6th episode this season.
Visit the chat here on Monday, August 1 at 2pm ET: http://itsh.bo/kuNbWH
For more from Sam, follow @SamTrammell on Twitter.
source: facebook.com and connect.hbo.com