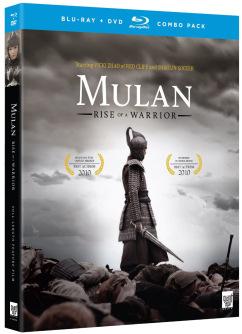 Title: Mulan: Rise of a Warrior
Genre: Action, Drama
Director: Jingle Ma
Producer: Jingle Ma, Wang Tian-yun, Jeffrey Chan, Ni Ying, Li Li
Screenplay: Zhang Ting
Music Composer: Li Sisong, Lee Wei Song, Yi Jiayang, Cheung Ah-tung, Tan Dun, Xiao Ke
Original Release Date: September 2, 2013
If you're like me, the only real experience you've had with Mulan in terms of film involves lots of lovely singing and a wise-cracking miniature dragon. Well, Mulan: Rise of a Warrior is nothing like that movie, although I imagine that's not particularly surprising considering Disney's penchant for…well, being Disney. That aside, I quite enjoyed the movie which shows what I'm assuming is a more realistic portrayal of Mulan's story. Though some parts of the story are a bit iffy, Mulan as a character shone, ultimately leaving me more than satisfied with the film.The basic story revolves around a young woman, Mulan (Zhao Wei), who decides to take her ailing father's place in the Wei army by pretending to be a man. Despite a shaky start in which she is almost executed, Mulan quickly rises to the position of sub-commander, proving to be both a smart tactician and a charismatic leader. The first half or so of the movie places emphasis on building up Mulan's character from someone who isn't quite prepared to face the harsh realities of war to a person who has decided to be the best leader she can be in order to protect as many of her friends as possible. Meanwhile the second half places shifts more of the focus to wrapping up the war with the Rouran tribes, which have temporarily united and become more aggressive with a shift in power. Though Mulan's final strike doesn't work out as planned, the war eventually ends as a result of a political marriage (Unsurprisingly, it's not one you're going to like). The movie ends on a relatively bittersweet note, but it manages to wrap itself up nicely in a way that stays true to Mulan's character and is somewhat satisfying in that sense.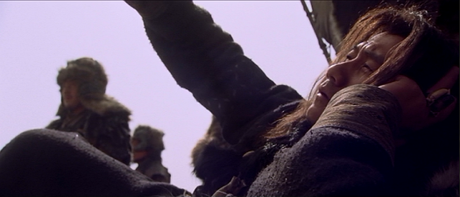 Admittedly, the storyline felt a bit rushed in places and didn't quite make a ton a sense, but the main bits, which were  typically some of the more emotional ones, tended to be particularly well done. There's a scene near the end, for instance, where Mulan is forced to watch as the enemy massacres those captured in the recent battle, unable to help without sacrificing those who managed to survive, a sacrifice she knows she can't make for the sake of a few. Instead, she and the others start singing the song that typically served as a funeral song of sorts for those who had died in battle. The scene is a bit cliche, sure, but it was also one of the most memorable and moving because it had a lot of heart to it. And that's what I like about those major scenes (and even a few of the smaller ones), they have a lot of heart to them which helps in creating a more genuine or sympathetic tone that works in the movie's favor considering it's large focus on Mulan's character development over the years.
While the emotional stuff is pretty good, the same can't quite be said of the rest. For one, most of the characters aren't nearly as developed as our heroine. The bad thing about this is that when you see people die, you have to rely on Mulan's tears and agony to make you feel anything; you don't actually know enough about the characters to care about whether they die or not which sucks, especially when it comes to scenes that seem to rely on you caring about the side characters themselves. Even Wentai (Chen Kun), who plays a major role in the movie, is really just a person who forced more of Mulan's growth.
Speaking of Wentai, the romance between him and Mulan is one aspect of the story that, despite leaving me with some of the greatest frustration at the end, I ultimately sort of appreciated despite its flaws. Being the romance fan that I am, I dutifully shipped the two the entire movie and enjoyed the more intimate scenes that strongly hinted at the romance between the two (you don't feed just anyone your blood), but the handling of the romance, in my opinion, wasn't too swift. A lot of it boils down to, I think, the movie trying to cram as much as it could relating to Mulan in the movie, with some of that stuff, like the romance, being less enjoyable by the end than others which is logical considering the other, more interesting stuff going on.
At the same time though, I liked the romance for its strengths. Though Wentai makes some iffy decisions here and there, he's a pretty good guy and never once treats Mulan any differently because of her sex; if anything, he treats her harsher because he wants to make her strong enough to be the leader he knows she can. The various ways he supports her throughout the movie, I honestly thought were quite sweet. Mulan, herself, benefited from the romance in the sense that it allowed her to be a girl again, not the leader, and to find hope in a place that seemed to want to crush it. In a surprising twist, one of the things that I liked most about the romance is that it goes unfulfilled. The two can never be together with circumstances as they are; if they chose to run away and live their happy lives, they would be sacrificing the peace that would come from Wentai's political marriage which Mulan, at least, knows she can't do. Though their romance met a sad end, it showed that the two had the maturity to put something greater than themselves before their own happiness which, though bittersweet, makes me appreciate their characters more.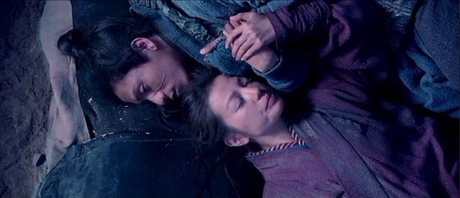 On the character side of things, if you haven't caught on yet, Mulan is basically the only character that matters. Sure you may like Tiger (Jaycee Chan) or Wentai or any of the other equally nice male characters, but that doesn't change the fact that the movie focuses almost entirely on Mulan, which makes sense considering the title. That said, I really liked Mulan. I'll admit that I think she was a bit overly emotional at moments (okay, one moment in the middle) and cries a heck of a lot, to the point where I wondered why people didn't question her status as a guy, but she's not a weak person. The combination of her emotionalism and ability to "suck it up" for the sake of those around her is what makes her a likable character because it makes it easy to empathize with her. Her hesitation when she has to behead her first person; her devotion to her men and her friends; her desire to simply escape her warrior lifestyle and the sorrow it has brought her– all of these aspects and more are used to show Mulan's development as a person, making her feel real.
One of the most powerful moments in the movie, which really makes you appreciate how far Mulan has come, comes at the end of the movie when Mulan finally returns to her hometown after 12 years on the battlefield; she's finally freed herself of the warrior lifestyle, but you can finally see how tired she looks as she touches her face with her calloused hands and lets down her hair, something that hadn't really been apparent before– she is different from the naive girl that signed up for war all those years ago. Mulan's story isn't a happy one, by any means, as we see her make sacrifice after sacrifice for the sake of those around her and for her country, but it's one that also has a strange hope running throughout it. Though Mulan was inevitably changed by the war, in a sense, she never gave up; she kept on marching forward because of her hope which I find kind of touching and makes the ending a slightly less sad.
As for everyone else? Well, aside from Wentai who was an okay guy but not one that I can say stood out a bunch aside from his status as Mulan's Helper and as a bit of an irrational guy, there aren't a whole lot of characters that stand out. There's Tiger, but his importance comes and goes pretty quickly which is unfortunate because I quite liked him and was sad when he was killed later on. The only other major character is Mendu (Hu Jun), the coldblooded guy who eventually becomes the leader of the Rouran tribes, but he was a pretty uninteresting fellow. From his introduction, you can pretty much tell that with his greedy and violent tendencies he'll be the one to forcefully take power from his more understanding father. The only surprises about him were that he wanted to bang his sister (almost completely useless, by the way) in order to create perfect Rouran babies and that he was defeated as easily as he was which was a bit anticlimactic. The bad guys, in general, were a pretty bland and predictable group whose single shining moment came near the end and involved them gaining an unexpected advantage over Mulan; other than that, they behaved as you would expect them to. That random white guy hanging around them was probably the most interesting out of all of them simply because I absolutely no idea why he was there in the first place.
Looks-wise, I'm actually surprised by how much I enjoyed the movie. I tend to stay away from Asian movies because I dislike how over exaggerated most of them look, from the special effects to all the dramatic, flying through the air fighting. Thankfully, there wasn't a whole lot of that, probably because the movie was relatively low key in the terms of action, although the battles that did receive attention were typically kind of brutal to watch which I appreciated in a weird way. The movie also had a pretty grungy look to it with a lot of dreary colors in it; I'm hard pressed to think of more than maybe a handful of moments that had vibrant colors in them them. Not that I'm complaining, though; I liked the color scheme because it gave the movie a more "serious" tone and fit the battleground setting. I also really liked the costumes which were pretty detailed and neat to look at (minus the silly looking Rouran ones).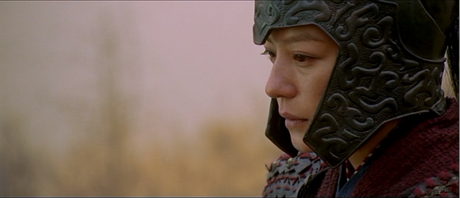 Overall, I quite enjoyed Mulan: Rise of a Warrior. I found Mulan to be an empathetic character that I could get behind and whose bittersweet story tugged at my heartstrings, albeit not as much as I was expecting it to. I doubt I'll be able to look at Disney's version quite the same way, especially considering how the romance works out, but I'm not necessarily complaining. Despite a story that is a bit flawed and silly at parts, it has a genuine feel to it and is pretty neat by itself. Admittedly, your enjoyment of the film hinges on how much you like Mulan and drama, but I think that most will find something to like in the film, so I'd definitely recommend this to anyone who's itching for a relatively okay drama.