Little Tibet Resort Darjeeling
In my previous post, I had shared my experience staying at the Sterling Darjeeling.  We had stayed for 2 nights and needed one more day, but did not get it due to the holiday season.
As Sterling resort is located in Ghum, we decided to find a hotel for the remaining one night near Mall road and started searching. After some browsing and recommendations, we had finalized a hotel which is located at the heart of the Mall road.
However, later we read negative reviews of that hotel and then booked Little Tibet in Mall road. Little Tibet resort had good reviews and we were impressed by its gallery and Tibetan theme.
 Due to the holiday season, all the hotel's charges were comparatively high. But it is wise to book a good hotel as you won't have to worry about linen cleanliness and room hygiene esp during Covid times. Isn't it?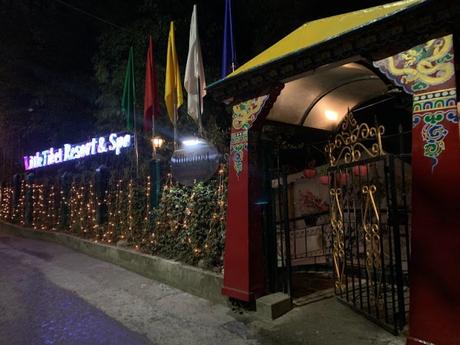 Little Tibet- A Boutique Resort Darjeeling
This resort is wonderfully located on the Darjeeling Mall road and a walking distance from the Tourist hub of Chowrasta.
It is very close to the best viewpoint of Mt. Kanchenjunga.
---
How to reach the resort?
We had reached the resort from Sterling Darjeeling by paying 500 Rs.
If you are coming from NJP or the airport, hire a cab or share a cab and reach Darjeeling.
---
Little Tibet Hotel Darjeeling
Once we reached the entrance, the guard sanitized our luggage and checked our temperature.  The way to the main lobby from the gate is through a narrow steep stairway taking down to the hotel's reception. The way was decorated with flowers hanging from the ceiling which was quite alluring.
When we entered the lobby, I was fascinated by the Tibetan charm and luxury. 
Lobby
Sitting area
Their check-in time is 2 pm but we had reached early around noon. They told us to wait for a while till they get the room cleaned and sanitized.  They offered us Darjeeling tea till we get the room.
I went straight to the resort's rooftop area and loved the hotel architecture surrounded by the hill vibes. I went ahead to the balcony expecting some picturesque view but this resort is not located at the top and is surrounded by other hotels, so you will see roofs along with the valley.
We had our Darjeeling tea on the rooftop and soon got our room.
View this post on Instagram

A post shared by Jenifer $ayyed (@shaandaar_jenie)
Little Tibet Deluxe Room
I had requested a good room view of the valley, but we didn't get it as all rooms were occupied.
However, we got the garden view.
The room had the Tibetan charm with all the modern amenities.  I loved the Tibetan lamps, frames, cushion cover, and mugs that made us feel closer to the Tibetan culture.
The bathroom was squeaky clean and had a hot water facility.
Unlike Sterling, here we didn't have to request anything as all the amenities were available except for the room heater which is chargeable.
After a tiring day, we slumbered in this cozy bed.
Room Amenities
2 water bottles
Tea-coffee maker
LCD TV
Free Wi-Fi
Hairdryer
Room slipper
Boutique bathroom essentials
Toothbrush and toothpaste
Room Service
It was excellent and the staffs were courteous.
Tibetan Mugs
Bathroom
In-house multi-cuisine restaurant
Our meals were not included in the package. They offer both- buffet and ala carte. We had ala carte for dinner and tried their Man chow soup and garlic noodles.
The man chow soup was very delicious making it the best soup I had in Darjeeling. I highly recommend you to try the man chow soup.
The Veg garlic noodles were also tasty and our appetite was full.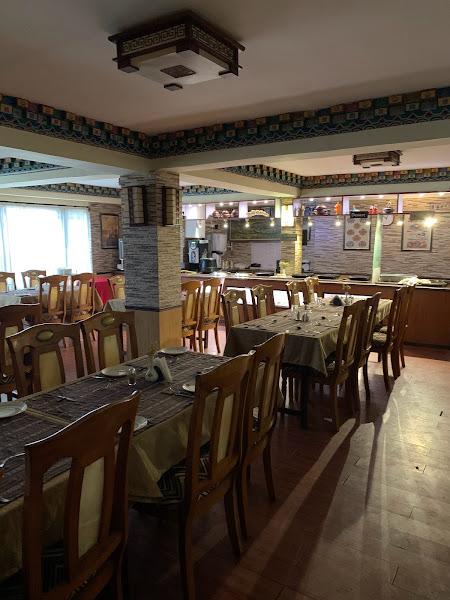 Hotel Little Tibet Darjeeling Charges
If you visit in the off-season, you can get the room at a very affordable price. We had visited during the holiday season, so all the hotel rates went up.
---
Final Verdict
We had an amazing stay at Little Tibet. The location was perfect and within walkable distance to Chowrasta.
It has a Tibetan theme which makes the staying experience memorable.  The only thing we didn't liked that the room heater was not included in the package which was disappointing. A room heater in cold places should always be complimentary.
Apart from that, it is a perfect place for any type of travellers.
Highly recommend staying at this resort if you are looking for a good mid-budget hotel in Darjeeling Mall road.
Overall Rating




Rating: 4 out of 5.
PIN THIS POST!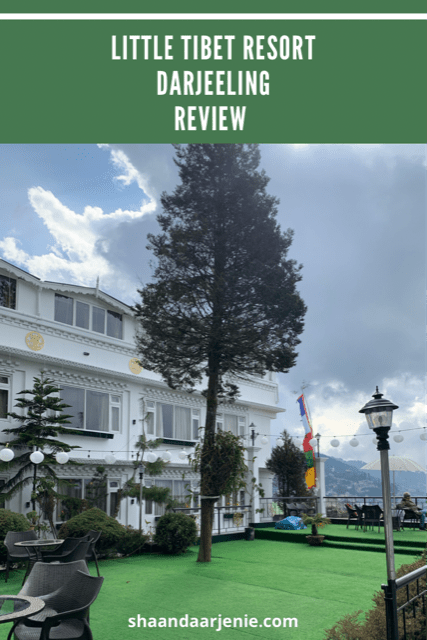 Read my other Darjeeling posts:
Darjeeling Trip Itinerary for 3 nights and 4 days during Winter: An Unforgettable Memory (Chapter 1)
Best Places to visit in Darjeeling in December
My Darjeeling Trip: Shopping and Places to eat in Darjeeling
Read Hotel reviews:
A Weekday Getaway: Review of Heritage Village Resort & Spa, Manesar
Staycation after Lockdown: Review of Taj Palace, New Delhi
Staycation at ITC Mughal Agra
Ajmer & Jaipur Hotel Stay Experience: Grand Xenia & Mansingh Hotel
Staycation at Club Mahindra Jim Corbett