I've been dying to try fondant icing for quite a while now so I thought it's Sunday morning nothing else to do lets get the cooking utensils out.
The recipe I have used is one of my favourites, its very simple and extremely versatile, it's great for cupcakes, loaf cakes, round cakes, anything like that.
What you will need:
150g softened butter
180g caster sugar
2 medium eggs (beaten)
120g self raising flour
1tsp of vanilla extract
Apricot jam
500g of fondant icing
Food colouring (for this case I have used red gel colouring)
An assorted colours of writing icing tubes (these can be bought at the supermarket for about £1.99 for a pack of 4)
Equipment needed:
A baking tray (greased)
Baking paper 
Mixing bowl
Spoon 
Cooling rack 
Knife
Brush
1. Preheat your oven to Gas mark 4 /350 degrees F/180 degrees C, grease your baking tray and line with baking paper setting it to one side.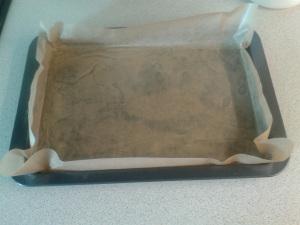 2. Cream the butter and the sugar together until it is light and fluffy.
3. Next you will need to add the egg a little at a time, mixing well after each time. Then sift the flour into the mixture and mix well, making sure all the flour is scraped from the sides
.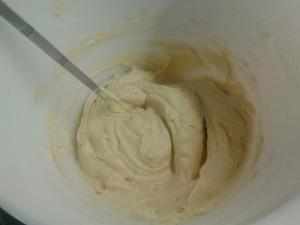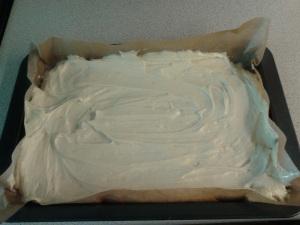 4. Take your greased baking tray and pour the mixture into it, using the back of a spoon smooth it down evenly pressing it into the corners. Place it into the preheated oven and bake for about 20-25 mins and/or until golden and a cake tester comes out clean.
5. Place the cake onto a cooling rack and leave it to cool completely before cutting them into even squares. In the meanwhile mix your fondant icing adding the food colouring to your desired colour
Aha now for the fun part (and the messy)!
6. Under the cooling rack place a piece of baking paper this will be used the catch the drips of fondant icing. Place your squares back onto the cooling rack and brush each one with the apricot jam or glaze.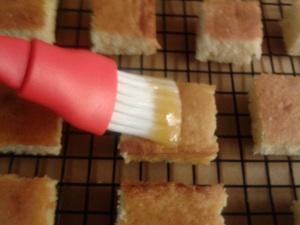 7. Now take a spoonful of your fondant icing and pour over the squares evenly letting it drip over the sides. Once you have covered all the squares leave them to set. Once set decorate as desired, you don't just have to use icing tubes you could cover them in hundreds and thousands, little jellies, jazzies,  or you could put a chocolate button on each. Anything you want really.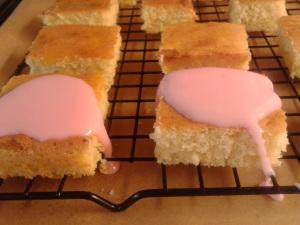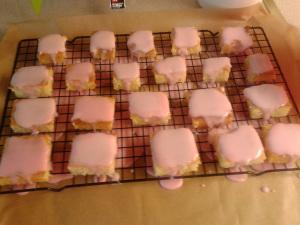 8. Now go and make yourself a cup of tea and serve!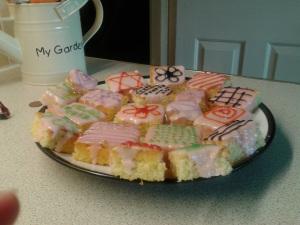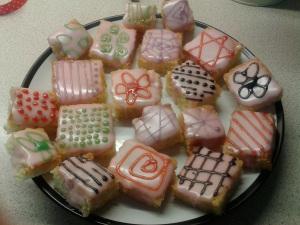 Yum Yum!