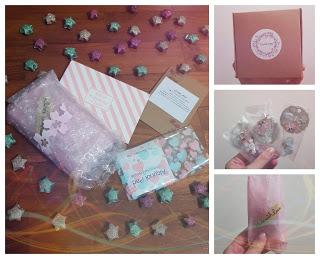 "Never too many", that's what I would proclaim when it comes to earrings. I am bringing dainty, girly pieces back into my collection. FYI, I now have an earrings storage organiser and with more storage space, I can now increase my collection of danglies on my ears. Hehe.
When I received my package from Yuna_Mis, I had quite a bit of X'mas vibes from the flakes packaging. The little girl inside me squealed silently at the cute sakura flowers and pink wrapping. It has been a while since I felt so dainty. Maybe my style is evolving again...hehe.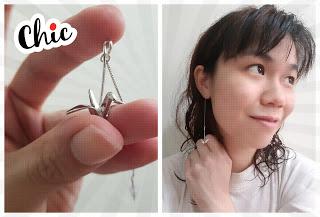 1. Little Silver Crane ($8.90)
Am pretty thrilled by this piece because it got my hub's approval. Although I do think I am a strong independent woman and need no man agree with my shopping buys, his acknowledgement of my good taste made me felt good. In his words, "this piece is quite unique" and he fiddled with it a bit.
I do think although it is quite an interesting piece on its own, it may be a bit harder to draw attention to it on my ears because it is quite a tiny, intricate piece. Am thinking of tying my hair up when I show it to the world...hehe. Am quite pleased with this piece cos I am totally imagine dressing up or down with it.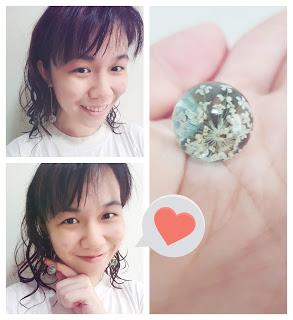 2.  Baby's Breath Crystal ($8.90)
Tada...presenting my favorite piece. This piece surpass my expectations with the intricacy of the flowers. Initially, I was a little worried it might be too heavy for my ears. I have quite a few pieces that made my ears hurt when I wear them too long. When I realize how light they were on my ears, I immediately upgraded this to be in my top 10 all-time favourites. 
I have shifted out of the dainty look for a while, simply because I am not a very demure lady. But I feel this piece has character and I think still reflect my personality in it. Yes, I wear my heart on my ears...not my sleeves. Saving this for CNY or wedding dinners. <3



3. Little Red Riding Hood ($13.90)
The last piece in the collection was an asymmetrical piece. This was initially my most anticipated piece. I feel a little bad for it, because it is placed last simply because the other 2 were too outstanding. Nonetheless, I still like the design. But it is definitely not a challenging piece if you intend to pair it with formal wear. 
Although I am not much of a sweetheart, the pieces of Yuna_Mis has definitely scored a place in my heart. And they are so thoughtful to provide complimentary alcohol wipes, spare back stoppers and polishing cloth. The polishing cloth is really handy even for my other jewelry. I have nothing but praises for Yuna_Mis, totally worth our support <3