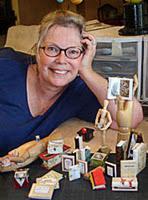 Pat Sweet is  a retired theatrical costumer living in tiny cottage in Southern California with a very lovable husband and very silly dog. After 25 years of making costumes, she couldn't stand the thought of sewing another stitch, so she looked around for something else to make. Luckily, her love of books and miniatures turned into a very enjoyable business. This is a lovely piece she wrote to introduce herself and her work to the readers of My Jane Austen Book Club. I'd be glad if you could join me and welcome her among us,  in our online Austen Club. 

 I make miniature book – that is, I invent the content, illustrate it with Photoshop, print the pages on a photo inkjet printer, collate and divide them into signatures, sew the signatures together and glue the spine, then encase the book block in its binding. And then sell them.  
Every now and then I get a request for something unusual. I love commissions, because they're pre-sold, and somebody else has taken the trouble to come up with the idea. Because I love what I do, I usually go overboard with them, and do far more work than the fee I ask requires.
Last week I got an email from a gentleman who wanted a miniature version of Shakespeare's Sonnets, with a twist. He had made a Jane Austen doll and wanted a book for her; he had chosen the Sonnets because she was fond of them. I'm sometimes not quite sure of how deeply a customer wished to go into these things, so I gave him the alternative of a small book with "Shakespeare's Sonnets" on the outside, which would certainly be cheaper that printing out all 154 sonnets, but he surprised me. He wrote back that he was an Austen scholar who had just finished editing the books for a major publisher, that he taught 19th century literature, and that he had made a trunk doll – molded the head and face, applied the hair, and made her a small wardrobe. He sent me a picture, and I was captivated. Jane's face was lovely, with a wonderfully wry expression, and the two gowns, the hat and the spencer were beautifully made.
 This was serious stuff. He found a binding that had been done during Jane's lifetime, and I used it to print out a paper binding for the miniature. He also asked if we could use the title page of the original edition of the Sonnets as the frontispiece of Jane's copy. I had the idea of putting Jane Austen's signature on the flyleaf of the book, and so "Jane Austen's Copy of Shakespeare's Sonnets" was born.
 I wrote a small piece about it on my own Bo Press Blog

to wild acclaim, especially by

Prue Batten

of

Mesmered

, who has been my partner-in-crime in several interesting endeavors . She suggested other Jane Austen fans would be interested in it, especially now as Jane's birthday was so close.
I've also made several little traveling libraries filled with (blank) copies of Austen's novels, for miniaturists and dollhouses.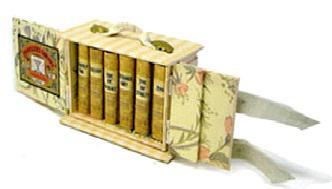 I'm so glad I could contribute a little something to Jane Austen's birthday celebration, even if it is something especially small!
Pat Sweet 
Follow Pat's work at Bo Press Miniature Books