Little Digits
by
Cowly Owl
is a unique app in the approach it takes to teaching young kids numbers and counting which not only proves to be fun, but effective too. The app makes use of the multi-touch functionality of the iPad to display a number which corresponds to the amount of fingers placed on screen at any one time. As a result children learn to associate how many fingers make up a particular number which is a basic lesson in counting and numeracy. To help build basic maths skills there are also addition and subtraction calculations which use the same multi-touch finger detection to help your child work out the answer.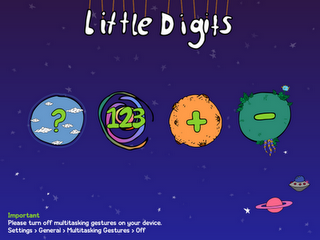 When you load the app you can choose from four options:
? plays an instructional video
123 displays the number of fingers placed on screen and is great for learning how to count from one to ten.
+ presents simple addition calculations which helps kids to learn the basics of adding two amounts together.
- presents simple subtraction calculations which helps kids to learn the basics of subtracting numbers from each other through using their fingers to work out the answers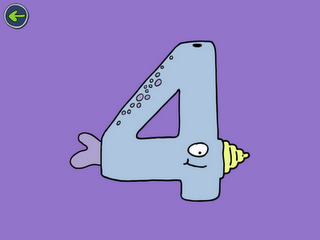 Number 4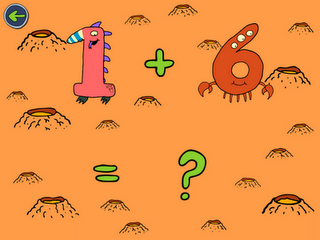 Simple addition calculation
Little Digits is a fantastic way to help young kids fully understand the relationship between quantities and actual numbers through presenting it in a physical way which is accessible to them - counting using their fingers. The graphics are bright and colourful with a space theme and each number is in the form of a cute little character. The fact that the whole app is based on interaction keeps it engaging and children are suddenly learning without even realising they are doing so.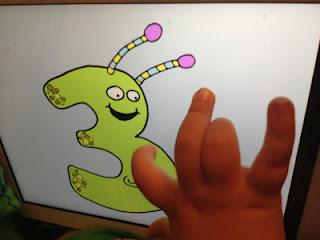 3 fingers down = number 3
Ben has had a love of numbers and counting from a very young age so took to this app instantly and had a lot of fun counting out the numbers with his fingers. As a parent, I can really see the educational value of Little Digits, it almost effortlessly builds and reinforces maths skills encouraging kids to play with numbers though interacting with the iPad without it being intrusive or distracting but instead an aid.
Little Digits
is available to purchase from the App Store for £1.49 and is compatible with the iPad. It is aimed at kids aged between 3 - 7 years.
*Disclaimer: I received a promo code to download this app for free but this has in no way biased my opinion.