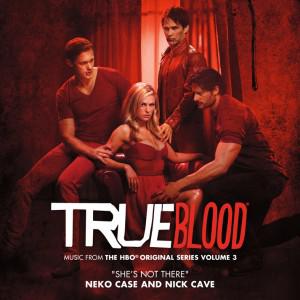 With the True Blood Season 4 premiere fast approaching, Gary Calamar and the crew at KCRW have made it possible to listen to the new cover of the classic The Zombies hit "She's Not There," as it was covered by Neco Case and Nick Cave for True Blood.
As most True Blood fans know, each episode of the hit show is named after a song that appears in the episode. Gary Calamar then has the job of getting the license for each song so that it can be used in the show, and when the Season 4 premiere script landed on his desk, he was pretty excited.
When I received the first script for episode #401, written by Alex Woo, I saw the title "She's Not There", one of my favorite songs by 60′s British Invaders The Zombies. Alex had suggested that we use the Santana version of the song. I thought well, we've got some time. Why don't we try and produce a new, fresh version of this classic and make it our own? Let's have some fun with this — Bon Temps Louisiana Style.
After getting the okay from Alan Ball, Gary began brainstorming the perfect duet for the song, and Neco Case came to mind as one of the singers he could use. Shortly after that, Gary realized that Nick Cave would be brilliant as the other half of the duet. He made a few calls, then discovered that both Neco and Nick are True Blood fans and they loved the idea!
Shortly thereafter, Gary, Neco, Nick, and others including CC Adcock, John Cleary, and Keith Frank collaborated and created the final version of "She's Not Ther that will be in tonight's True Blood episode.
The song will be available for download on iTunes after the premiere of True Blood Season 4.
Check out this awesome cover of "She's Not There" here, and let us know what you think!
SOURCE: KCRW.com —KCRW Exclusive: Neco Case + Nick Cave Duet on She's Not There for True Blood
(Image Credit: HBO, Inc.)