But false prophets also arose among the people, just as there will be false teachers among you, who will secretly bring in destructive heresies, even denying the Master who bought them, bringing upon themselves swift destruction. And many will follow their sensuality, and because of them the way of truth will be blasphemed. And in their greed they will exploit you with false words. Their condemnation from long ago is not idle, and their destruction is not asleep
. (2 Peter 2:1-3).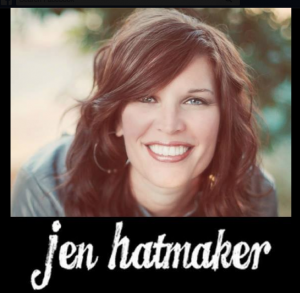 I'm taking a cue from
Michelle Lesley
and making a list of links that point you to credible women who warn us against the influence of false teachers. This list warns about the negative influence of author, blogger, and speaker Jen Hatmaker.
Jen Hatmaker's Messiah Complex
Timothy J. Hammons writes of Hatmaker regarding "her lack of discernment, lack of understanding, lack of conviction, and the fact that she thinks that by being overly dramatic and emotional in her appeals, it all must be OK."
Christine Pack wrote on her Facebook page of four specific concerns with Hatmaker's teaching.  
4 concerns with Jen Hatmaker's teachings
.
I view Jen Hatmaker as the "heir apparent" to Beth Moore's mantle. Hatmaker has made a career out of her charismatic personality, and her ability to garner followers through social media. This (the social media aspect) is something of a new phenomenon: popular bloggers (like Hatmaker) can post something to social media, and have literally hundreds of thousands of people see it in just a few minutes.
Hatmaker is so involved with the IF:Gathering that several articles below wind together their concerns with both the gathering and Hatmaker, who is one of the founders of that particular social justice/feminist movement.
Sola Sisters gives a
strong warning about the IF:gathering
and included is a solid section warning against Jen Hatmaker
Who is Jen Hatmaker? I've just started looking at her myself, but already, I'm seeing typical emergent double-speak for "I reject the authority of God's word and bend with the culture." But don't take my word for it.
IF:Gathering…is it a movement of God?
This author asks readers to "Consider how Hatmaker poses and then answers a fictitious problem of faith" and, "Hatmaker explains that faith does not erase doubt, insecurity, or fear, it just helps to overcome them. However, faith and doubt are so antithetical to each other that where one exists, the other does not exist. Faith eliminates doubt as light eliminates darkness. If faith cannot remove doubt, it is completely incapable of victory over it. Teaching that the existence of faith and doubt as both/and is eastern thought. God's word is clear that the existence of faith and doubt are either/or. (Matthew 14:31 and James 1:6)."
The Bible has many warnings regarding false teachers and the destructive heresies they bring. Note the verse posted at the opening does not say they will bring minor mistakes, or easily overlooked oopsies, or honest errors from a sincere heart. The word that the Holy Spirit inspired Peter to write is "destructive". In the Greek, that word is apóleia and it means-
destruction, causing someone (something) to be completely severed – cut off (entirely) from what could or should have been. 
Ultimately, people following Hatmaker or any false teacher will end up completely cut off from Christ and destroyed as the false teachers will be destroyed. This certainty is affirmed in another verse which promises the same thing. In Revelation 2 there was a false prophetess Jesus metaphorically called Jezebel. Though He gave her time to repent of her heresies, she would not. So Jesus promised to kill her and also those who followed her. (Revelation 2:20-23).
False teaching is a serious, serious thing. It will destroy your witness and ultimately your soul. No wonder Paul says,
I appeal to you, brothers, to watch out for those who cause divisions and create obstacles contrary to the doctrine that you have been taught; avoid them.
(Romans 16:17)