Before visiting Portugal, I continuously heard loads of great things from friends but at the back of my mind, I was wondering exactly how amazing can this place be? So after having visited Portugal myself, l can verify that the place is bloody freaking awesome. The food, the culture and the sea caves. Oh my lord. What I would give just to be back there in a heart beat.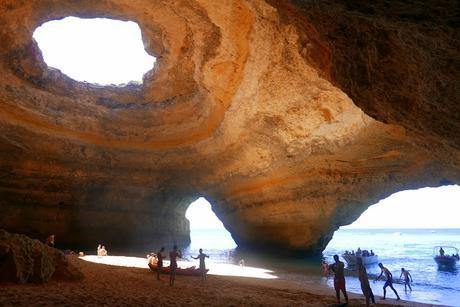 Benagil sea cave - another bucket list item ticked off
First stop in Portugal was Lisbon. There is just something so memorising about seeing yellow trams roaming from one end of the city to another. Let's also not forget about the classic E28 tram ride which attracts every single tourist out there.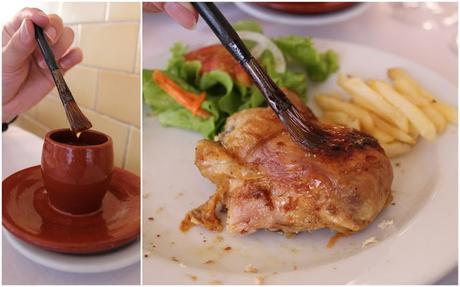 No trip to Portugal is complete without some peri peri chicken
The first meal in Lisbon was the classic peri peri chicken. I thought I knew what peri peri chicken was but no (and it certainly isn't close to whatever Nando's serves). Did you know peri peri sauce is actually an oil based sauce where you literally brush it onto the chicken?? The chicken was tender, with a decent amount of charcoal aroma. The peri peri oil gave it a good kick; at first, the chilli seems subtle but a few seconds later, the chilli really kicks in.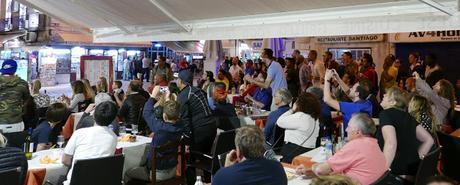 Goooooo Portugal
When DC and I were in Lisbon, Portugal were up against France in the Euros 2016. No doubt, there were huge crowds gathering around the bars, restaurants and on the streets in anticipation for Portugal to win. Luckily Portugal won and man the crowds went wild. Excitement soared through the roof, people in their cars starting honking non-stop. Everybody was going nuts with so much joy.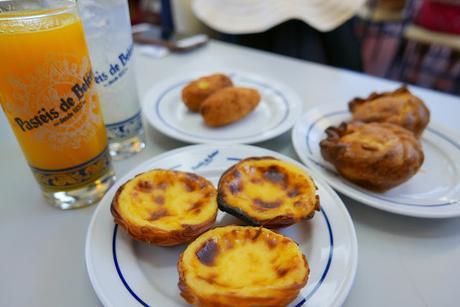 Pastéis de Belém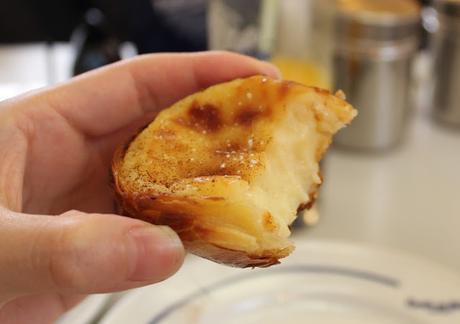 Portuguese tart for life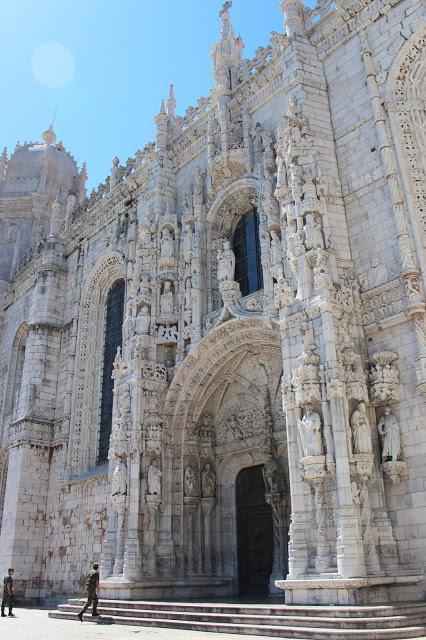 Mosteiro dos Jerónimos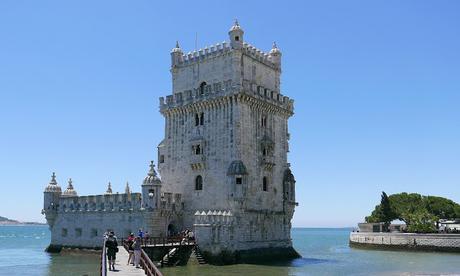 The Belem Tower
From Lisbon, we also did a day trip out to Belem (which is only a short train ride away). Besides checking out the touristy statues on our sightseeing list, the ultimate reason why we ventured out to Belem is to eat at
Pastéis de Belém
. Queen of Portuguese tarts.
Before you even see the pasty shop, you will most likely see the mass amount of people queuing up outside but I can assure you, the tarts are worth the wait. Their tarts are out of this world. The pastry is buttery and super crispy and flakey whilst the innards has the right amount of caramelisation without too much custard or sugar. F*cking delicious.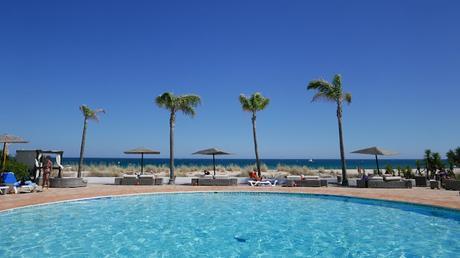 Tivoli Hotel
Next up in Portugal was Lagos (approx. 3 hour drive from Lisbon). Alternatively, you can fly into Faro from Lisbon but getting around Lagos / Algarve is easier with a car. We stayed at the Tivoli Hotel, which includes access to a semi private beach. Absolute bliss!
Lagos was definitely one of the highlights of my entire summer European trip. The sea caves, particularly the Benagil sea cave, were completely and utterly out of this world. There is nothing quite like it.


Benagil sea cave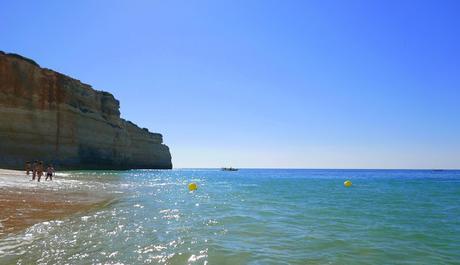 Benagil Beach
To get to the Benagil sea cave, DC and I drove to Benagil beach (approx. 40 mins drive from Tivoli Hotel) and got a 1.5 hour sea cave tour (approx. 25 euros pp), which included time for you to get off and step foot inside the Benagil sea cave. When I first saw a photo of the Benagil sea cave, I immediately had to add it to my bucket list. I was completely speechless when the boat landed inside the cave. The cave felt like it was larger than life. It was one of the  most memorable experiences I have ever encountered. The more I think about it, the more I want to go back.
The sea cave tour gives you about 30 minutes inside the cave but we actually spent over an hour inside the cave to really take it all in. All you do is just take the next boat that comes in (approx. every 15 minutes). The cave is really close to Benagil beach but unless you canoe your way in, it can be dangerous to swim across as the strong waves could smash you into the rocks.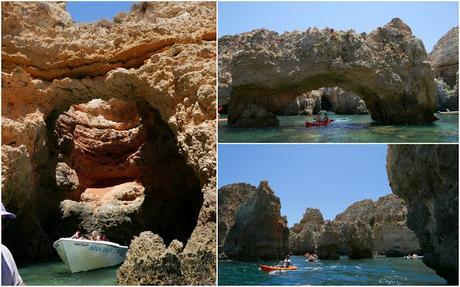 Sea cave tour in Lagos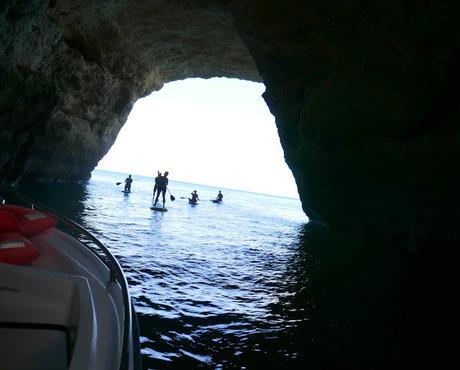 Sea caves around Lagos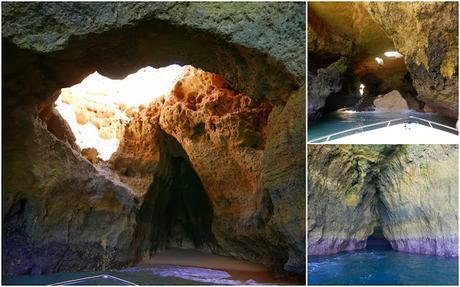 So much natural beauty - sea cave tour at Benagil Beach
Around Lagos, there were also a lot of other sea caves which you can visit on a 1.5 hour to 2 hour tour for roughly the same price. There are loads of tours available around Lagos with different companies and at different times of the day. I would recommend trying to find a tour which has a smaller boat that fits less people -  the smaller the boat, the more you will be able to squeeze into the tighter sea caves.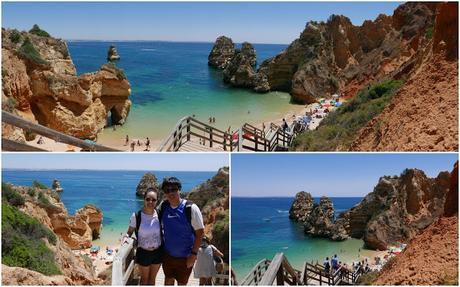 Praia do Camilo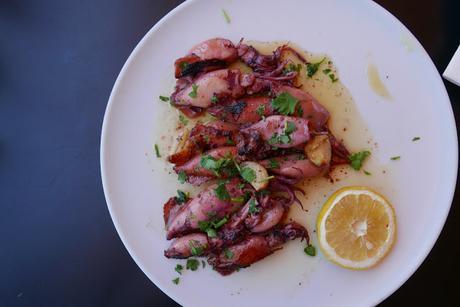 Chargrilled squid
One of the popular and probably, the more iconic beaches in Lagos, is Praia do Camilo. The beach is surrounded with many beautiful sea caves and rocks, including ones where you can even go through to the other side and end up at the beach right next door.
Above the Praia do Camilo beach is Restaurante O Camilo - best to book a table if you want to get a spot outdoors that has an awesome view of Algarve.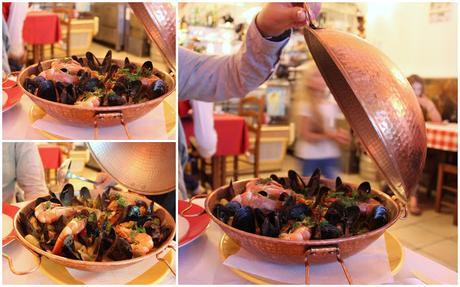 Cataplana de Marisco
Last but not least is one of my favorite Portugese dishes and more specifically, a local dish of the southern end of Portugal, cataplana de marisco. The best way to describe it, is that it is like the Portugese version of the seafood paella except replace the crusty rice base with mini potato pillows. This dish was bloody amaaaazzzinnnngggggg - so so so so soo flavoursome and if you are a huge lover of seafood, then this is what you must order. It is approx. a 40 minute wait for the dish to be made (unless you order the dish in advance before arriving). DC and I waited and it was worth every minute. The dish had loads of fresh seafood and even between us two, we struggled to finish the entire dish. 
Needless to say, Portugal has stolen a huge chunk of my heart, particularly Lagos / Algarve. The natural beauty of the sea caves just took my mind away. For those that have been, I totally get what you are on about now. For those that haven't, hurry up and jump on a plane to get your butt there.
Dear Portugal, this isn't a good bye as I will definitely be back.
Over and out,
#SSTL
For more of Portugal, head over to instagram #shananddennisportugal