It was 3am in Beirut as I sipped on a double espresso in MEA's lounge. I was waiting for a plane to Lisbon, Portugal. My mind was working flat out, planning and organizing things to do the minute I landed in Lisbon, a city I'll be discovering for the first time. Seafood, good weather, great wine, the days ahead looked promising. My friend and I wanted to enjoy ourselves while adding a new city to the NogarlicNoOnions portfolio.
Lisbon is the capital and the largest city of Portugal. Lying on the edge of the Atlantic Ocean, the city is famed for its seafood, wines and fantastic weather. One of the oldest cities in the world, Lisbon's history stretches back through the ages and the city was made famous by Gaius Julius Caesar when he made the city a municipium, a center of Roman administration, after his armies swept through ancient Spain and Portugal. My friend and I were excited to reach this wonderfully rich city, enjoy its unique cuisine and see the sites.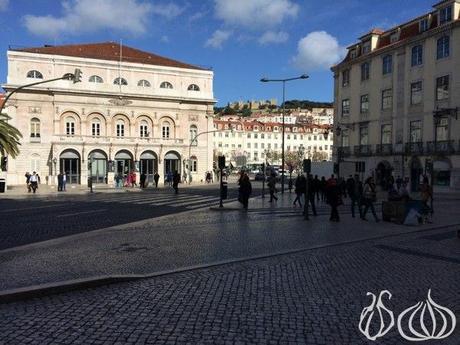 Traveling onboard Alitalia, I was fully prepared to enjoy a good sleep on the way to Lisbon, with my noise reduction Parrot headphones and an interesting musical collection, I was soon dozing. We had a long day ahead before reaching the Portuguese capital at 2pm, given that our flight left Beirut at 04:30am. Lisbon was calling, via Rome.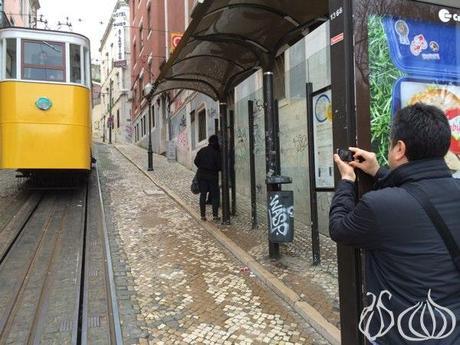 A cheese sandwich in focaccia bread, a chocolate cream tart, a yogurt cup, a fruit salad and a cheese slice and another of beef ham represents breakfast Alitalia style. Upon this tiny tray breakfast was distributed as if we were in the army, and had just lined up at the canteen. Enjoying my sleep I was woken up by a finger pushing down on my chest and allowed to enjoy my breakfast. Since I was up, I decided to try the food. I am a fan of Alitalia's business class meals, their nice Frette napkins, silver cutlery and refreshing amenities, but surely not the economy class. There's a huge difference in service and quality. MEA haters, please reconsider your judgment.
The sandwich's bread is newly produced, not chewy, the cake acceptable and the salad fresh. After a bite of everything I continued my nap.
Three hours at Fiumicino Airport passed smoothly, which was great as I had planned to review the airport. Not the easiest of jobs when everyone looks at you like if you were an alien, forbidding you from taking pictures, "No pictures, no, no"… all agree on that, from the shop manager, cleaning personnel or the American Express exchange guy.
Fiumicino, Rome's airport, is divided into five distinct sections or terminals. H, the one you'll be landing in when coming from Beirut, G, reached by train, is perched on a round metallic structure and handles the American departures among others, and terminals B, C and D for European connections. I covered the entire H, G and D terminals and will surely do the other two on my way back.
Before reaching terminals B, C, or D, facing passport control is a delicatessen shop called Venchi. Venchi won't sell you any ice creams before 08:30am, for no logical reason, but if I were you, I'd come back for it. I've tried the dark chocolate and the dark chocolate sorbet which were incredibly delicious. A beautiful consistency, a strong flavor, pure aromas served in a crunchy fresh biscuit. At 5€ you can choose four flavors.
Lunch time or let's say late breakfast was spent at Obika, the only decent restaurant in Terminal D. Despite the fact that lunch cost us 30€ per person! We enjoyed a fine Italian meal, just as I had dreamed of on the flight over. Fresh mozzarella, al dente pasta, rich acidic tomato sauce, crunchy bread… It was really great.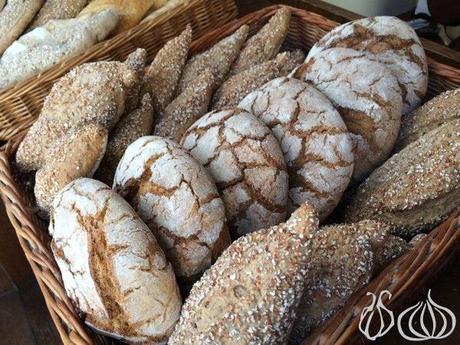 Today, I'll be trying TAP, Portuguese airlines for the first time. Not one of my favorite airlines for sure, for many reasons:
The staff is photophobic for no understandable reason: no photos of the plane, no photos of the meal, no photos of the wine bottle… Please!
The seats are too tight and too close one to the other. You can't move, you can't put your legs under the seat in front of you, I suppose you can stand easily… Three hours of hell await you.
The food is cheap, a simple small sandwich, a tiny chocolate, a fruit cup and a small choice of drinks.
The inflight entertainment displays movies but there are no earphones: just look at these lovely moving images.
I love how the staff chews all the time. Chewing gum! Unacceptable.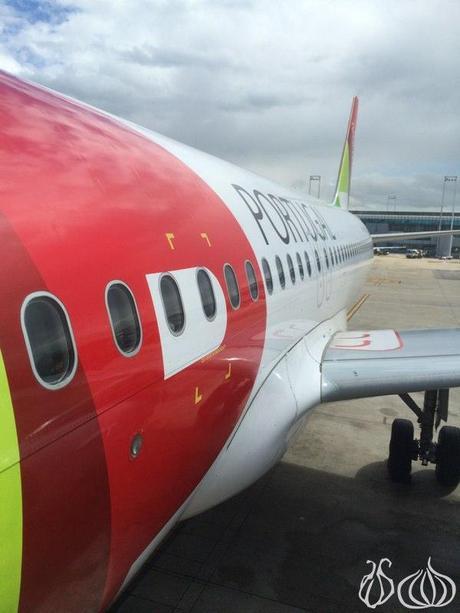 Welcome to Lisbon!
Your first thought when arriving at the airport puts a smile on your face while you discover a new terminal that has opened couple of months ago, until you reach the old one, its low ceiling, dirty floor and used amenities. We grabbed our bags after a long walk. Direction? The hotel.
Despite being relatively restricted to an Atlantic larder, Portuguese cuisine has many Mediterranean influences. The influence of Portugal's former colonial possessions is also notable, especially in the wide variety of spices used. These spices include piri piri (small, fiery chilli peppers) and black pepper, as well as cinnamon, vanilla and saffron. Olive oil is one of the bases of Portuguese cuisine both for cooking and flavoring meals. Garlic is widely used, as are herbs such as coriander and parsley.
We were welcomed to the hotel, located in the city center. The Tivoli Jardim seemed like a nice hotel despite its small lobby and rudimentary welcoming. On the first floor where our room was located, we were given a 10sqm space smaller than my bathroom back home. Not accepting this fact we asked for an upgrade that cost us 20 additional euros per day. At this point I was not impressed. Despite what it claimed on the brochure, it didn't have a four star feel or look. It might have been too early to judge, so we just organized ourselves and started discovering.
First bad discovery: They say the luggage at Italian airports are handled by the mafia… I guess they are right. My lock was broken, but thankfully it clung to life. Trying to tear it apart, because the bag contained a camera, the airport employees had used a metal tool to break it in half, thankfully they had failed and the sturdy little lock had held them out.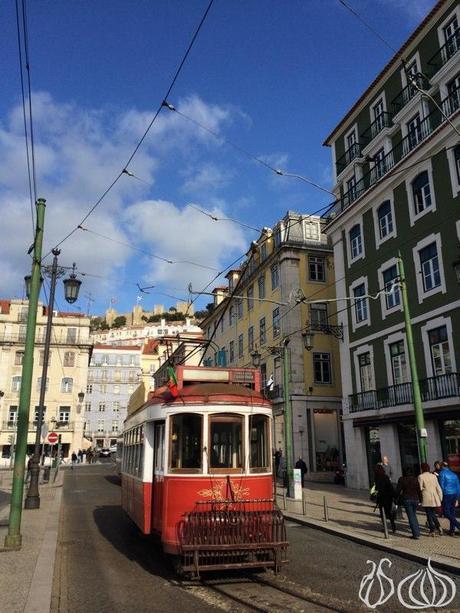 It was already 2pm and the day was coming to an end. We decided to take a walk around the city center, scouting the area, to prepare for the next day. Our hotel was just a few meters from the city center, which was pumping with action as we walked around. Busy streets, restaurants, skateboard fanatics, chestnut sellers were all around, while two fountains threw their water majestically into the air.
In the area were three main roundabouts and I recom8mend you pay them a visit. The first one is where the long statue is, facing the funicular. The second is the main square with its two fountains and continuing down the road towards the sea, is the area facing the ocean from one side and looking at the city's arch from the other.
It was a wise decision to travel light. I decided that during this trip I would master the art of capturing video on my iPhone. After looking in all directions, the iPhone had to be recharged three times a day as I recorded hours of live footage. Live feeds, slow motions, details of life and a step-by-step coverage of Lisbon's touristic discovery, all made on my phone.
The first afternoon ended quickly but I think we've put this trip on the right track: we've tried the custard cake, (Pastel de Nata) the signature authentic piece of dessert every book and travel guide talks about, we walked more than five kilometers around the city center, we've tasted the chestnut grilled on the streets, bought a fast 3G card for the iPad which we are using as a personal hotspot for all our devices and finished the night with dinner at Hard Rock Cafe.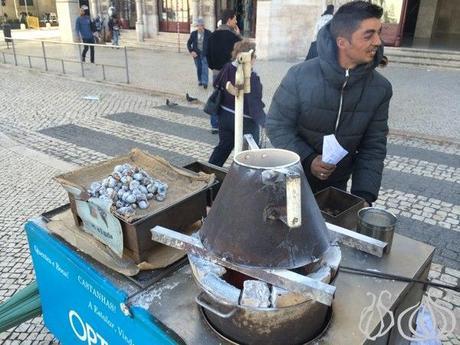 Review of the first day:
Chestnut sellers cannot be missed: Their thick white smoke and rich smells will trigger your appetite and curiosity. Chestnuts around here are produced in a special way, different than the ones we eat at home or on the streets of Paris. Grilled with charcoal, some salt is added to the coals, which causes the white smoke. Chestnuts covered in this delicious salt powder are sold in large bags for 2€ only. Yes, 2€ only when you pay 6€ in Paris. Believe me, they are worth trying. A subtle, grilled flavor, a fine salty taste erupts before feeling the smooth warm chestnuts. I never knew salt goes so well with chestnuts.
The custard pie is very tasty:  A cup-shaped puff pastry filled with custard and covered with burned sugar. It's a kind of creme brûlée tart, produced their way. A thick and enjoyable crunchy layer of condensed puff pastry before your teeth reach the inner juicy filling of custard that's adequately sweetened, caressing your taste buds with love. To finish the experience in style, a caramelized sugar layer adds a powerful, sweet, strong taste that make of this dessert a memorable one. It's not only about flavors but interesting textures as well. Softness, crunchiness, sponginess and breaking sugar blocks are simply addictive. I went back for more throughout the trip.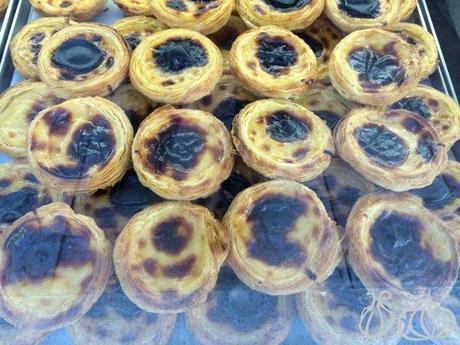 While walking along the many small streets, you'll find from the hundreds the intersections, you'll come across odd metallic street constructions that sell beer and quick bites to passersby. How nice it is to order a draft beer and sit on the sidewalk to enjoy its freshness. I forget the brand, but the beer we had was light and fine, perfect for on the spot refreshment. I loved it.
Finishing the day early, we ended up having dinner at The Hard Rock Cafe which has free Wi-Fi. The password is "hardrock". An enjoyable evening before going back to sleep. We've been awake for the last 36 hours without counting the sleeping hours on the plane.
Here's an insider's hint – Internet at hotels is very expensive: 15€/day for only one device. I suggest you buy a 3G card (TNM) which gives you 15 days of free internet for only 10€. This same subscription works on hotspot, allowing us to activate three devices at once.
Rise and shine Lisbon: its 05:30am, two hours ahead of Lebanon, awoken by the musical tunes of chirping birds, I stayed in bed for an hour while I finished reviewing the first day.
Today is City Sightseeing Tour Bus Day. These buses are my favorite attraction in all the cities I visit. For only 19€, you'll get an open hop on, hop off ticket for 48 hours, allowing you to discover the main attractions in the city. We grabbed a quick breakfast at the hotel before moving on.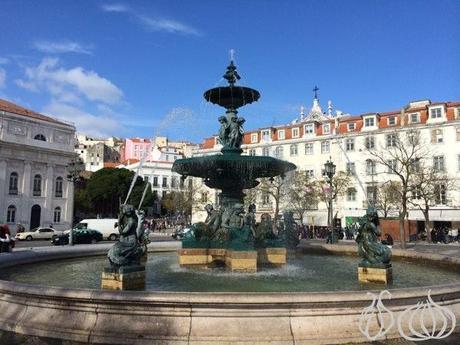 Breakfast at The Tivoli, Jardim is exceptional. Great food and a positive ambiance is what you'd expect to help you get off to a fresh start each day, and this four-star hotel has it all. I had an amazing croissant, superb custard pies, perfect donuts and tasty bread. I'll be coming again the next morning for the eggs and sausages.Before reaching the first bus stop, we decided to take the funicular up a short distance to a garden with refreshing views over the city's skyline. Afterwards, continuing down the road, we came across a restaurant claiming to serve the best burger in town: H3. It was 8am, but lunch was scheduled. "Are you taking touristic photos or searching for something specific?" A French voice said in the background. A local policeman, speaking a decent French offered his help. He was so nice that we took a photo with him. He was happy to show us around and most importantly tell us about the oldest pastry shop in the country, serving those custard pies hot.
The bus has four lines: Red, purple, blue and orange. For 19€ you can buy a 48-hour pass for all the lines except the red one, which we didn't really use. Starting on the blue one, it took us around the important parts of the city, along Liberate Street, which is one of the most expensive in Europe and is inspired by the Champs Élysées and comes in at 1km long and 90 meters wide.
Good to know: Lisbon is known for its traditional kiosks, found all around the city, serving draft beer, coffee and bites.
If you want to discover all of Lisbon and listen to all sorts of interesting facts about the city, the bus is a must.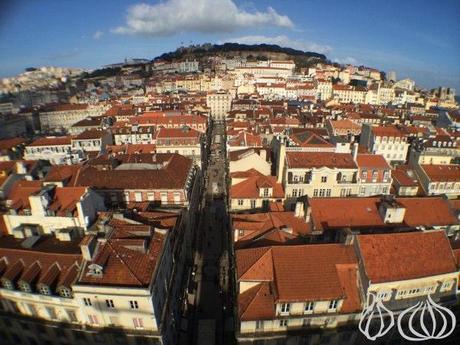 And here we were, in front of this famous pastry shop: (Pasteis de Belem). "Four pieces please". For four Euros, we had one of the best desserts I've ever had. It's not just any dessert but the one and only authentic custard cream pie. Don't waste time looking around, head straight to Pasteis de Belem. It bears no relation to the mass produced ones we tasted on day one. A small piece you can devour in two bites, served hot and looking so food. A thin but condensed crispy dough filled with a soft cream that's breathtaking. I was literally melting with every bite while it flowed along my taste buds. That's something so addictive that I had to be pushed away from the shop … I had to keep space for lunch.
H3 as we said… I was expecting to find a premium burger on this trip, I went looking for authentic, Portuguese food. Let's just say it wasn't premium. A fast food place, self-service, serving burger meat on a plate with undercooked potatoes and over cooked rice. Hah! Surely not a place I can recommend. We left our plates as they were and continued to have lunch somewhere else. Nicola was the choice, a touristic address recommended by the tour bus company. The food wasn't great, but at least edible. I'm not saying you have to come for lunch as you find yourself paying 60€ for distinctly average food. However, having the experience with a coffee on the sidewalk is interesting.
I'm falling in love with this city. A city that's fresh, enjoyable and interesting to visit.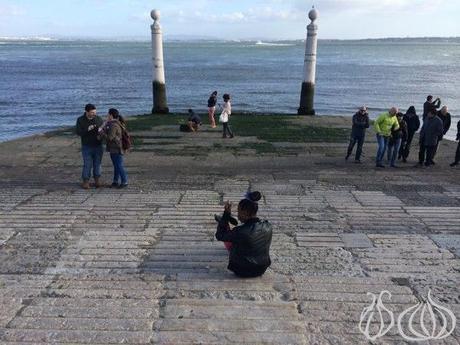 Good to know: This was the first time, during all my trips that I got approached by drug dealers on a regular basis. Eight by day two, proposing to sell us marijuana, hash and cocaine. They are not hard to find, just look at the sellers, walking around offering fake sunglasses.
The afternoon of the second day was an interesting one. Even though it rained, and heavily, we went for the metro. Impressive! I'm a fan or let's say I was a fan of the French metro until I'd been on this one. The Lisbon underground is fresh, wide, not at all claustrophobic and simple to use. Four lines (green, blue, red and yellow) and one pass, which you can buy at any tobacco shop, for only 6,5€ a day, that covers all public transport, as has no limit.
I loved the way the stations are designed, each with a different relaxing theme, their high ceilings, adequate lighting and most importantly the clean and wide cars left a really positive impression. Red and blue cars, that are wider than the ones the Parisians use, are perfectly taken care of. You feel a certain freshness while walking in and a sense of security along its long corridors.
Important for tourists: as soon as you land, buy the daily public transport pass for only 6,5€ and enjoy a day of discoveries in the metro, buses, funiculars and trams.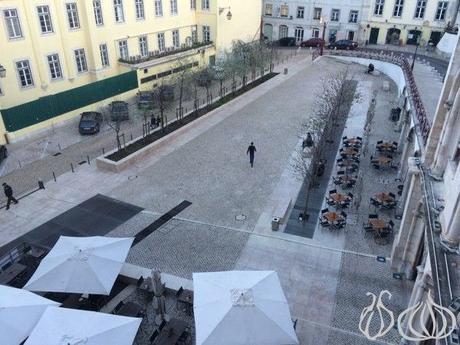 Tonight was concert night at the MEO Arena, down the red metro line. Stop at the Oriente station and walk the few meters to the arena. There, we discovered a large mall, the Vasco Da Gama, which hosts many luxurious brands, technology hubs and a supermarket.
The Arena is impressive with its high ceiling constructed entirely of wood. It was a nice discovery despite the fact that we left quickly as I'm not a big fan of pop events.
Here is where the fun started: discovering the nightlife district of Lisbon.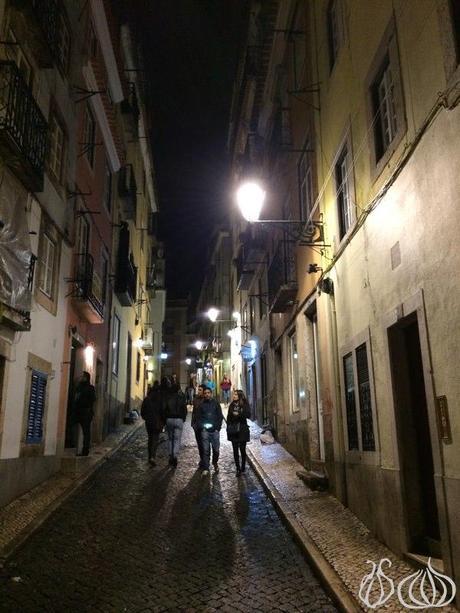 One beer after another, people do have fun around here. I loved how you can choose between having a glass or a plastic cup of beer to do bar hopping. Bairro Alto is the Gemmayze of Lisbon. Tiny streets, like a labyrinth filled with bars and small food joints. My tasty discovery for the night was the Tosta Mista, a simple toasted sandwich with cheese and ham, a locally renowned street food.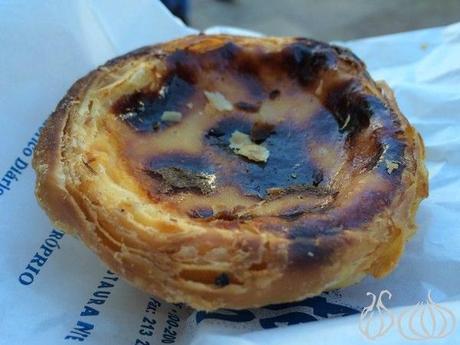 Friday was the last day we spend in Lisbon, we still had gifts to buy and the violet bus line to discover. The weather was on our side, changing from rainy, cold weather to fresh sunshine with pleasant cold spells. After touring in the bus for more than two hours, we stopped at a local food market before heading on for lunch.
We were joined by Amer, a Lebanese who has lived all his life in Lisbon. He took us to the food market, The Mercado De Campo De Ourique, a newly opened concept offering gourmet food in a kiosk-style lay out. Transforming an old market into an innovation of gourmet food, you can choose from a dozen different shops and enjoy a tasty meal at affordable prices.
Atalho, owned by Amer's family, is the only fine meat provider in the market. Premium quality meat cuts from the four corners of the world all available to eat in a sandwich or on a plate. Premium meat cuts, tender like butter and filled with rich flavors, they're nothing like those commercial ones we're used to buying at supermarkets. Angus from Scotland, wagyu from Australia, cuts from Germany and much more. A place I recommend.
A bus tour, the marketplace, lunch and the day was far from ending. Afterwards we decided to take the famous Tram Number 28. The Number 28 line is the one that tours the city in a loop. Take one and be sure to discover many monuments, old corners and interesting spots. The road led us to take the next tram, the Number 12 goes up to the St Georges Castle and the breathtaking views of the city on the many terraces standing high over the capital's peaks.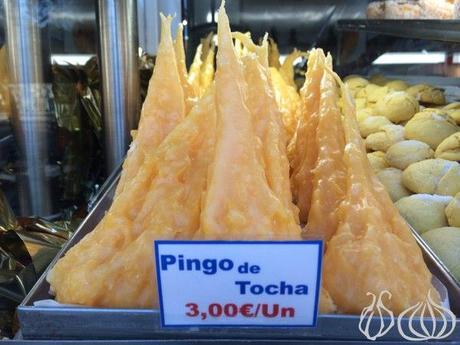 You can't help but notice the way public transportation is beautifully taken care of. The trams dating back more than a century look like if they were manufactured yesterday with their shiny wood and new leather straps. The Metro is so refreshing and the buses, which run 24 hours, a day are so clean.
Eggs! Too much! Desserts in Portugal are not my favorite except the famous and unique Pasteis de Belem. The desserts are so sweet, they use so many egg yolks all the desserts are exceedingly rich.
Live like a local: stopping by those kiosks for a beer is a must do whole in the capital. Once or twice a day, you'll want to take the time to appreciate the city's vibes.
A city you'll fall in love with: it's pumping with action and filled with tourists who come here to appreciate good food, good weather and fine art. The ambiance is different from the busy cities of Northern Europe.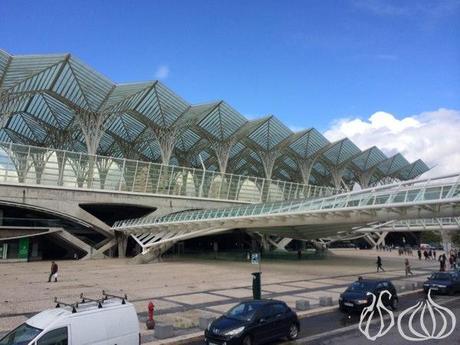 On the last night in any city planning the last meal should be a ceremony, and it was. Pinoquio is one of those places that look too touristic and not that appealing, but believe me what's cooking inside will amaze you. Fine Portuguese food, freshly prepared with dedication to a nation that's known for its fish and seafood produces will just amaze you. With rice and fish portions started landing on our table as well as different dishes all mixed with mouthwatering sauces. Garlic, salt, olive oil and butter, be prepared to gain a couple of kilos in this capital!
With tables outside facing the bustling Praça dos Restauradores, this restaurant attracts tourists but also many locals who have always enjoyed its seafood, especially its clams. The steaks are also popular, all served in a very relaxed, unpretentious ambiance.
Three days were surely not enough to discover everything, but would be a good start for a fully-fledged trip to Portugal. I'm surely coming back, and doing so soon. I fell in love with the vibes of this city, its food, its reasonable prices, its authenticity, its warmth, its artistic heritage, its transportation services… I loved Lisbon and the Portuguese people.
4:30am and I was in a closed airport that opens at 6am. At 6 I picked up some gifts for my kids and took more photos before taking off on TAP airlines and heading to Rome, then Beirut.
























Pages  [
1
]  [ 2 ]  [ 3 ]  [ 4 ]  [ 5 ]  [ 6 ]  [ 7 ]  [ 8 ]  [ 9 ]  [ 10 ]  [ 11 ]  [ 12 ]