Are you guys ready for some totally cute lip care products? Take a look at these adorable sphere shaped lip balms from eos (evolution of smooth). Say hello to eos's Limited Edition Basket of Fruit Lip Balm Collection, a set of four must-have, 95% organic, 100% natural, paraben and petrolatum free lip care cuties that are sure to be a makeup bag essential.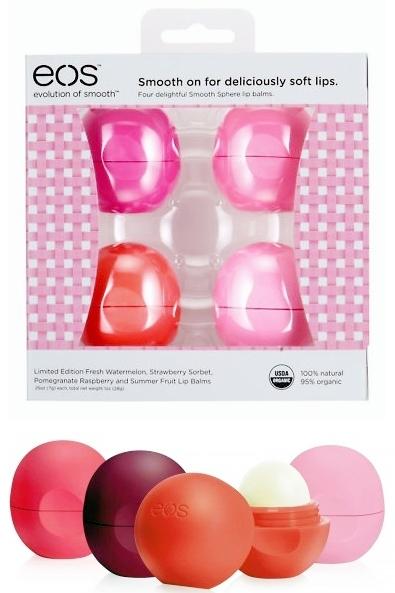 USDA-Certified Organic, the lip balms are enriched with antioxidant-rich vitamin E, nourishing shea butter and soothing jojoba oil. The twist-off cap and soft-touch, sphere shaped packaging allow direct application to lips which makes it more hygienic than pot lip balms. The fruit-inspired lip balms glides on lips with precision and are available in the following flavors:

Fresh Watermelon, Strawberry Sorbet, Summer Fruit and Pomegranate Raspberry

. All four comes in an eye-catching box printed with basket-inspired graphics.
These adorable lip balms are only available from July - October 2013, each set retails for $10.99 and can be purchased at Target, Drugstore.com and evolutionofsmooth.com.