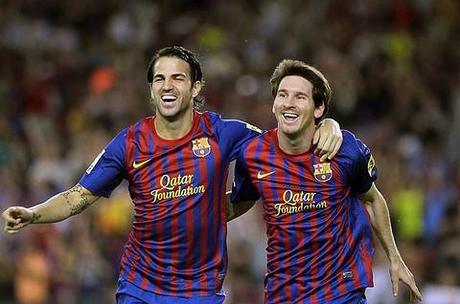 Barcelona attacking players Cesc Fabregas (l) and Lionel Messi (r). Photo credit: Globovision
At just age 24, Lionel Messi has become Barcelona's all-time leading goalscorer. Messi broke the record in some style – he scored a hat-trick in the 5-3 victory over Granada at the Camp Nou on 20 March. He has now found the back of the net 234 times for the European champions, eclipsing César Rodríguez's previous record of 232, which had been in place since the 1950s. The mercurial Messi's phenomenal achievement has re-opened the debate about whether the Argentinian is the greatest ever footballer to play the game. That he is currently the best player in the world is widely accepted.
Messi has now scored 34 goals in 27 league games this season, two more than Real Madrid's Cristiano Ronaldo. Messi's hat-trick also set a Spanish record of 54 goals in all competitions in a single season with more than two months of the campaign remaining. Despite Messi's relentless brilliance, Barça do not look set claim a fourth successive Spanish league title. Real Madrid have 71 points from 27 matches with a game in hand on Barça, who have 66 from 28 games. Real Madrid travel to struggling Villarreal tonight looking to extend their lead at the top to eight points.
High praise from on high. The Barça manager, Pep Guardiola, said: "There are no players capable of dominating a sport with such superiority … Messi can be compared to [the former US basketball star] Michael Jordan." Legendary Barça player and manager Johan Cruyff added: "Messi is by far the best player in the world. He is incomparable, he plays in a different league."
Messi has already won 18 titles in his eight seasons in the Barca first team – three Champions Leagues, five La Ligas, one Copa del Rey, two European Super Cups, five Spanish Super Cups and two Club World Cups.
Messi's miraculous transformation. Reuters marveled at Messi's transformation from "scrawny kid to best ever." "The fleet-footed Messi is a master of timing in his finishing, picking just the right moment to steer the ball under or round the goalkeeper or chip it over a defender leaving his opponents flat-footed as he makes it all look so simple," praised Reuters, who noted that "these are skills first learnt playing with boys bigger and older than himself in his birth town of Rosario in Argentina before hormone treatment in Barcelona beefed the little genius up to his still small, yet amazingly robust, stature."
Goals equal gold. Whether Messi is the greatest ever remains open to heated debate but one thing's for sure; he is the world's best-paid footballer. According to a survey by France Football magazine the three-time World Player of the Year topped the latest rich list after pocketing £27.4million from wages, bonuses, sponsorships and endorsements. The Barcelona star topped his £13m annual salary from the Spanish giants with sponsorship deals from the likes of Adidas and Pepsi. Messi pipped former England captain David Beckham to the top spot. Manchester United striker Wayne Rooney was the Premier League's top earner with £17m.
Messi's top three Premiership players. Messi may be sitting on top of the world but that doesn't mean he doesn't appreciate the talents of his peers. In an interview with BBC Match of the Day Kickabout, Messi identified strikers Sergio Aguero, Wayne Rooney and Robin van Persie as the Premier League's three best players. The Argentine said: "There are several quality players in the Premier League like Kun Aguero, who is my friend. I really like how he plays Rooney [and] Van Persie are playing really well – they are great players." The forward added that he does not think he is similar to any other player in the world: "No one player is the same as another," said Messi, "I think each player has his own style, and we're all different."