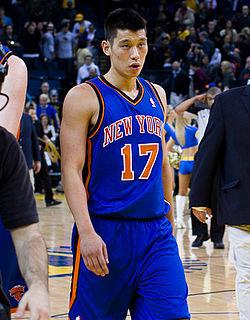 Jeremy–Linsanity–Lin has been the NBA's biggest commodity of this shortened lockout hugged season. Going from being undrafted in 2010, to now being acclaimed as one of the NBA's rising stars. (It's been quite the roller-coaster ride for him.)
However, outside of all of the huge plays he's made and headline news appearances, Lin still finds some time to give back and show who he really is. And that's just a nice guy.
Last night, as the New York Knicks squared off against the New Jersey Nets you could hear faint boos throughout the stands whenever Nets F Kris Humphries even touched the ball … let alone look at it from cross-court. Why was he hearing all of these boos at MSG on a regular game-night on President's Day? Well, you may also know "Humph" as the guy that divorced one of the Kardashian sisters–the one not married to Lamar–not even three months into their marriage … yikes. So Kris heard the boos, and kept hearing them. However, when the final buzzer sounded, his team was on-top. Bringing a smile to his face.
But, later on that night, something else brought a smile to his face accompanied with some chuckles and a lasting impression of Jeremy Lin.
After the game, Lin caught Humph in one of the halls and said, "Hey, I don't know why they boo you, but I think it's crap, and you're playing really well." (Shows a ton of character from Lin.) Humph went on to later say in his interview with SportsCenter later that Lin is "just a nice guy."
However, prior to this moment, Lin had done a one-on-one interview with ESPN's Rachel Nichols talking about his vast improvement–better put: exposure. Lin had this to say in the interview:
"You can fall as fast as you rise."
That right there along with a series of deterred PR appearances he's made show how he knows that he must first earn the team's (Knicks), the NBA's, and the fans' respect first by showing them it's no fluke. Just a preview.