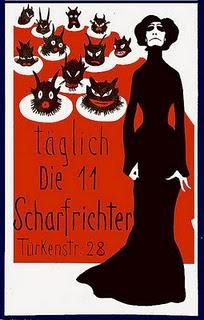 T. T. Heine
's poster for a Munich cabaret (depicting
Marya Delvard
)
The Tablet launches a series of monthly podcasts called 'Long Story Short' with an interview of Vivian Gornick about Rosa Luxemburg
Tom Wolfe on Marshall McLuhan
, and
Eric Norden's 1969 interview of McLuhan for Playboy
From Robert Zaretsky's review of The Pursuit of Laziness: an Idle Interpretation of the Enlightenment
: 'Diderot's Rameau is a loafer for whom artistic creation means mimicry and regret. ... Other creations of Diderot... delight in doing nothing by the traditional standards of the West: the Tahitian natives in his
Supplement to the Voyage of Bougainville
for whom mocking those same western standards is about as busy as they get; or Jacques and his master in
Jacques the Fatalist
, content with interruptions and detours in their own lives that mock our traditional standards.'
Bomb Magazine's1988 interview of Gregor von Rezzori
(via
Three Percent
), and
Three Percent's review of Rezzori's Ermine of Czernopol
Two of
Irmgard
Keun's books have just been translated into English:
1. From Other Press: 'Before Sex and the City there was Bridget Jones. And before Bridget Jones was [Keun's] The Artificial Silk Girl.'
2. From Melville House: 'Now, at last, [Keun's] After Midnight is available in the United States, the first title in Melville House's Neversink Library.'
Jenny McPhee discusses both of these books by Keun, and
Salonica
Monica reviews
Artificial Silk Girl
. Here's more about Keun by Sarah Bakewell.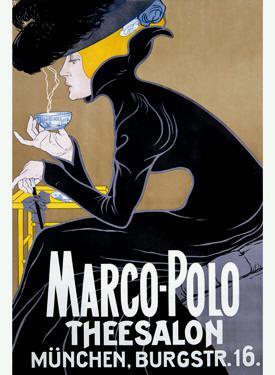 Daniel Mendelsohn analyzes the women in Theodor Fontane's novels
, and Jane Librizzi reviews Fontane's newly re-issued
Irretrievable
.
Michael Wood reviews five of Heinrich Böll's books, which have been re-issued by Melville House.
Kenji Fujishima on a performance by the Cleveland Orchestra
: 'Whereas Mahler often laid out his struggles right on the surface, to the point where some might find his music impossibly overwrought, Bruckner—in his symphonies, in particular—often finds more serene, if sometimes no less anguished, expressions of his musical quests for God.'
From Glenn Gould's 1979 documentary on Toronto: 'I don't much care for sunlight. Bright colours of any kind depress me.' The documentary is about 48 minutes long. In it, Gould appears to like Toronto mainly because it doesn't much intrude on his consciousness. And he sings Mahler to elephants at the zoo. In case the above link to the documentary doesn't work,
here's the first of the six YouTube
clips from it.
Here's a passage about a strange crackpot named
Alfred Schuler
, which I came across while reading about fin-de-siècle Munich: 'Nietzsche was even the intended recipient of Schuler's occult therapy. For two years Schuler made preparations to cure Nietzsche's madness through the freely interpreted rite of an ancient Corybantic dance. It was never implemented, partly because of the difficulty of enlisting suitable youths for the cultic dance.' (Quoted from p. 79 of
The Nietzsche Legacy in Germany -- 1890 - 1990
, by Steven E. Ascheim)