I'm thrilled to be a part of this week's IFB Links À La Mode!  It's the last one of the season, so better late than never!  Check out the other blogs on the roundup.
One Last Helping of Holiday Cheer
Edited by: Jess of
Fresh Jess
Have you recovered from your holiday feasting and shopping yet? For some of us, it was right back to work while others are savoring cherished time with loved ones (and maybe another helping of
Christmas
dinner.) Whatever your situation, I hope you find some time to relax and unwind from what seems like another chaotic holiday season. Perhaps some tea, your favorite blanket and a healthy dose of holiday outfits in this week's Links a la Mode will help? It's the last one of the year, so enjoy & happy new year!

LINKS À LA MODE: THE IFB WEEKLY ROUND UP: DECEMBER 27TH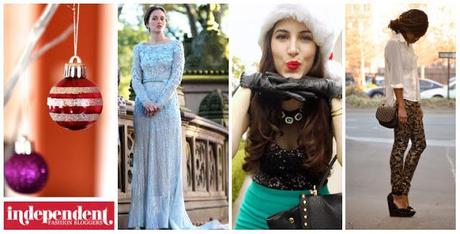 A Love Affair with Fashion: Coast to Coast Holiday Looks
Camo Meets Couture: Wardrobe Diaries: Merry and Bright
Fashion Edible: DIY Modern Christmas Tree
Fashion Trends & More: How to Organize Your Wardrobe
hiPop: Fiction
Informed Style: Inspiration: Taking Time to Smell the Beans
Kinks are the New Pink: Jet Set Style: European Holiday
Laura Lily: Merry Christmas!
Le Garçon in Stripes: Ode to Plaid
Ma Dernière Addiction: The Quintessential Cape
River City Chic: Golden Girl
Sara Constance: Home for Christmas
Sew Overdressed: Secret Garden
Style 4 Love: Lace & Leopard
Style of Sam: From Grandma with Love: Santa's Helper
Style of Your Own: Painted Face: Danny Robert's Candy
The Cardigan Confessions: A Farewell to Gossip Girl Fashion
Under a Veil: Trend: Sweater + Pant
Vogue Villain: Off to the Races
Youth Savage: The Celebrity of the Fashion Blogger
SPONSOR:
Shopbop Resort: Santi, Suecomma Bonnie, Annabel Ingall, Sea NY, Venessa Arizaga, Giambattista Valli, Rochas, APC, Wang clutches, Versace