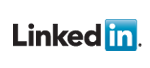 Image via CrunchBase
You must link your business-related social media activities into a mosaic. Link your blog posts to your LinkedIn Account and to your Twitter Account to increase recognition and to drive traffic to your site. Your Dashboard statistics will allow you to monitor where your referrals are coming from.
In LinkedIn, spruce up your profile for recruiters. Then check out the new "Resume Builder" feature with a step-by-step guide. It will save you time in updating your Resume! Click here for instructions: http://resume.linkedinlabs.com/
Gook luck-I hope you find your dream career!!!