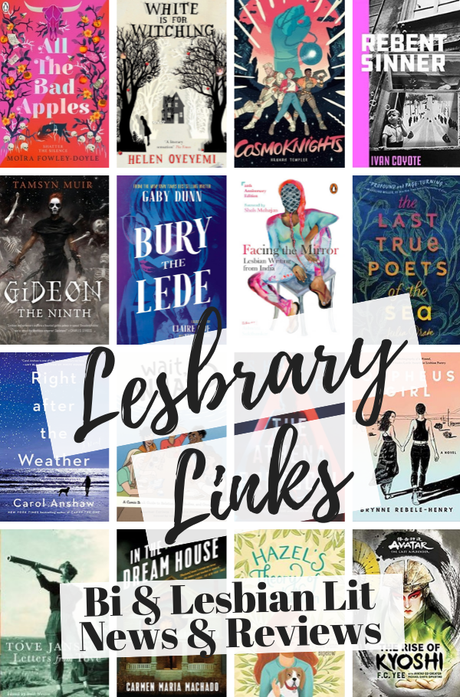 This is the Lesbrary bi-weekly feature where we take a look at all the lesbian and bi women book news and reviews happening on the rest of the internet!
Autostraddle posted A Visual History of Batwoman's Most Badass Moments and 8 Queer Halloween Reads for Your Gay Spooky Needs.
Lambda Literary posted New LGBTQ Books: Saeed Jones, Georgia Beers, Andre Aciman, and Jeanette Winterson.
LGBTQ Reads posted New Releases: October 1-15, 2019 and Happy National Poetry Day!
Logo posted How "Heather Has Two Mommies" Paved the Way for LGBTQ-Inclusive Children's Books.
Women and Words updated their lesfic New Releases & Coming Up page.
Carmen Maria Machado was interviewed at KRCC.
Tegan and Sara were interviewed about their book High School at NPR.
Michelle Tea was interviewed at Dazed.
"When Lesbian Publishing Made It Big: A graphic tribute to the landmark Naiad Press" was posted at The New York Times.
"25 New LGBTQ+ Books Coming Out In Fall 2019" was posted at Bustle.
"Authors and activism: A history of LGBT bookstores" was posted at Out In Jersey.
"Here's Why LGBTQ Comic Books Matter" was posted at Indy Week.
"Abrams announces LGBTQ graphic novel imprint curated by Mariko Tamaki" was posted at Comics Beat.
"INTERVIEW: Hannah Templer dreamcasts COSMOKNIGHTS & reflects on the story's eclectic sources of inspiration" was posted at Comics Beat.
"The 20 Best LGBTQ Books of 2019" was posted at Harper's Bazaar.
In the Dream House by Carmen Maria Machado was reviewed at the Brooklyn Rail and Frieze.
Gideon the Ninth by Tamsyn Muir was reviewed at Culturess and The Mary Sue.
High School by Tegan and Sara was reviewed at Rolling Stone, Paste Magazine, and Autostraddle.
Thank you to the Lesbrary's Patreon supporters! Special thanks to Sam, Tad, Sarah Neilson, Shelly Farrell, Martha Hansen, Daniela Gonzalez De Anda, Amy Hanson, Bee Oder, Hannah Dent, and Ellen Zemlin.
Support the Lesbrary on Patreon at $2 or more a month and be entered to win a queer women book every month!