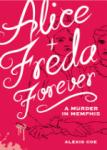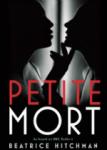 Autostraddle posted Lez Liberty Lit #57: Defining A Golden Age.
Gay YA posted Halloween Reads.
"Diverse characters: Corinne Duyvis on the decline of "issue" books" was posted at The Guardian.
Alice + Freda Forever: A Murder in Memphis by Alexis Coe was reviewed at Lambda Literary.
Petite Mort by Beatrice Hitchman was reviewed at Lambda Literary.
Blue Hanuman by Joan Larkin was reviewed at Lambda Literary.
Once The Clouds Have Gone by KE Payne at Terry's Lesfic Reviews.
Under Devil's Snare by S.Y. Thompson was reviewed at Lesbian Reading Room.
This post, and all posts at the Lesbrary, have the covers linked to their Amazon pages. If you click through and buy something, I might get a small referral fee. For even more links, check out the Lesbrary's twitter page! We're also on Facebook, Goodreads, Youtube and tumblr.