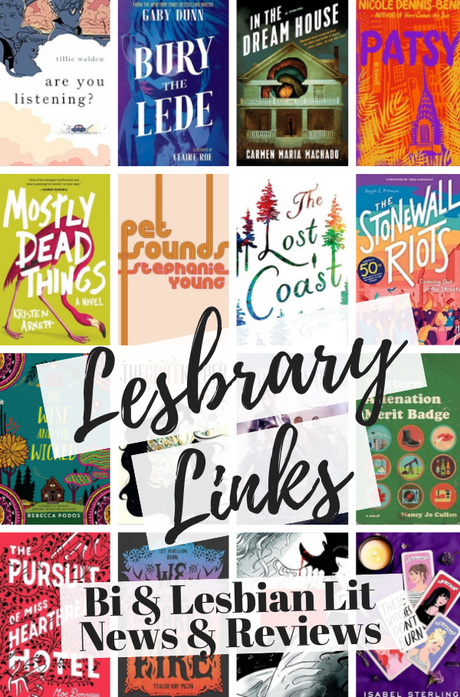 This is the Lesbrary bi-weekly feature where we take a look at all the lesbian and bi women book news and reviews happening on the rest of the internet!
Publishers Weekly posted Reading the Rainbow: LGBTQ Books 2019 and Beyond Drag Queen Story Hour: LGBTQ Books 2019.
Women and Words
updated their Hot off the Press and Coming Attractions page.
"41 of the Best LGBTQ Books That'll Change the Literary Landscape in 2019" was posted at Oprah Magazine.
"Gentleman Jack: What do we know about the real Anne Lister?" was posted at Radio Times.
"A Brief History of Queer Language Before Queer Identity" was posted at Literary Hub.
"The Ultimate LGBTQIA+ Pride Book List" was posted at Penguin Random House.
"Finding Stonewall" by Alexander Chee was posted at The New Republic.
Mostly Dead Things by Kristen Arnett was reviewed at Autostraddle and Orlando Sentinel.
The CW adaptation of Batwoman has a trailer.
This post, and all posts at the Lesbrary, have the covers linked to their Amazon pages. If you click through and buy something, I might get a small referral fee. For even more links, check out the Lesbrary's twitter! We're also on Facebook and .
Thank you to the Lesbrary's Patreon supporters! Special thanks to Sarah Neilson, Shelly Farrell, Martha Hansen, Daniela Gonzalez De Anda, Amy Hanson, Bee Oder, Hannah Dent, Ellen Zemlin, Hana Chappell, and Casey Stepaniuk.
Support the Lesbrary on Patreon at $2 or more a month and be entered to win a queer women book every month!