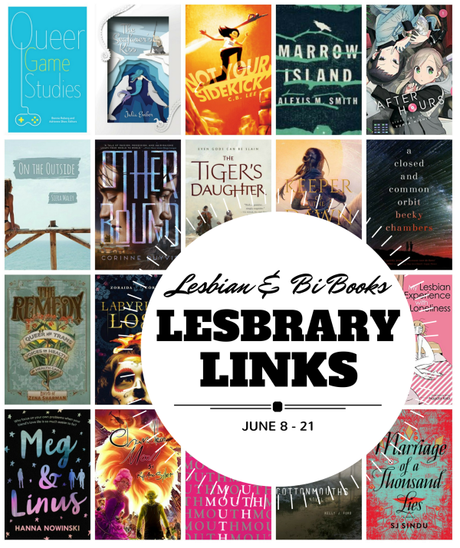 Bibliosapphic posted 6 YA Books With Bisexual Protagonists.
Casey the Canadian Lesbrarian posted The Eight 2017 Lammy Winners I'm Most Excited about, Including Three Canadians!
Gay YA posted Introducing: #BooksToTeens and The Queer, Enchanted Girls.
Lambda Literary posted 29th Annual Lambda Literary Award Winners Announced and New in June: Brontez Purnell, Janet Mock, Christopher Bollen, and Roxane Gay.
LGBTQ Reads posted LGBTQIAP+ Pride Month Sales.
Queership posted
Women and Words updated their New Releases and Coming Up post.
Roxane Gay was interviewed at NPR and Lambda Literary.
"Fried Green Tomatoes in the Rubyfruit Jungle" was posted at popmatters.
"That my characters are lesbian is both central and incidental: Welsh novelist Sarah Waters" was posted at the Indian Express.
"8 Great Books by LGBTQ Authors From Countries Where It Is Illegal To Be Gay" was posted at LitHub.
A Closed and Common Orbit by Becky Chambers was reviewed by Shira Glassman.
was reviewed at Lambda Literary.
My Lesbian Experience with Loneliness by Kabi Nagata was reviewed at ANN.
After Hours Vol. 1 by Yuhta Nishio was reviewed at ANN and Okazu.
This post, and all posts at the Lesbrary, have the covers linked to their Amazon pages. If you click through and buy something, I might get a small referral fee. For even more links, check out the Lesbrary's twitter! We're also on Facebook and .
Thank you to the Lesbrary's Patreon supporters! Special thanks to Jacqui Plummer, Kim Riek, Mark, Erin Michael, Kitty Rhapsodos, Martha Hansen, Chris Coder, Adelai McNeary, Ann, Chiara Bettini, and Casey Stepaniuk. Support the Lesbrary on Patreon at $2 or more a month and be entered to win a queer women book every month!
Keep up with all the Lesbrary posts and extra content by signing up for the Lesbrary newsletter!