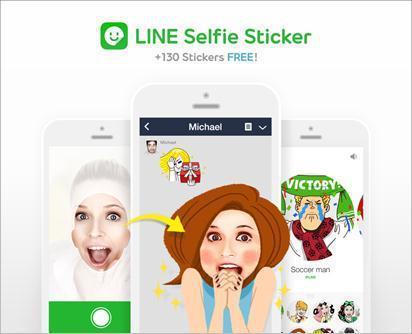 Here's an app that actually made me smile, not just from ear to ear, but maybe all through the back of my head! I am still grinning, actually.
Anyway, I have already wrote several times on this blog about various treats and offers being extended by LINE Corporation, the makers of LINE Free Calls and Messages app. But there's a reason behind my posting about LINE so frequently. First, I actually love using their free messaging app, especially its Indian character stickers. Secondly, they just keep on bringing out so many goodies and offers! No wonder LINE app is now popular in 230 countries and has ranked first in the free app category in 60 countries.
But anyway, this post is not about LINE Free Calls and Messages app. Rather, it is about another app by LINE Corporation. This app is called LINE Selfie Sticker.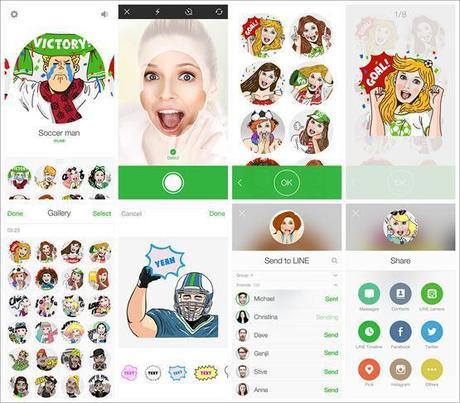 Of course, the word Selfie is getting more and more popular these days. Everybody is taking a Selfie and posting on social networks. But this app lets you, sort of, cartoonify your selfie.
LINE Corporation announced this new app on July 03, 2014. In a few easy steps, it allows the users to create original stickers, bearing their own faces.
The app has a set of characters like cute puppy, squirrel, Soccer Woman, Soccer Man, Fashionista, etc. Each of these characters has eight different poses. And once the user clicks a selfie, it gets fitted into all these poses to make a set of stickers.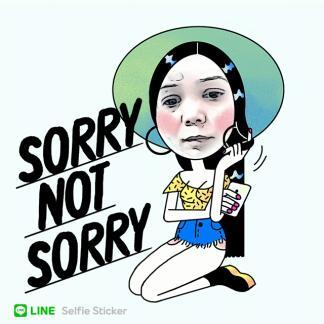 Here's why I liked LINE Selfie Sticker:
Easy: Making these stickers is very easy. Just choose a character. This will open up the camera, with the shape of a face cut out in the middle of the screen. Adjust the phone in front of your face so as your face fits in that cutout. Take the picture. If you like the result of your face cutout, tap on OK, or else you can go back and try again. Once you tap OK, the face gets automatically fitted into the eight stickers of the chosen character. If you like the result, tap on OK, or else go back and try again. Once you tap OK, the stickers are ready to be used. All the stickers are stored in the Gallery of the app.
Editable: Yes, even when the stickers are ready, they can be edited. The size and the position of the face can be adjusted.
Add Text: When the Edit option is opened in a sticker, it also makes available some text bubbles that can be used to insert limited text in the stickers. There are twelve different types of text bubbles, or speech balloons, available as of now. The original text of the stickers can be removed as well.

Downloadable: Yes, these stickers can be downloaded and viewed from the picture gallery of the device.
Share: The stickers can easily be shared, not just on LINE messaging app, but also on other apps. I tried sharing them on another messaging app, and it worked! And yes, they can be shared using the apps of the social networking sites as well.
Editable on other apps: Yes, I also tried editing the stickers even further on other photo editing apps, and it worked. Of course, those images were saved in the device gallery, not the gallery of LINE Selfie Sticker app.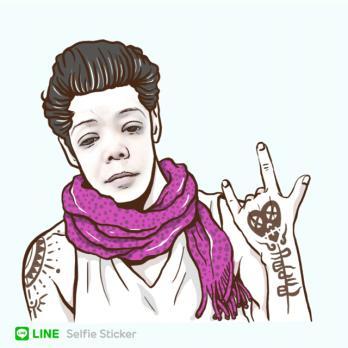 Front and Back Camera: The Selfies can be clicked using the front or back camera, as is convenient. A small button on the upper right side of the camera screen enables the switching between the front or the back camera. Another button on the same screen sets a timer.
Cute and Funny: The sets of characters available are quite cute and funny. And they can be made even funnier by taking the selfies with weird expressions, as the app encourages the user to do.

Quick: Creating of these stickers takes less than a minute.
Free: Yes, the app is absolutely free.
Availability: The app is available for iPhone and all Android devices, and supports English, Chinese (Simplified, Traditional), Korean, Indonesian, Malay, Thai, Turkish, Vietnamese, Spanish, French, Portuguese, Brazilian, German, Italian, Russian, Arabic languages. It is available globally (except for Japan and Taiwan)
What I wish for: Of course, more characters! And maybe, more customization options.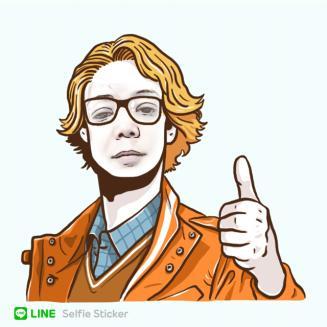 Download Links:
iPhone