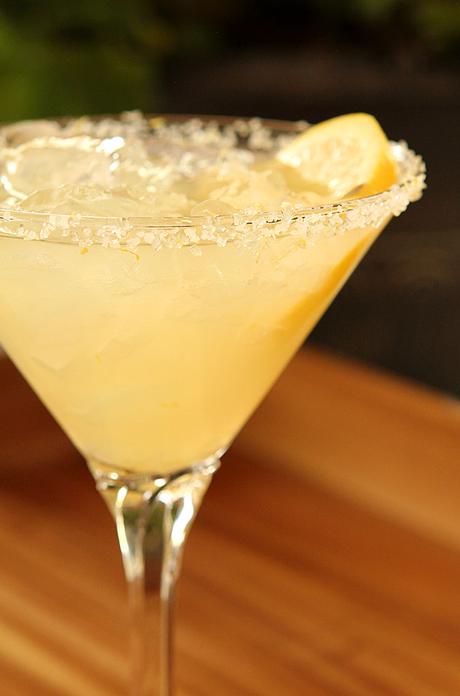 I've made no bones about not wanting to rush the advent of Fall but I have to be honest; the Autumnal Equinox is just 5 days from now and it's not just a date, this morning there was a definite chill in the air. Not cold really but it's 53 degrees right now; not long ago it would have been 20 degrees highers at 7:45 am! I don't herald the start of Fall like some; for me it means winter is down the pike and I simply prefer spring and summer and all things flowery and herby and even neighborly. Amazing how much I see my neighbors during the warmer months but then we all sort of burrow into our hutches until it's time to come out of hibernation next spring. I'm going to work on that this winter; I'm planning a monthly birthday celebration...if it's your birthday, I will have cake!
In the meantime, with my last 5 days of 'It's not over til it's over!' campaign still in full swing, I'm in summer mode one last time with this cocktail. My inspiration was simple. I had a bottle of Limoncello I wanted to open, I wondered what to do with it and maybe with the Chile Relleno Soup I posted yesterday so present in my head I traveled immediately towards another margarita. Just when I think I can't imagine what I haven't made a margarita with something pops up and I'm full steam ahead.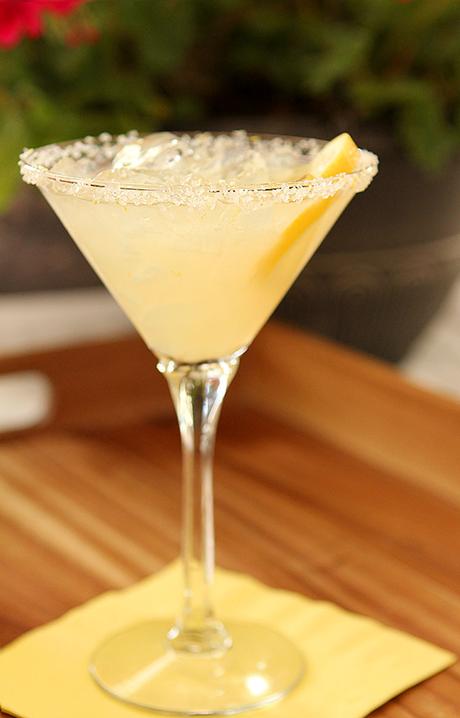 Truth is I usually love the margaritas I make; once you find a pattern that works, it's hard to make a big mistake. I might be highly prejudiced though so have found a willing testing partner in my neighbor Amy. I called to see if she wanted to come over and share and she called me back because she wanted to see if I wanted some of the pulled pork she had made for dinner. I didn't know she was going to bring me soft tacos made with that pulled pork but I did not complain; how perfect was that timing? We sat outside, enjoyed a cocktail (OK, OK...we each had two - the best sign of approval!) and I had the perfect meal to go with them. Which, by the way is why I'm writing this post this morning; I was filled with that warm glow from a great meal AND cocktail and just wanted to veg; can you blame me?
Though I typically try to keep a fair amount of both lemons and limes on hand, last night I had just enough lemon to make the lemon rimming salt and garnish so I reached into an old trick bag I have used before when I want to speed up the process a bit...lemonade concentrate! My standard margarita requires a fair amount of time to get just perfect but when in a pinch for time I've often substituted limeade and lemonade for the fresh squeezed juice needed for that cocktail and it's why I keep those handy and for this cocktail it worked wonderfully.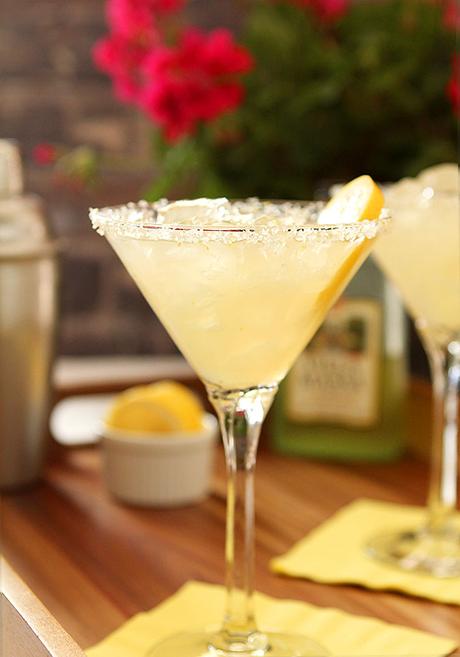 This is it folks, the last weekend of summer; join me in holding on tight won't you? Try one of these cocktails to help it linger; it has summer written all over it!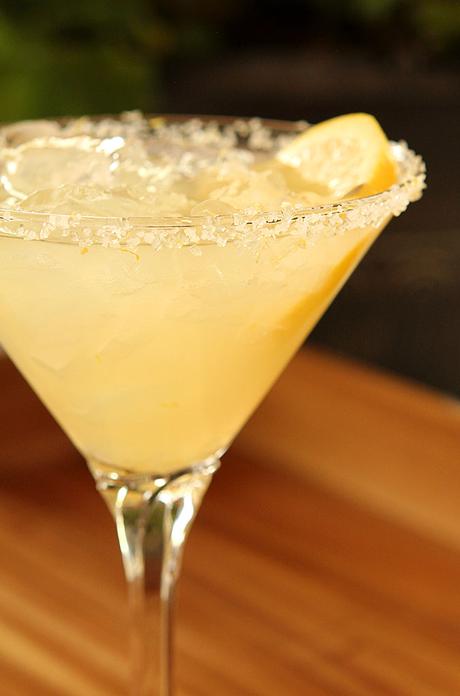 For the Cocktail:
2 oz frozen lemonade concentrate
2 oz cold water
2 oz Orange Liqueur
3 oz Blanco or Silver Tequila
2 oz Limoncello
½ oz Simple Syrup
To Rim the Glasses:
¼ cup coarse sugar (I use cake decorating sugar)
¼ cup margarita or Kosher
Zest from one lemon
Garnish
Lemon Slices
/4 cup coarse sugar (I use large crystal cake decorating sugar)
/4 cup margarita or Kosher salt
Zest from one lemon
oz frozen lemonade concentrate
oz cold water
oz Orange Liqueur
oz Blanco or Silver Tequila
oz Limoncello
½ oz Simple Syrup
Lemon Slices
Combine the sugar, salt & lemon zest. Spread on a cookie sheet in a thin layer and allow to dry for at least one hour.
Rub the rim of a cocktail glass with lemon and dip into the lemon salt/sugar mixture.
Fill the glass with crushed ice (I put ice into a plastic bag, cover it with a cloth and pound it with a meat mallet!)
Pour the cocktail ingredients into a cocktail shaker and fill the shaker with ice; cover and shake until the container is ice cold.
Pour the mixture into the ice filled glasses and garnish each with a lemon slice.

By the way, I've asked other members of my new Facebook Group for ' Friday Cocktails ' to post a margarita today; I can't make any promises but why don't you come check us out; you'll find all sorts of great ideas for making cocktails at home.