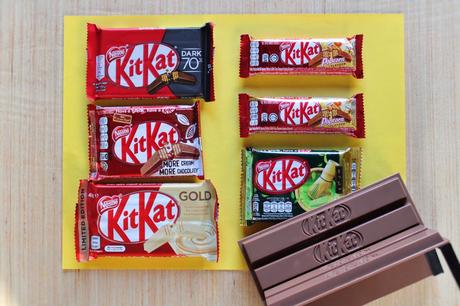 If you know me personally, then you know how much I love Kit Kat. In fact, when a family or a friend of mine goes to Japan I would ask them to bring home a Kit Kat for me.
So far I have tried the original (of course), Dark Chocolate, Green Tea, Green Tea Bites, Hazelnut Crunch, Hokkaido Melon, Peanut Butter Chunky, Sakura Matcha, Strawberry Cheesecake and a lot more. I just couldn't find all the photos but I do remember tasting different types of Green Tea Kit Kats because I was once obsessed with it. 🙂 (Who am I kidding? I still am!)
So when a blogger friend of mine said that there is a Popcorn-flavoured Kit Kat available, I immediately went to the nearest 7-Eleven. That was where she bought hers. Unfortunately, they didn't have it at the branch I visited. So when we did our grocery shopping at Puregold hypermarket yesterday, I tried to look for it. Sadly, nothing.
But earlier today I stopped by SM Cherry and found several Kit Kats! The best part of that side trip is that I found another flavour - a limited edition GOLD Kit Kat. Since I was there already, I decided to get other flavours as well - my favourite Dark Chocolate and Green Tea!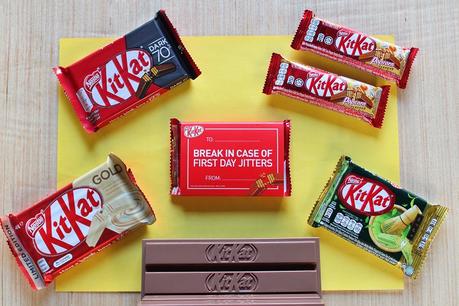 So how do the Limited-Edition Kit Kat Gold (PHP 54.50)and Limited-Edition Kit Kat Popcorn (PHP 53/2pcs) taste?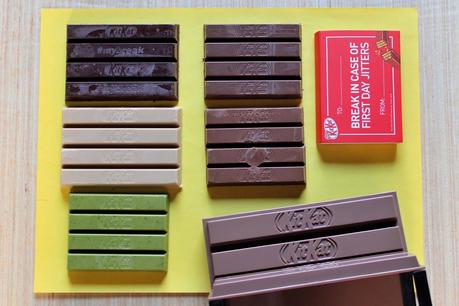 They are good; however, I am disappointed with the popcorn one. It smells like popcorn which is good but I didn't love the taste. I'd rather eat a real one. Limited-Edition Kit Kat Gold, on the other hand, is amazing! I love it. It smells like melting butter in a Teflon pan before dolloping circles of pancake batter. It tastes like burnt caramel wafer covered with golden-white chocolate. It's lovely!
Happy eating!