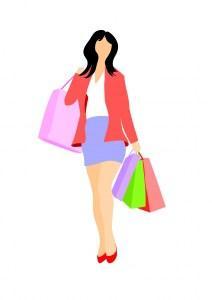 I am not saying that there is no girl who doesn't like shopping for clothes and accessories. But I believe I can safely say that such girls are very rare. We all love shopping. And I consider shopping as an excellent cure for a gloomy mood. And thanks to the rise of ecommerce websites, shopping has become more convenient now. We can shop without leaving our home or while sitting cooped up in an office.
There are numerous fashion websites wooing the consumers these days. Some are general shopping places where you can buy clothes, bags and accessories suitable for any age group. On the other hand, there are very targetted websites too that focus only on a particular age group like teenagers, kids.
Limeroad is one of the fashion websites that are gaining rapid popularity. It targets ladies. No kids clothes or men's fashion there. Although you can find home accessories and kitchen utilities on Limeroad. Basically, all that interests a woman.
User Interface & Style Trends: The website has nice and pleasant colour scheme and easy user interface. You can look for a product by searching for a particular product, category, brand name etc. What's more, as Limeroad encourages users to showcase their style, users can even search out for or follow their favourite user. In addition, Limeroad prominently displays the trending styles by way of hashtags displayed on the Homepage. These include evergreen trends like #limeroadcelebrspotting using which users can follow and buy items similar to their favourite celebs. The celebs have their individual hashtags too and you can search for products using these hashtags. For example, if you like Kareena Kapoor's style, just search using #KareenaKapoor.
Limeroad Scrapbooks: One very unique feature of Limeroad is its Scrapbooks. In fact, when you visit Limeroad, you are greeted with the latest and the best scrapbooks created by other Limeroad users.
Creating the scrapbooks is easy and fun and anybody registered on Limeroad can create these Scrapbooks. Just Click at the Create Scrapbook button. You'll find it easily on the right side of the Limeroad Home Page. The Scrapbook tool will open up. First, select a template on it. You can even use a blank template and upload images of your choice to dcorate your scrapbook. You can't upload images if you use a pre-set template. Once you have decided on a template, just add products of your choice. If the template asks you to select a skirt, select one from the options displayed on the side. There will be lots of product options. Just select the clothes, footwear, bags and jewelry. Once you are satisfied with the look you have created, add tags to it and click Save. All the Scrapbooks you create will get stored in the Scrapbook section of your Profile on Limeroad.
To get an idea about scrapbooks, you can check out mine HERE
Limeroad Credits: These Scrapbooks aren't just fun. They can earn you Limeroad Credits too. These credits can be used to buy Limeroad Products (on minimum purchase of Rs. 1000, 1 LR = 1 rupee, credits valid till 30 days). But the chance of earning depends upon how active you are in creating new Scrapbooks and how popular your scrapbooks get among other users. Check out these Scrapbooks FAQs to know more.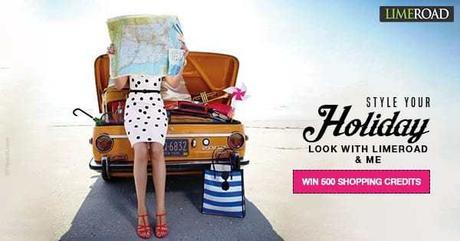 Like the idea? Then you'll surely like this contest. It's all about creating Limeroad Scrapbooks and showing your style.
1. You need to create a Holiday and Vacation themed scrapbook using any of the Holiday and Vacation themed templates given in Limeroad scrapbook tool.
2. With the publishing of this post, the contest has started. You have till to create your scrapbooks. But the quicker you do it, the better. Of course, you can create as many scrapbooks as you want for this contest.
3. The important thing to remember is that you must tag your Scrapbook with #styleyourholiday and#JyotiArora. You can use other tags too, but these two tags are necessary otherwise your scrapbook won't be considered a contest entry.
Check out the following infographic to know more. The below infographic tells you to share the looks you create and tag @limeroadcom. That's the twitter handle of Limeroad. If you are not on Twitter, you can also share your looks on Limeroad's Facebook page.

Don't forget to tag your scrapbook with #styleyourholiday , #JyotiArora !!!