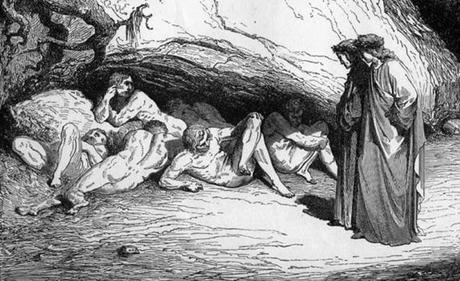 Dante's Inferno is best known for its dramatic scenes of apocalyptic destruction and catastrophe, and the poet himself had become famous outside of Italy—whether or not you think of him through a vaporous tableaux by Gustave Doré—as a painter of thunderous, moral pantomimes. And yet, even though the poem contains, of course, a blockbuster imagery of damnation that is both fiery and lurid, as it scrolls downward through kaleidoscopic fireballs, ghastly demons, and furnaces, Dante tries to convey the ruinous impact of sin upon mankind by marshalling the elemental forces that swirled around him into a livid, unwashed mezzotint. No matter how the details are swept up in rich and rugged pigment, Dante's figures are less sensational than disorienting; his ultimate desire, perhaps, is to create a vortex of words. Even in atrocity, while medieval taste would have required from the IMAX of the day, the cosmic poem, a Promethean canvas of dizzying depth, the Inferno often requires acoustic rather visual special effects. Accomplished as he is as a portraitist, Dante is better served by a reader who knows how to decipher a story that is told, like the bones of a fossilized dinosaur, through landscape and weather. Babylon is crisp like a goblin, but also a thing of sloth.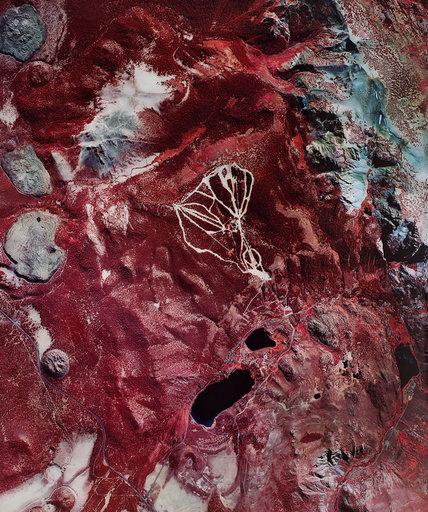 Markedly different as the two men are, by all accounts, Mazzarri and Villas-Boas both favor elevated perspectives or vistas that recede to infinity. Napoli's tactical inclinations make use (and fun) of the big and the small. Campagnaro can only be at ease with the genre of hyperrealist photography that Ilya Kabakov calls "total installation;" with his head smashed up and bloody, the player looked here like the picture of bright red and nickel, Above June Lake, printed by Florian Maier-Aichen in 2005 and now in Los Angeles: floating in that immersive space that is the three-man defense, which at Napoli is an almost pictorial device to twist the conventional, horizontal plane of the game. (It became so conventional to say that Napoli is the queen of the counter-reactive teams, that people forget how, when paired with an insufficient midfield line-up such as that of Chelsea, the squad can offer more secular, but no less awesome models of ball possessions.) Mazzarri uses Maggio the way Dante uses the vortex or the whirl—as a purplish threshold that spreads weblike between the pre- and the post- apocalyptic.
Vastness, in the hands of Villas-Boas, turns into the dystopic. He aims at abstract photography, but even the best of pictures cannot rival the installation as a form. The players are made to feel smal, loosing that clarity of detail that never fails Hamsik, even when he's having a quiet night. There was, in this fixture of the Champions League, a fatigued sense of procrastination—a vast sorrow bulging the veins of the great-hearted midfielders, like Lampard, who came up too late to really be useful—that recalled Dante's depiction of the Limbo, the assembly of a philosophical family for whom even dignity, after truth has vanquished their errors, is something to be worn with tiredness. Compare Malouda and Essien: the obedient legislator and the man who worked so hard, only to find himself cut off by Lavezzi as a longing shadow.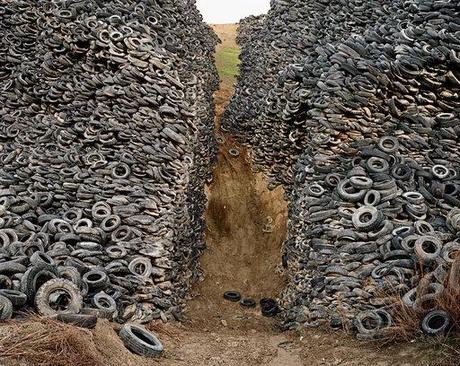 It isn't that Lavezzi merely exploited the space left behind by Ivanovic; it is rather that Villas-Boas constructs his tactical images around a central void or recess, calling the "italian style" as his witness or scapegoat. Edward Burtynsky's picture of a quarry of tires offers an apt comparison for this vision. The 'primeval' is often an emotional key associated with the best international displays of Napoli; as for Chelsea, the team is clearly waiting for a coach who is capable of anticipating the manipulative effects of cinema while still contrained to a single, painted image. ♦