In a flurry of good humor brought about by the lovely Spring weather we have been experiencing, I finally got around to renovating the front garden this week.  I am now, no doubt, crippled for life due to some enthusiastic digging.  However, I do have a love of growing things, inherited from my father, and currently the floor of our warm conservatory is a nursery for my many and varied baby lavender bushes, grown from seed.  As I lay in the hot bath after toiling in the fields (or front garden, if you must be accurate), I got to thinking about Victorian images of gardening…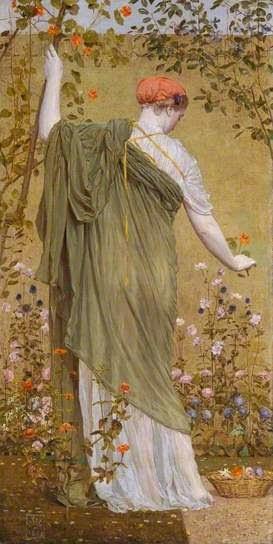 A Garden (1869) Albert Moore
This is how I like to see myself as I gamble around in the garden.  I am the epitomy of elegance in something drapey and not at all a sturdy middle-aged woman in what amounts to outdoor pajamas or an ill-fitting sundress that shows off my operation scars.  I love the pale light of Moore, but it does give you a rather chilly-looking garden. Her flowers look a little bit spindle-y, not that I'm judging.  Okay, I am judging, but then when I was a child I used to enter the flower-arranging show locally so I have some expertise in flowers.  I'm not boasting but I came second with my animal made out of vegetables. I know, I am a woman of many talents.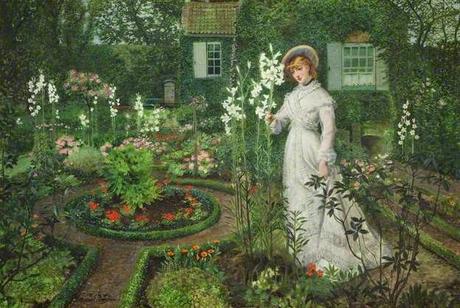 The Rector's Garden, Queen of the Lilies (1877) John Atkinson Grimshaw
I rather like this formal garden with its paths and mini-roundabout.  The lass, who I assume is the rector's daughter, has managed to grow some very impressive lilies.  Thinking about it, possibly she has a man for that and she just gets to swan about being Queen of them.  I'm guessing just out of shot is an elderly gent in a sturdy apron, who tugs his forelock when he sees her. People don't tug their forelocks anymore do they?  Do people still have forelocks or is it like rickets and poorhouses, stuff that only exists in Victorian theme parks?  Also, tugging your forelock sounds like a euphemism for the sort of thing that gets you arrested in National Trust car parks at night. Moving on…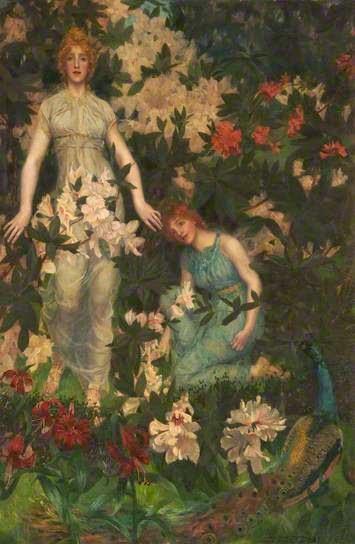 Hide and Seek in the Garden of Epicurus, Leontium and Turnissa William Stott
This is a lovely shrubbery with lots of gorgeous lilies and the suchlike.  It has to be pointed out that the girls are a bit rubbish at playing hide and seek.  Mind you, Epicurus and co might have a really small garden and that's the best they can manage, wedged in a border.  They will regret their choice of pastels for outdoor larks.  At least wear something that disguises the mud and grass-stains.  Everyone will know that you have been shoving yourself into the bushes if you insist on doing it in white. 
Thinking about it, maybe I should aim to go a bit more upscale with my garden.  I only have chickens at present, a peacock would be lovely.  I am convinced there is a peacock in the neighbourhood because you can hear it at night, but Mr Walker insists it's a cat with a problem.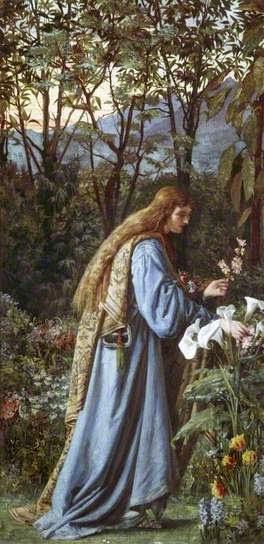 Matilda in the Garden of Delight British School
I would love to think that my patch of uncertain grass and herb beds is a 'garden of delight', although again that sounds like a euphemism.  I certainly won't be inviting any easily startled gentlemen to view my garden of delight, I believe misunderstandings would arise.  Look at the size of that woman's calla lilies, aren't they splendid?  It can be speculated that the profusion of lilies in the gardens of these young ladies is a comment on their purity and goodness.  They are reflections of the Madonna herself, their souls as perfect as the white, spotless blooms.  I have a delinquent rosemary bush in my garden.  Make of that what you will.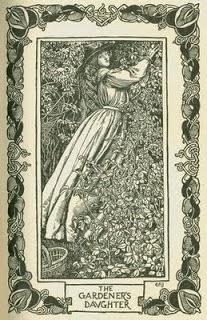 The Gardener's Daughter Eleanor Fortescue Brickdale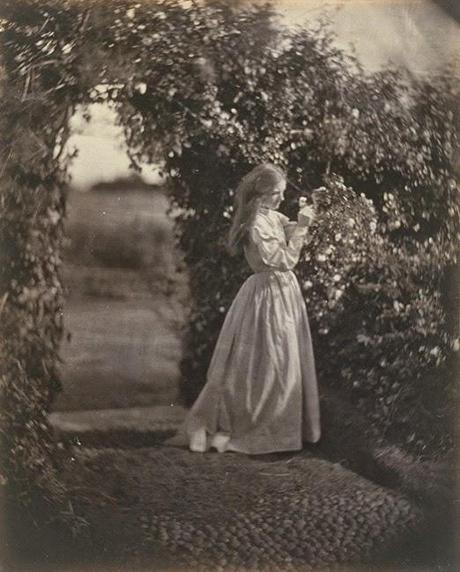 The Gardener's Daughter Julia Margaret Cameron
I've picked two depictions of a vital moment from Tennyson's gloriously overblown poem
The Gardener's Daughter
.  Our narrator and his friend, Eustace, go in search of the almost mythical beauty of the Gardener's Daughter, a woman who has slipped into legend as being the measure of all female perfection.  They find her pinning up a rose bush that has been blown by the wind.  She is as wonderful as the descriptions of nature that have preceded the moment she is seen.  Brickdale's illustration comes from my copy of Tennyson's collected poems and I love the look she is giving us as we gaze upon her floral splendidness.  Cameron's girl is wonderfully fuzzy and dreamlike.  She is there, a photograph attests to her realness, but the blurring of the rose arch gives the girl an aspect of a vision, a mirage which I think compliments the rather fevered tone of the poem.  If this was the 1960s I would allude to the nature of the 'trip' the men take to find this wonderful creature.  Coincidentally, it also reminds me of a still from the film 'Picnic at Hanging Rock', again a piece with a hazy sense of fantasy about it.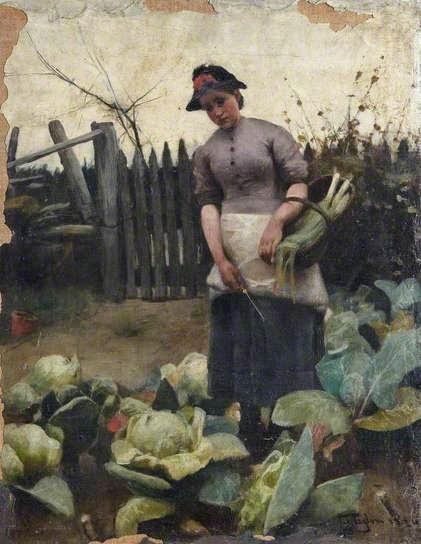 Woman in a Cabbage Garden (1884) James Fraser Taylor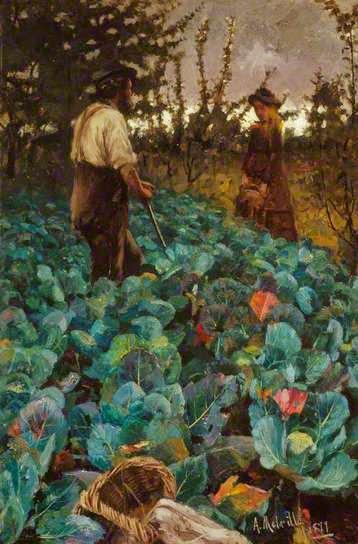 A Cabbage Garden(1877) Arthur Melville
Okay, back down to earth with something that is a little bit nearer the truth in my case.  As much as I'd like to be the fabled beauty with an errant rose bush, instead I tend to grown things that are edible.  I have always grown herbs and tomatoes, together with chilli plants and potatoes and now strawberries too.  We have an old conference pear tree in the corner of the back garden which is very bountiful and this year we are experimenting with apples too.  I am a little doubtful about how the little apple tree will fare, but take comfort from the fact that should the apple fail to impress, I shall always have an outstanding pear.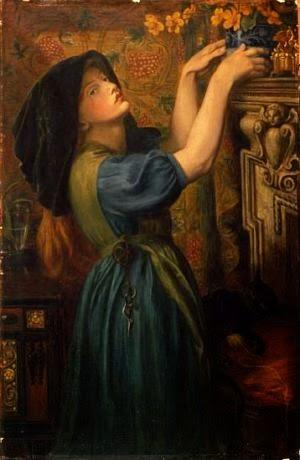 Marigolds (1874) D G Rossetti
Right, that's enough, I'm off to repot my marigolds and take cuttings from various things for fun.  I'll be back over the weekend with some public nudity.  Splendid.