As yet more beautiful frothy blooms of lilac fill my lilac trees I thought it was time to concentrate on this beautiful but fleeting flower. The flowering of the lilac really does mean spring to me – spring is no longer on its way – the worst of the weather is behind us and the garden will just get better and better as the season moves on into summer. I look forward to this period of early spring so much and try to get every drop of enjoyment out of it that I can.
A good starting point for appreciating lilacs is Robert Burns. You may remember the Burns Night celebrations that I went to back in January which introduced me to his poetry. It seems that Burns really was a flower lover and his poetry extended to the lilac with this poem called 'O were my love yon lilac fair':
O were my Love yon Lilack fair,
Wi' purple blossoms to the Spring;
And I, a bird to shelter there,
When wearied on my little wing.
How I wad mourn, when it was torn
By Autumn wild, and Winter rude!
But I was sing on wanton wing,
When youthfu' May its bloom renew'd.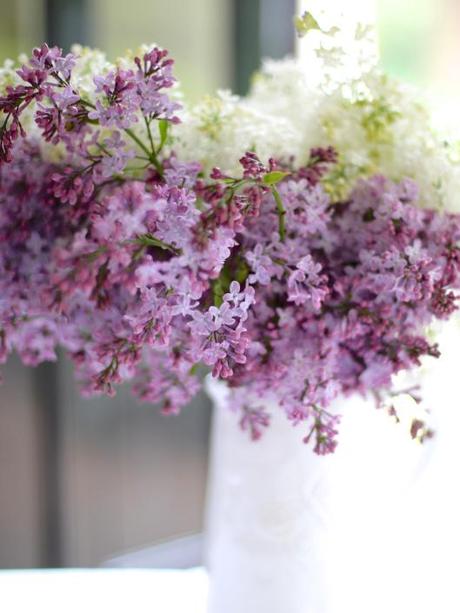 Commonly known as lilac, its botanical name is Syringa vulgaris. The name appears to be connected with Greek mythology. The story goes that Pan, the god of forests and fields, fell in love with a nymph named Syringa. Overcome by his desire he chased Syringa through the forests. To escape his attentions Syringa transformed herself into a beautifully scented bush. I do love a good Greek myth and apart from being a nice story this myth does help us to identify that lilac has a long history.
Lilacs are in flower very fleetingly in spring. Here in the south of England I would usually expect them in early May flowering as the tulips fade. This year they are extra early in late April, but they are still in flower with the fading tulips and the emerging alliums – my first Purple Sensation popped today. Nature has a way of keeping everything in time despite the vagaries of the season.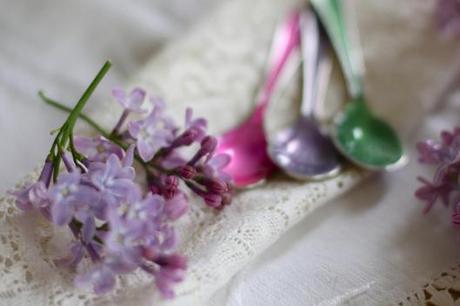 Lilac is one of the best known flowering shrubs and the scent takes many back to childhood memories of parents or grandparents with cottage gardens and tumbling lilac trees. I love this verse from The Old Apple-Tree by Anna S. Stephens: "I am thinking of the lilac trees, That shook their purple plumes, And when the sash was open, Shed fragrance through the room." For me she has summed up what lilac is all about – frothy plumes of flowers and that wonderful heady fragrance that fills the air.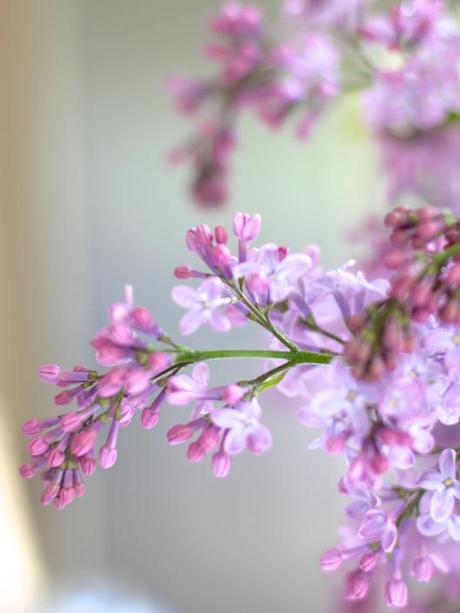 In the language of flowers purple lilac symbolised first love and white lilac the innocence of youth. Sadly lilacs have become associated with bad omens and many believe that bringing lilacs into the house will bring bad luck and possibly death to the inhabitants. This probably originates from the Victorians who would use the strong fragrance of lilac flowers to mask the smell of a dead body in the house. I have been cutting lilac for many years now and can vouch for its innocence – what a shame it would be to confine such a glorious flower to the garden.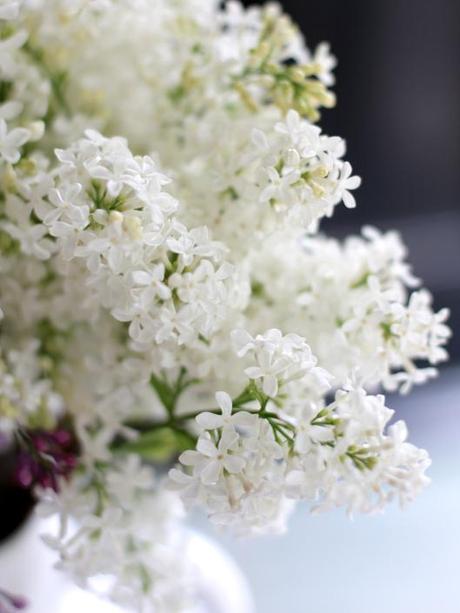 Lilacs were a commonly planted shrub or small tree that have become less common in modern gardens. Most old gardens will have a tree or two in the planting scheme, but sadly few modern garden designs incorporate lilac. It could be because after its short flowering season it is an unremarkable shrub, but the same could be said of many flowering trees and shrubs that remain popular. Ornamental cherry trees are very popular, but only offer a few short weeks of blossom and philadelphus is a shrub with lovely scented flowers but a very short season. I think it is high time for a revival of lilac planting – it can even be used as a hedge provided it is clipped straight after flowering.
In the garden lilac is an undemanding shrub. It will grow in most solis, in full sun or part shade. My only warning is that I have found that it does not like to have its roots in water – I planted three here in the Kitchen Garden, which is very wet throughout the winter and sadly they all died. If you want to use your lilac for cutting it is important not to let it get too big so that you can reach the flowers. I cut all my old lilacs back to a short stump when we moved here as they were very leggy. Two years later and they are looking fantastic.
Suzy Bales in her book 'a garden of fragrance' talks about a lilac and peony walk originally featuring 18 lilacs underplanted with peonies in complimentary colours. Suzy increased that number to 29 and tucked other lilac trees in odd corners for cutting. Whilst I can only dream of a feature like this I do like the idea of mixing lilacs with peonies and hope to come up with a plan to increase the lilacs in my own garden. There are a number of beautiful varieties of lilac available these days. It is best to buy them in flower so that you can see the exact shade they will be.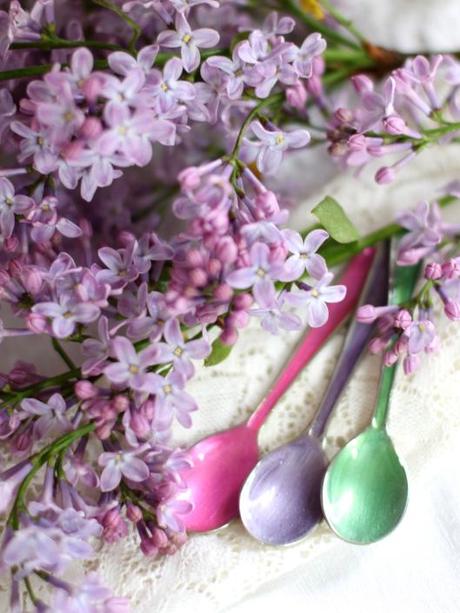 I have used this set of pretty spoons in my photographs today to hint at another use for lilac. As well as filling the garden with scent and looking beautiful in the house, lilac is also an edible flower. It can be made into jellies and jams, crystallised or used fresh on cakes and lilac sugar is a great ingredient to have in the store cupboard for use later in the summer with a variety of fruits. A lilac syrup will make a lovely addition to champagne or prossecco in the summer and can also be used to flavor ice creams and sorbets. I have never put lilac to any of these culinary uses, but I am planning to start with making some lilac sugar tomorrow!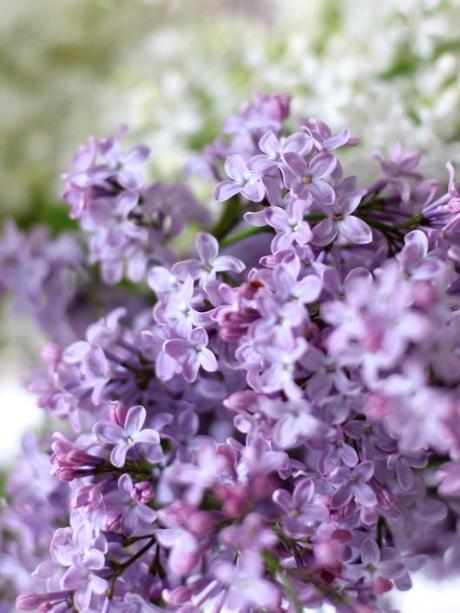 If you are planning to cut some lilac this weekend my advice would be:
Take the flowers from the highest point you can reach, so that you are pruning the bush for next year whilst taking this years bounty.
Cut the flowers whilst only half are fully open – once all the buds have opened the lilac will have a very limited vase life.
Once cut remove all the leaves – trying to keep the leaves fresh will cause the flowers to wilt more quickly.
Do not crush the bottom of the stems – this is an old wives tale that will not help the stems to take up water. Instead make a clean cut up the bottom inch of each stem and plunge immediately into cool deep water.
Arrange lilac in a deep container- they will last longer in deeper water.
Finally remember that at best you might get 5 days out of your lilac stems – they are not a long lasting flower. When you walk into your home and take a deep breath of that wonderful fragrance, however, you will appreciate your efforts even if the results are short lived.
I hope you have enjoyed my look at lilacs today – your comments, questions and tips are all appreciated!