A friend from Argentina sent me the link to a lovely poetic short film: "LILA" (9 min) – a film without words but with a lot of heart.
In the "Making of" Carlos Lascano, the director and writer, says:
"The story reflects a day in Lila's life, a dreamy girl who can't resign to accept reality as flat as she perceives it, using her imagination to modify it. The way we perceive reality often comes as a result of an imagination exercise in which sometimes only changing a little detail we can modify the whole."
A perfect description of inner visualisation work.
Wikipedia has more about the talented film maker from Argentina now living in Barcelona. He is doing artistic and commercial films using a mixed-technique of animation and work with actors in combination with new technologies.  You can also see the film on Vimeo – when I saw it first there, it didn't run well, now it seems to be ok.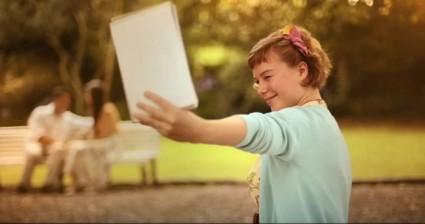 Lila is visualising subtle bonds of love – a print-screen from the video (c)