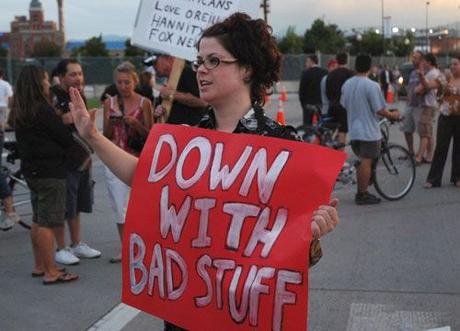 "No thanks, I like my IPAs good..."
It was a comment left by my brother (mostly serious, partially in jest) on a recent photo I posted on Instagram showcasing Sam Adams' Rebel Raw IPA. He gives me crap (jokingly) about my affinity for breweries like Sam Adams and Sierra Nevada, but he also lives in something of a beer Mecca in Seattle, Washington.
But he wasn't the only one to tease, as I got some pushback on Facebook, too.
The Beer Nerd hate on Sam Adams is getting a little played out. pic.twitter.com/QNMNw94Uok

- BryanDRoth (@BryanDRoth) May 11, 2016
And there was this on Reddit:

I know the conversation based around the question "is Sam Adams 'craft'" gets people all kinds of wound up, but more than ever, the assertion that Boston Beer's flagship brands should even be relevant just feels a bit too much. Even if it's an argument spurred by beer lovers deep in the trenches of nerdom, having to justify an appreciation for one of the iconic breweries in the country makes the situation just a little too ... political.
Fittingly, all this comes to mind during a presidential election season that has ramped up the rhetoric about who is "good" or "bad." As Donald Trump runs away as the presumptive Republican nominee, attention moves to the still-contested Democratic race, where in the last week I read about " The Stigma of Openly Supporting Hillary Clinton" or what happened during a crazy Democratic convention in Nevada. Groups of people, all hypothetically under the same umbrella, are ganging up on each other with some pretty nasty stuff.
As the most enthusiastic supporters of Bernie Sanders or Hillary Clinton continue to share their views through the primary election season, there's a parallel for these Sam Adams shenanigans. The most enthused beer lovers seem to be so sure that not only is liking Sam Adams' beer not an option these days ("surely there are better *local* choices!") but the act of enjoying or openly supporting the Sam Adams brand may be wrong.
Just ask Eno Sarris. Back in 2014, he posed the question " Is Sam Adams Too Big for Craft Beer? " Generally speaking, people were not enthused with where Sam Adams was going.

In the piece, Eno points to an exchange with Lagunitas' Tony Magee (who has since sold half his company to Heineken):
Sam Adams has "so little to do with what beer is doing today." In other words, Sam Adams may have once been craft, but its size and lack of innovation mean it can no longer qualify.
As you can guess, and tell from the above image, the comments on the story weren't very kind to Sam Adams. Eno noted that feedback on his piece mostly fell into two factions:
Sam Adams isn't craft because the commenter/drinker didn't like the beer and believed Sam Adams isn't innovative.
Sam Adams wasn't getting enough credit for being innovative at their brew pub and/or being one of the original, iconic brands of craft.
"I don't really consider Sam craft because of how they act, and the beers they brew, but it's almost irrelevant," Eno told me. "I guess I'd just say I don't drink much Sam Adams - maybe they're craft, maybe not."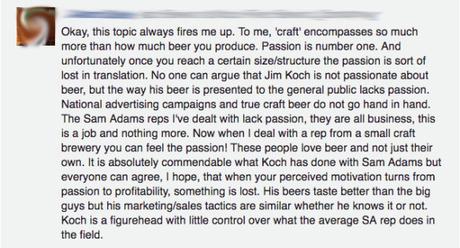 To me, it seems three questions are worth asking:
When did this kind of hatred start for Sam Adams?
Is the anger/hate based solely on the idea that not being "craft" - a subjective term to itself for every drinker - is a death kneel?
Do people honestly believe that brewers get into the industry to get paid in passion? Or is a feeling toward "craft" based on the impression these businesses should just scrape by financially?
For several reasons, Gabe Bellegard Bastos is not a fan of Sam Adams, so when I asked the Boston-based beer bartender when we might pinpoint these negative feelings, he offered this response:
@BryanDRoth to answer your question though I think shift happened when they stopped leading/ innovating and started copying successful beers

- Gabe BellegardBastos (@bellegardbastos) May 11, 2016
Not coincidentally, he agreed with me the timeline points to spring 2014, when Sam Adams launched Rebel IPA, which would become the highest-selling craft beer debut in history, selling $21.1 million worth of product. It's also just months before Eno Sarris' piece came out asking about Sam Adams' legitimacy as a "craft" brewer.
Perhaps it was this moment in time, when Boston Beer and Jim Koch started playing catch up, that this schism really took hold. Since that time, The parent company of Sam Adams has focused hard on cider and flavored malt beverages as its flagship beer brand has continued to tread water. The market forces impacting Boston Beer's decisions with Sam Adams and its other brands may be giving the impression the once pioneering company is now a reactionary one, no longer leading the pack since taken over by smaller, nimbler, decidedly "craft" brewers.
Does this mean Sam Adams is no longer innovative? Therefore not "craft"? Therefore not worth our attention or appreciation?
I'm sure Jim Koch could point to his latest nitro beer project, or the array of beers nobody is talking about yet, like a Toasted Caramel Bock, Maple Ale, Lychee Pear Pale Ale or Mesquite BBQ Brown Ale. If you were to throw those brands in front of a brewery name like Tried Hands, The Bruery, Cigar City or Founders, would you get the same reaction?
There's an interesting psychological loop that takes place more easily these days thanks to the prominence of social media and how we self-select friends, news and information. Even Google filters results to adhere to our preferences. It all leads to a conclusion that our own beliefs are more ubiquitous than they may actually be. Notably, it's applied to our impression and point of view of this year's presidential candidates, but doesn't this sound like something applicable to so many other walks of life:
And it strikes me as very strange that suddenly we're seeing this phenomenon of people who really just don't seem to understand that they are a minority and not a majority in the country.
The biggest beer enthusiasts are spending time calling out Sam Adams and those who appreciate those beers, but the truth is the brewery still sells a lot of beer. This is what happens when you build a successful business and accept that you can grow and people want you to grow. Just because those sales may focus more on Average Jane or Joe Drinker - who still constitute nearly all of craft beer purchases - does it now mean Sam Adams has entered the rarified air of Macro? I thought this kind of vitriol was only saved for AB InBev.
Or maybe it's befitting that we've arrived at this (somewhat) ironic point, where a beer brand named after one of America's Founding Fathers causes such divisiveness it may be considered an act of treason to craft's self-appointed protectors if you admit you like it.
As for me, I'll just keep drinking IPAs that are good.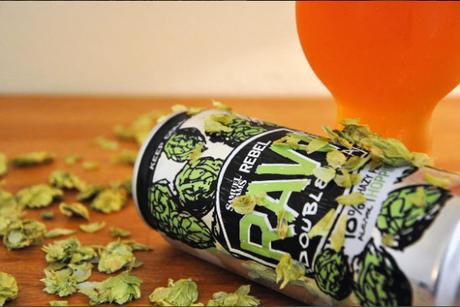 Bryan Roth
"Don't drink to get drunk. Drink to enjoy life." - Jack Kerouac