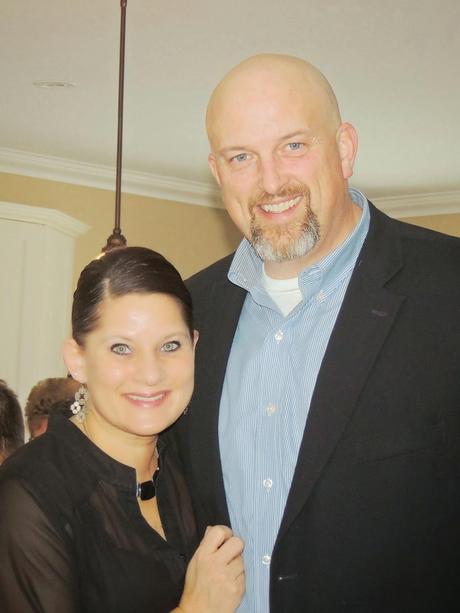 Mike & I - Christmas 2013 - Greely, Ontario
In early October 2007 it came time for yet another surgery.  This time I was scheduled to have a hysterectomy.  This was not something that I had to do but it was highly recommended by my doctors.  Since the cancer I had was driven by hormones, it only made sense to try to eliminate the possibility of it starting somewhere else in my body.  I already had two wonderful children so of course I had to consider this hysterectomy quite seriously.
I decided to go for it and have it done.  As much as I was not thrilled at being back at the hospital again, I wanted to be sure that I did everything possible to ensure that this cancer never came back.  I did not want to have any regrets.  Going back to the hospital always made me feel yucky.  I really have no other word other than just that – yucky.  The surgery itself was not so bad and except for the first few days the recovery was much better than I expected.  In fact I was feeling pretty great by the time Halloween rolled around.
Every year for the past few years one of my friends has hosted a Halloween party.  There is always a fun theme and in 2007 it was an 80s theme.  I was really looking forward to getting out for the first time in a long time.  So, I naturally dressed up as Madonna and was able to wear my fake boobs to fill in the gaps.  Mike dressed as a head-banger-rocker-dude and we went to the party and had a blast!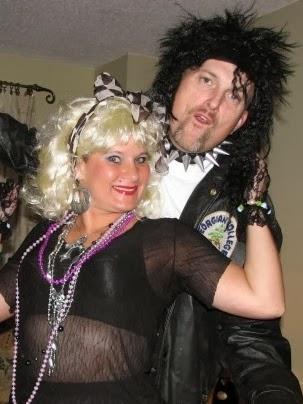 Madonna & the Rocker - Halloween 2007
Since I had been home for several months and had recently just had a hysterectomy, I was a bit out of practice with socializing.  You may not think about it but when you are by yourself most of the time it really does take some effort and practice to get back to a place where chatting with people is easy again.  I was excited to get out but I was also feeling nervous too.  I had a glass of wine or two and that helped me relax.  The eighties music was playing all night and we danced and danced and danced.   I danced more than I had in years!  It was an absolute wonderful time but I think I scared a few of my friends that knew I had just had a hysterectomy a few weeks prior to the party.
Anyway, that party made me feel really, really, really great and I had so much fun and felt like a normal person again.  Finally.  What a wonderful way to feel.
Like A Virgin - Madonna