Kuala Lumpur...so there are the Petronas Twin Towers, Menara KL Tower, Merdeka Square, Batu Caves...but we didn't visit any of those. Instead we pretended to be kings.
Spend Like a King
Nando'sLot C07, Concourse Floor, Suria KLCC,Kuala LumpurDaily 10AM to 10PM
You can find Nando's around Malaysia: other branches.
Before spending like a king, we had to queue like the common people we really are. Nando's must be really good for people to be lining up to get a table. After some 15 minutes, we got seated in the very crowded restaurant, where there was barely any space to move. For our group of four, we got the jumbo platter (MYR 110, includes two whole chickens and five large sides) and a glass each of bottomless iced tea (MYR 5.90).



The sidings were nothing great. The chicken was juicy but it was the sauce that made it a winner.
The total bill included government tax and 10% service charge, and each of us shelled out MYR 40. T

hat may have been cheap for a real king, but for a pauper pretending to be one, that was already in the splurge category.


King of the Street
Jalan Alor. When the sun goes down, the entire street is off limits to transportation and the tables and chairs come out. Restaurants extend their dining area to the street and food stalls come alive.


Jalan Alor at night
It was more than an hour past our dinner time and we couldn't spare another minute to check out the other restaurants in this 350-meter street. From the Changkat Bukit Bintang end of Jalan Alor, Cu Cha Restaurant was the first restaurant we saw that had a good number of diners.
Cu Cha Restaurant75 Jalan Alor, Kuala LumpurMonday to Saturday 1PM to 4AMSunday 1PM to 12MN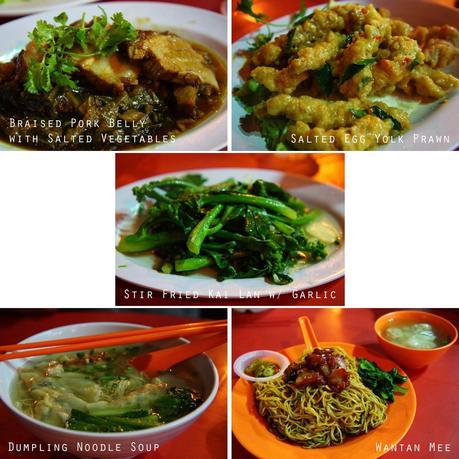 Braised pork belly with salted vegetables (small) MYR 21Salted egg yolk prawns MYR 33Stir fried kai lan (Chinese kale) with garlic MYR 1.30Dumpling noodle soup MYR 8.50Wantan mee MYR 6.50
Eaten on the street, but not exactly in the streetfood price range. Nevertheless, we were satisfied. We were full. And we tried to walk it off to the end of Jalan Alor and back (where we found more restaurants, Turkish ice cream, coconut ice cream, barbecue carts, etc.)


Eat Like a King


This here is a little strip of streetside eateries we found near Parkview Service Apartments (our home in Kuala Lumpur for two nights). This place is not for the germ-o-phobes... it's on the street; critters scampering under the tables to get to the other side of the street shouldn't be a surprise.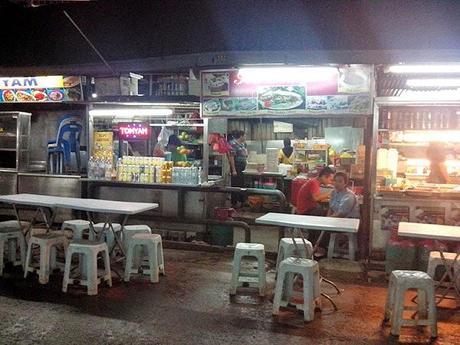 Seri TomyamJalan Cangkat Perak, Kuala Lumpur(near Parkview Service Apartment, road perpendicular to Jalan Law Yew Swee)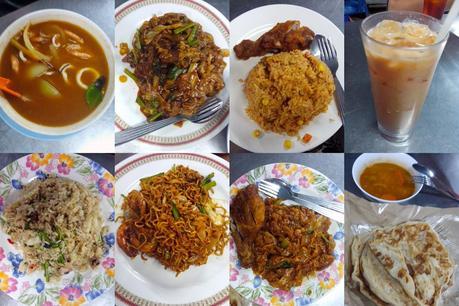 Cheap eats at Seri Tomyam. Except the roti paratha (bottom, rightmost), which is from another booth.
Seri Tomyam is open from 4PM to 4AM and serves tomyam, nasi goreng, mee goreng...with chicken or shrimp or seafood or vegetables. Laksa is also served but only in the mornings. The food is from MYR 3 to MYR 7. The teh tarik (milk tea) costs MYR 1.50. (The roti paratha, MYR 1, is from another booth in the same strip of eateries.) We liked eating like a king rather than spending like a king, that we ate here twice.


Malaysia


Malaysia Must–Know
Home in Kuala Lumpur
Like a King in Kuala Lumpur (you're here!)