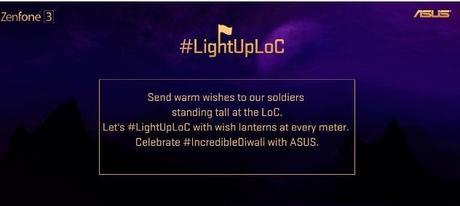 No matter how much the political scene changes in India, no matter how we feel about various situations in India, no matter if things are going good or not, one thing never changes for us in India. We love our army. We are proud of our soldiers. And we are grateful to them and thankful to them from our heart.
We know well our soldiers face tough situations, tough environments and often even political apathy and corruption. But unlike some other nations, they don't crave power or raise mutinies. Our soldiers are our pride.
If you feel the same and would like to thank them and wish them a happy Diwali, than ASUS has started an initiative to help you do that. This is #LightUpLoC initiative. Of course, it is to promote the ZenFone 3. But I think it's still good.
Through this initiative, ASUS is helping users to light up a lantern at every metre of the 724 KM long LoC. That means, 7,24,000 virtual lanterns are to be lit. How I wish these were real lanterns! But even a virtual symbol of sending our wishes to our soldiers feels good.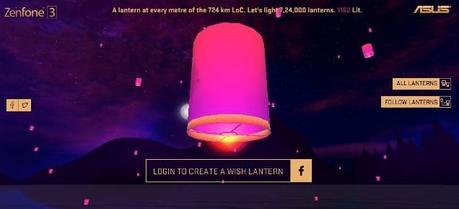 So if you'd like to light a virtual lantern and send a good wish to our brave soldiers, just visit LightUpLoC. The website has a cool virtual reality effect. And it lets you write your wish on the virtual lantern once you have logged in using your Facebook profile. The wish appears on the lantern with your Facebook profile picture and name. You can light up as many lanterns as you want.
These lanterns will fly and and halt at a particular location on the virtual LoC. Users can also view the map of India that shows the entire trail of the lanterns in real time.
So come on, time to wish our soldiers a happy Diwali!
And wish you all a very happy Diwali too!