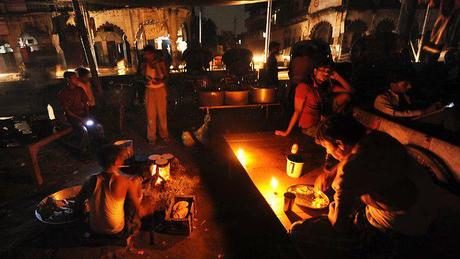 A man cooks by candlelight at a small roadside shop. (Photo: AP)
For the last several days, half of India's population — HALF — has been without electrical power. That's 600 million people, twice the population of the United States, trying to keep on about their lives without lights, public transportation, or utilities. That's tens of millions of businesses losing income, product, and potentially livelihoods.
Last month a powerful, fast-moving storm called a derecho disrupted power for hundreds of thousands of people in the Washington, DC area. We all complained mightily, but most suffered little more harm than some spoiled food and a few days without air conditioning. In many places around the world, including India, a few days without power is not at all unusual. In fact, daily brownouts or blackouts are sometimes the norm. Many established firms and wealthy individuals adapt by installing batteries or generators — a drain on the economy. But how can small and medium-sized businesses and entrepreneurs survive and thrive in such uncertainty?
When power is unreliable or inaccessible, businesses and businesspeople suffer. An appropriate, adaptable infrastructure is crucial for economic development and growth, and governments must make it a priority. Investing in infrastructure doesn't mean simply that the lights stay on. It means that power is available for offices, factories, schools, and hospitals. It means that roads are clear and available to transport goods and services. It means that water is clean and accessible for public consumption, as well as for manufacturing and agriculture.