We've been making over our hallway and ticking things off one by one, but it's only since doing this I've realised how out of date our house is.  As I've began working from home I've started to notice things I never thought bothered me and my light is one of them.
Nick loves looking at fun lighting and if I'm being honest it never bothered me until I got stuck in with the redesigning aspect. After shopping about I started to think how bad some of the light shades we had... even as I'm typing now the two in my lounge (left by previous owners) look like something from the 1970's and not in a good way. Why haven't I changed them you ask? We have a lounge/dining area and we actually want to split the rooms so I've left everything as it is until I have two rooms to play with.  My goodness those lights are awful.
Just to paint the picture of our hallway it's got gray wooden floors, Egyptian cotton painted walls and a color pop telephone table in a bright blue color. It's quite quirky with its bicycle clock and large mirror, so the current floral shade is a bit pathetic. 
With this in mind I started having a hunt around for something more contemporary to work with this look.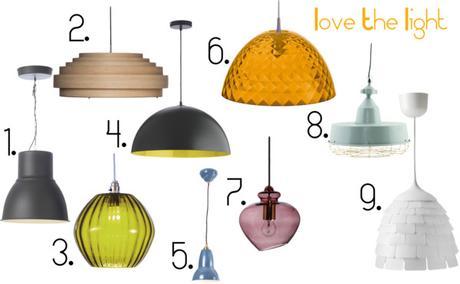 1.Ikea Hektar Pendant Lamp | £60 2.Thin Wood Pendant Lamp | £375 3.Marni Glass Pendant Green | £30 4. Habitat Samuel Pendant Light | £95 5. Anglepoise Original 1227 Brass Pendant Lamp | £180 6. Koziol Stella M Hanging Lamp | £79 7. Heal's Grace Pink Pendant Lamp | £140 8. Bugsy Industrial Grey Metal Pendant Light | £220 .9. Ikea Kvartar Pendant Lamp | £15

I always thought I'd person but once I started exploring, the more I seem to be drawn to the individual and quirky! I'm all about pendant lighting for the hallway I have discovered numerous I really like.  Above are all the kinds I'm liking at the moment. 
I was really surprised that I love number 3 as much as I did.  I wouldn't of expected Wilkos to have something like this, anyone else think that? I had them pinned as that plain and simple type but apparently not! Ikea tend to do quite a good selection when it comes to ceiling lights but they are often contemporary but plain so no bright colours just neutral tones. 
I've started ditching standard light bulbs for LED ones now, purely to save money and the last significantly longer. I must sound like I'm getting old but I'm really beginning to realize that investing a bit more is better sometimes! LED bulbs last longer and save more energy meaning your bills will be cheaper.  Have a look at LED Planet for more info and discounts/offers on bulbs.   I'm getting some LED lights for my garden but I'll show you which we've got on my next Garden Makeover post! 
Back to the light fitting musings, I totally believe having something quite statement in my hallway is a great idea. There isn't a vast amount going on and it'll really bring it to life.  Do any of you like bold light fittings? Any places you suggest to shop?